Kim Dotcom: What's next for Megaupload, Megavideo Founder Denied Bail?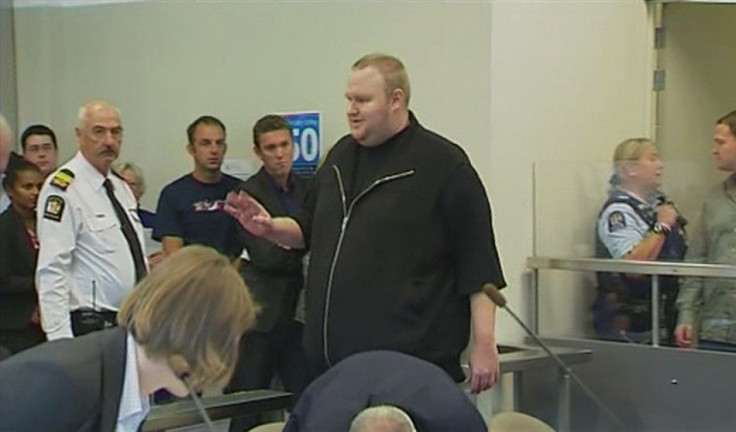 Kim Dotcom, founder of file-sharing sites Megaupload and Megavideo, was denied bail on Wednesday. A New Zealand judge ruled that the copyright infringement suspect would be in custody for at least another month, saying he posed a significant flight risk.
Dotcom, also known as Kim Schmitz and Kim Tim Jim Vestor, has been remanded in custody until Feb. 22, ahead of an extradition hearing put forward by the United States.
Four Megaupload executives, including Dotcom, were arrested after the Department of Justice delivered an indictment, last Thursday. Each individual has been accused of having involvement with copyright infringement and a conspiracy to commit money laundering.
The FBI spent close to two years collecting evidence that shows the executives knew the types of infringement that were taking place on their site. U.S. authorities believe Dotcom masterminded a scheme that made more than $175 million by copying music and videos, according to Reuters.
Dotcom has denied charges of Internet piracy and money laundering, telling the New Zealand judge on Monday that authorities were trying to paint the blackest picture of him. The company's lawyers told the court that Megaupload and Megavideo simply offered online storage.
What's Next for Dotcom?
The native of Germany showed no emotion when he was denied of bail on Wednesday, Reuters reported. But his lawyer says he was extremely disappointed and would be appealing the decision immediately.
The decision came after unlicensed and illegal guns were found in Dotcom's Auckland mansion, which according to the judge, could point to criminal connections and make it easier for the suspect to flee to Germany, where he would be safe from extradition.
The judge told Reuters that he could not assess whether the United States had a strong enough extradition case, but he said there appears to be an arguable defense in respect to the breaching of copyright. He gave no indication on how long the hearing would take, but legal experts told Reuters that it could drag on for an extended period.
Megaupload.com had 50 million users on average per day. Prosecutors say Dotcom personally made $115,000 a day from the site in 2010. Users of the site who have tried to logon since Thursday are greeted with the following message:
This domain name associated with the website Megaupload.com has been seized pursuant to an order issued by a U.S. District Court. A federal grand jury has indicted several individuals and entities allegedly involved in the operation of Megaupload.com and related Websites charging them with the following federal crimes: Conspiracy to commit racketeering, conspiracy to commit copyright infringement, conspiracy to commit money laundering, and criminal copyright infringement.
The impact of the site's shutdown has sent shockwaves into the online world. Other file-sharing sites, such as FileSonic, have now shut down all sharing functions of their sites.
Our service can only be used to upload and retrieve files that you have uploaded personally, a notice on their Website says.
© Copyright IBTimes 2023. All rights reserved.