Kim Jong Nam Told Friend Before Assassination 'I Am Scared For My Life'
Kim Jong Nam, the estranged half-brother of North Korean leader Kim Jong Un, told one of his Japanese friends in Malaysia that his life was in danger, six months before he was assassinated at a crowded Malaysian airport, a court heard Tuesday.
On Feb. 13 last year, Kim Jong Nam was killed by smearing his face with VX, a banned chemical poison, at the Kuala Lumpur International Airport 2.
Police investigating officer Wan Azirul Nizam testified in the Shah Alam High Court on Tuesday that the Japanese friend, identified in the witness list as "Tomie Yoshio," quoted Kim Jong Nam as saying to him six months before his death, "I am scared for my life."
"Six months before the incident on Feb 13, Kim Jong Nam said 'I am scared for my life and I want a driver,'" Nizam said, citing police interviews with Yoshio.
However, he did not provide further details about the Japanese friend or his whereabouts. The friend also didn't specify to the authorities why Kim believed his life was in danger at the time.
Nizam, who is a key prosecution witness, said each time Kim Jong Nam came to Malaysia, his Japanese friend Yoshio would arrange for his personal driver to pick up the North Korean leader's brother from the airport and take him to places he wanted to go.
Kim reportedly went to the Kuala Lumpur International Airport's budget terminal in his friend's car on Feb. 13, 2017 to board a flight back to Macau, his base for many years since falling out of favor with his father, the late North Korean leader Kim Jong Il.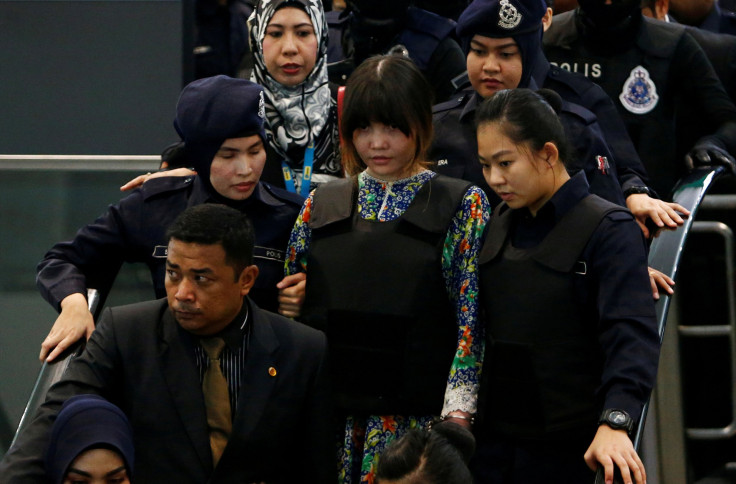 Two women, 26-year-old Siti Aisyah from Indonesia and 29-year-old Doan Thi Huong from Vietnam, are currently on trial for killing Kim Jong Nam. CCTV footage obtained by authorities also showed the two women accused of being part of the crime walking in the airport and going into the restroom before the alleged attack on Kim.
They were charged with murder along with four North Koreans — Hong Song Hac, Ri Ji Hyon, Ri Jae Nam and O Jong Gil — who are still at large. They were said to have fled Malaysia on the same day of the murder and were believed to be associated with the plot to kill the North Korean leader's estranged half-brother.
All six believed to be involved in the plot were caught on airport security cameras at the crime scene on Feb. 13. The four North Korean men were also spotted departing the country just hours after the murder.
After Kim Jong Il's death in 2011, his younger son Kim Jong Un succeeded him, who is also widely thought to have allegedly ordered his elder half-brother's assassination in order to prevent him from challenging his authority.
Kim Jong Nam was not really known to be actively seeking influence over his younger brother Kim Jong Un, however, had spoken out several times publicly against his family's dynastic rule. Since he was also the eldest son of the late leader, he could likely be seen as a potential rival to his younger brother.
However, Malaysian officials never officially accused North Korea of any involvement in Kim Jon Nam's death. The murder trial is expected to resume March 14.
© Copyright IBTimes 2023. All rights reserved.
FOLLOW MORE IBT NEWS ON THE BELOW CHANNELS