Kim Jong Un's Cheese-Eating, Smoking Habits Would Contribute To Gout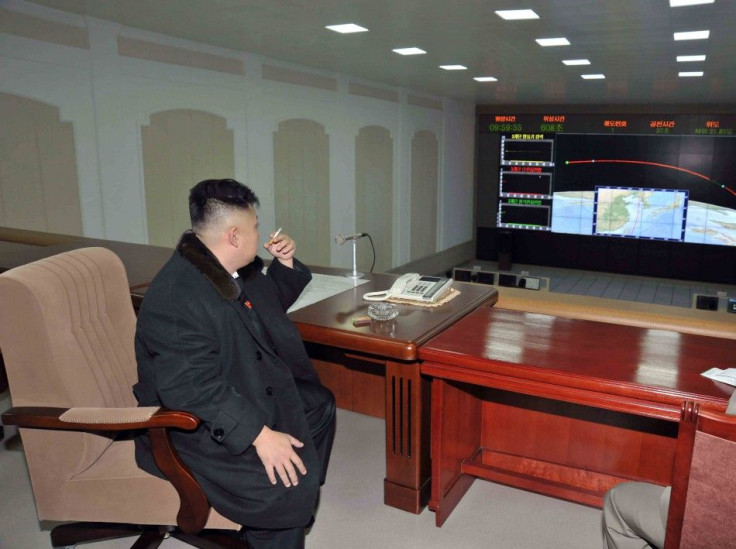 North Korean Supreme Leader Kim Jong Un has been out of the public eye for months, with speculation pointing toward the dictator's weakness for cheese and tobacco contributing to a bad case of gout. The issue is so serious, even the North Korean media, which portrays the isolated nation's leader with a god-like reverence, has confirmed Kim is "suffering discomfort."
Questions about Kim's health first began in July when a video surfaced showing the 31-year-old, who looked to have put on weight since his last public appearance, walking with a slight limp. State media issued a statement on Kim's health after he uncharacteristically failed to appear at a Supreme People's Assembly meeting and hinted there was something more to Kim remaining out of the public eye.
"The wealth and prosperity of our socialism is thanks to the painstaking efforts of our marshal, who keeps lighting the path for people, like the flicker of a flame, despite suffering discomfort," a state-controlled television host said Thursday.
The statement included no mention of gout, though a source told South Korea's Yonhap news agency Kim is suffering from gout as well as obesity, diabetes, high blood pressure, hyperuricemia (high uric acid) and hyperlipidemia (high cholesterol). Again, the North Korean state has never confirmed these suggestions but these health issues can be caused, or worsened, by poor a diet and a lack of exercise (for Kim's documented love of basketball there's been little indication that he actually takes to the court).
Kim was photographed smoking during a 2013 visit to a Pyongyang hospital, and is known to send representatives around the world in search of high-quality cheese. Two North Korean officials visited a French dairy college in March of this year in hopes of entering into a partnership that ultimately would send more high-quality cheese to Pyongyang. Veronique Drouet, the director of the dairy institute, told the Telegraph the dignitaries were surprised when their offer was refused.
"I think they thought they had found a suitable school and they thought there wasn't a shadow of a doubt that the partnership would work," Drouet said at the time.
Kenji Fujimoto, the Kim family's former personal chef who escaped North Korea, previously told English Express Kim frequently binge ate Big Macs, drank vodka and snuck cigarettes as a teenager.
"He'd ask me to wait downstairs for him, he'd come in his Mercedes and we'd go up a little hill and smoke at the car park there," Fujimoto told the news outlet. "One, maybe two cigarettes. Yves Saint Laurent was his favorite brand. Kim Jong Un drank a lot, too, even as a young teenager -- Russia's finest vodka. Sometimes he'd drink the whole bottle all by himself. Though now he prefers Bordeaux ... which was [his father] Kim Jong Il's favorite."
North Korean officials are also believed to have traveled to Germany and Switzerland where Kim is rumored to have been educated, seeking medical advice. If Kim is indeed in ill health, observers have suggested, that knowledge might embolden subordinates who have their eye on Kim's position.
"Dictators are very suspicious of the potential challengers, and of course, they are vulnerable when sedated," Daniel Pinkston, deputy project director for the North East Asian program at the International Crisis Group, told the Guardian, adding Kim Il Sung's sudden death might have been prevented. "Notice that his grandfather never got his tumor removed from his neck," Pinkston said.
© Copyright IBTimes 2023. All rights reserved.
FOLLOW MORE IBT NEWS ON THE BELOW CHANNELS