The King And I: Cambodian Workers Protest Chinese Manager For Tearing Up Sihanouk's Photo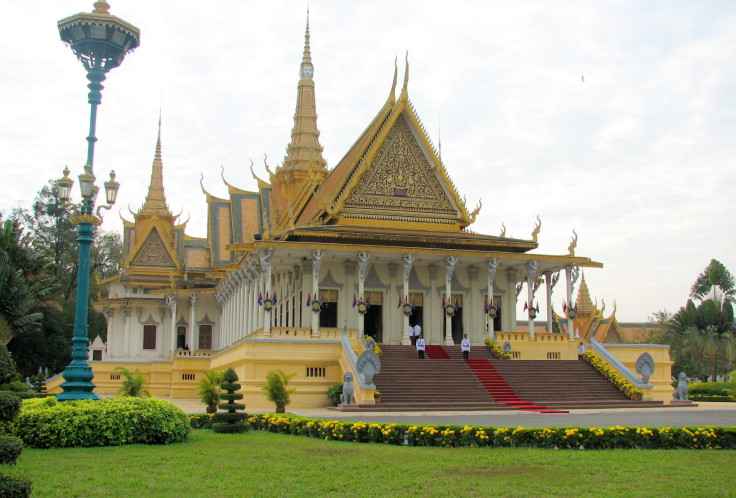 Workers at a Cambodian garment factory protested on Monday after the plant's Chinese manager reportedly ripped up photos of the recently departed former king Norodom Sihanouk.
Riot police were called in to prevent a wider disturbance and detained Wang Zia Cha, the manager of the Top World factory in Phnom Penh.
The manager was apparently seeking to punish the workers for shirking their work duties, AP reported.
"When the Chinese lady saw the pictures [of the king], she grabbed them ... she tried to tear the photos, but she was unable to and she used scissors to cut them," factory employee Sroy Phall told Agence France-Presse.
She was subsequently taken in handcuffs to a shrine for the king where she was forced to light incense and kneel down before him in full view of factory employees.
Sihanouk, who led Cambodia for 50 years, died last week in Beijing.
Police now will determine if she broke any laws by desecrating Sihanouk's photos. Unlike Thailand,
Cambodia's does not explicitly legislate against insulting members of its monarchy.
Phnom Penh city police chief Lt. Gen. Chuon Sovann said the manager will face charges in court on Tuesday for "insulting the king."
Associated Press reported that Wang was dismissed from her post.
"The workers were very angry with her. If we hadn't stepped in on time, the situation could have turned serious," Phnom Penh police chief Chuon Sovann told AFP.
More than 1,000 of the workers later marched to the Royal Palace to continue the protest.
"Today this woman dares to tear up the picture of our king, next time she will commit a crime against us workers if she is not punished now," an employee named So Sareth told AP.
Garments are one of Cambodia's chief exports, with up to 400,000 people employed by factories, mostly in the capital city of Phnom Penh.
China has invested heavily in Cambodia -- bilateral trade volume between the two countries amounted to $2.5 billion in 2011, and could double within the next five years.
According to a report of the Council for the Development of Cambodia, between 1994 to 2011, Cambodia received investments valued at $8.91 billion from China, making Beijing the number one investor.
© Copyright IBTimes 2023. All rights reserved.