Knicks Trade Rumors: Will New York Move Up In The 2018 NBA Draft For Mo Bama Or Luka Doncic?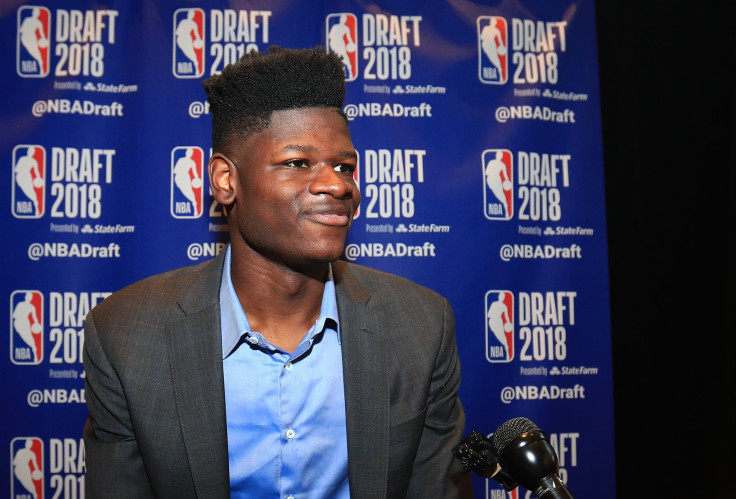 The New York Knicks appear to at least be considering making a trade to move up in the 2018 NBA Draft. The Atlanta Hawks at No.3 and the Memphis Grizzlies at No.4 have explored moving down in the lottery, and the Knicks are reportedly one of several teams that have shown interesting in making a deal.
Rumors about New York moving into the top four began Wednesday afternoon when ESPN's Ian Begley reported that the team met with Texas' Mo Bamba. The 7'1 prospect almost certainly won't be available when the Knicks are ready to pick at No.9 overall, sparking speculation that they might be preparing to complete a trade.
ESPN's Jonathan Givony confirmed that New York is considering trading up to No.4. The Ringer's Kevin O'Connor listed the Knicks among six teams that are interested in making a trade with the Hawks to acquire either Bamba or Luka Doncic.
What are the chances that the Knicks actually make a trade on Draft Day?
It might be somewhat of a long shot for New York to actually pull off a deal. The Knicks don't exactly have a bunch of assets that other teams desire, aside from future first-rounders, which the team isn't likely to part with.
Memphis is reportedly looking to unload Chandler Parsons in any deal. The forward is still owed more than $48 million over the next two years. He's only played 70 games and averaged 7.0 points per game in two seasons with the Grizzlies because of injuries.
The Knicks already have one disastrous contract on their books for the next two years. They owe Joakim Noah $18.5 million next year and $19.295 million for the 2019-2020 season. Would New York really agree to have maybe the league's two worst contracts in order to move up five spots in Thursday's draft?
According to ESPN's Adrian Wojnarowski, New York hasn't yet requested Bamba's medical information, indicating they don't expect to draft him. The Knicks are reportedly content with staying at No.9, where they've been linked to the likes of Villanova's Mikal Bridges and Kentucky's Kevin Knox.
That could change when the first three picks come off the board. Maybe New York will decide to pull the trigger on a deal if either Bamba or Doncic is still available once Memphis is on the clock.
It's been years since the Knicks made a major trade during the draft. New York would be hopeful that any trade they might make Thursday would turn out much better than the last one.
In 2002, New York sent Marcus Camby, Mark Jackson and the No.7 overall pick (Nene) to the Denver Nuggets in exchange for Antonio McDyess, the 25th overall pick (Frank Williams) and a future second-rounder. Injuries limited McDyess to just 18 games with New York and Williams was gone from the NBA in three years. Nene is still in the league 16 years later.
© Copyright IBTimes 2023. All rights reserved.