NBA Draft 2018: Order For Every Pick, Start Time, TV Channel
The wait for the unofficial start to the offseason finally comes to an end Thursday night at Barclays Center. That's when the 2018 NBA Draft will get underway and teams will start making moves to improve their rosters for the upcoming season.
It all starts at 7 p.m. EDT on ESPN. The Phoenix Suns have the first overall pick, and there's plenty of intrigue regarding what might happen near the top of the draft.
Thursday won't simply be about finding out where the best prospects will play in the 2018-2019 season. Several teams are in a position to make trades that could have a major impact on next year's playoff picture.
Teams like the Boston Celtics and Philadelphia 76ers have multiple valuable draft picks within the next two years that could be traded. Both teams are trying to turn their rosters into legitimate championship contenders after finishing second and third in the Eastern Conference.
If the San Antonio Spurs decide to give in to Kawhi Leonard's trade request, it might make sense for them to make a deal just prior to the draft. The organization doesn't seem quite ready to shop the star forward, though they might accept a lucrative offer if they receive one.
The Chicago Bulls traded Jimmy Butler to the Minnesota Timberwolves during the 2017 NBA Draft. Paul George was reportedly nearly sent to the Cleveland Cavaliers, but the deal fell through.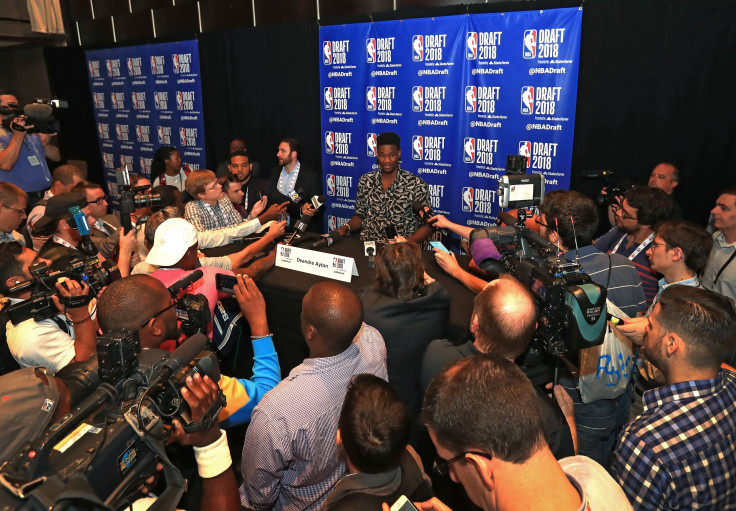 Let's take a look at the complete 2018 NBA Draft order. The second-round begins with the 31st overall pick.
Phoenix Suns
Sacramento Kings
Atlanta Hawks
Memphis Grizzlies
Dallas Mavericks
Orlando Magic
Chicago Bulls
Cleveland Cavaliers
New York Knicks
Philadelphia 76ers
Charlotte Hornets
Los Angeles Clippers
Los Angeles Clippers
Denver Nuggets
Washington Wizards
Phoenix Suns
Milwaukee Bucks
San Antonio Spurs
Atlanta Hawks
Minnesota Timberwolves
Utah Jazz
Chicago Bulls
Indiana Pacers
Portland Trail Blazers
Los Angeles Lakers
Philadelphia 76ers
Boston Celtics
Golden State Warriors
Brooklyn Nets
Atlanta Hawks
Phoenix Suns
Memphis Grizzlies
Atlanta Hawks
Dallas Mavericks
Orlando Magic
Sacramento Kings
New York Knicks
Philadelphia 76ers
Philadelphia 76ers
Brooklyn Nets
Orlando Magic
Detroit Pistons
Denver Nuggets
Washington Wizards
Brooklyn Nets
Houston Rockets
Los Angeles Lakers
Minnesota Timberwolves
San Antonio Spurs
Indiana Pacers
New Orleans Pelicans
Utah Jazz
Oklahoma City Thunder
Dallas Mavericks
Charlotte Hornets
Philadelphia 76ers
Oklahoma City Thunder
Denver Nuggets
Phoenix Suns
Philadelphia 76ers
© Copyright IBTimes 2022. All rights reserved.
FOLLOW MORE IBT NEWS ON THE BELOW CHANNELS