Kobane: Erdogan Calls For Ground Troop Invasion To Fight ISIS, Syrian Kurds Fear Turkish Military Presence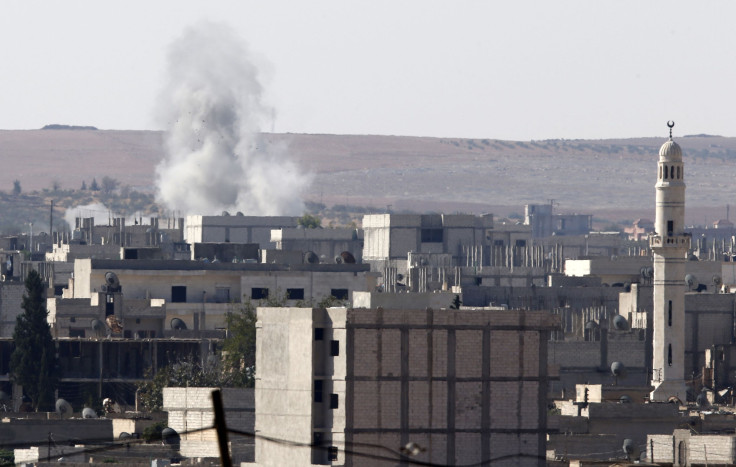 After weeks of watching militants attack his country's borders, Turkish President Recep Tayyip Erdogan said Islamic State fighters in Kobane, Syria, can be stopped only if ground troops intervene. That was the first public indication the NATO member may be willing to collaborate militarily with the U.S.-led coalition to fight ISIS -- a situation that could lead to new tensions between Turkey and the Kurdish population in the north of Syria.
Kurdish fighters from various militant groups in Syria have flocked to Kobane to fight ISIS. Despite the influx of fighters, the Kurds have relied heavily on U.S.-led coalition airstrikes targeting the Sunni militants from the outside -- in the suburbs of the city. But the airstrikes have not stopped them. The Kurdish fighters are calling for more help, specifically military support that would give them leverage on the ground.
"We are welcoming anyone who provide[s] us aid to fight this terrorist organization that is a threat to the region and the world security," Ismet Sheik Hassam, a top leader of Kurdish military forces defending Kobane, said in a phone interview. So far, no one has expressed willingness to send troops into Kobane."We are trying to build relations with the Turkish government, but until now we didn't get to any solid results."
Turkish tanks and army forces deployed to the border near Kobane last week, but after nearly three weeks of fighting between Kurdish military forces and ISIS -- and several mortars falling into Turkish territory -- they have yet to intervene.
"You can't end this terrorism just by airstrikes. If you don't support them on the ground, by cooperating with those who take up a ground operation, the airstrikes won't do it," Erdogan said. Erdogan's statement comes less than a week after parliament approved a measure that authorizes Turkish troops to enter Iraq and Syria to fight ISIS, and allows foreign militaries to use its bases.
On the ground in Kobane, a video purportedly released by ISIS showed its fighters in the streets launching rocket-propelled grenades and shooting at Kurdish military forces. The man filming the video said he was recording in ISIS "headquarters" in Ayn al-Arab, another name for Kobane. "We have returned again to the fire," the man says. At the end of the video, Arabic text along the bottom says ISIS is fighting with the "Nusayri Army," a colloquial, derogatory term referring to Syrian President Bashar Assad's military forces.
About 200 to 300 people cross the border daily to join the Kurdish fighters against ISIS in Kobane, according to activists in the city, but most of them are not skilled fighters and do not have any weapons.
Aisha Afandi, co-chair of the Democratic Union Party (PYD), a Syrian Kurdish party, in Kobane, said Kurdish soldiers in Kobane are not relying on Turkey for military support. "The only thing we demand from Turkey is just to control its borders so ISIS terrorists will not cross the Turkish border and transport resources and supplies," she said.
The Turkish government has been accused of allowing ISIS fighters to cross its border into Syria, along with weapons and ammunition.
In a speech last week at Harvard's Kennedy School of Government, Vice President Joe Biden said, in a candid moment, that Turkey was part of the reason ISIS had advanced in Syria.
"The Turks … the Saudis, the Emiratis, etc. What were they doing? They were so determined to take down Assad and essentially have a proxy Sunni-Shia war," Biden said. "They poured hundreds of millions of dollars and thousands of tons of weapons into anyone who would fight against Assad -- except that the people who were being supplied were al-Nusra and al Qaeda and the extremist elements of jihadis coming from other parts of the world."
Biden apologized Monday. "The vice president apologized for any implication that Turkey or other allies and partners in the region had intentionally supplied or facilitated the growth of ISIL [ISIS] or other violent extremists in Syria," the White House said.
Jailed Kurdistan Worker's Party leader Abdullah Ocalan warned last week peace talks between his organization and the Turkish government, aimed at ending decades of conflict between the Turkish government and Kurds, would break down if ISIS took over Kobane.
The PYD's Afandi said Kurds in northern Syria do not trust Turkey. They think troop deployment in Syria or the establishment of a buffer zone would be a pretext to usher in a long-term Turkish military presence in Kurdish regions, she said. In fact, under the motion passed last week in parliament, Turkish troops are authorized to deploy across the border to fight both ISIS and the PKK, which is thought to have links to Afandi's party.
"Turkey wants to create a buffer zone, but we are against such a plan because Turkey wants to destroy the achievements of the Kurdish resistance in Syria," Afandi said.
Instead of Turkish intervention, PYD supporters are calling for assistance from the U.S.-led coalition.
"What we demand from [them] is to support Kobane by giving heavy weapons and helping Kurdish fighters with effective airstrikes by hitting the strategic positions of ISIS around Kobane," Afandi said.
U.S.-led coalition forces bombed ISIS near Kobane again Thursday, targeting checkpoints and convoys to try and push ISIS back from the city center. Meanwhile, Kurdish supporters across Turkey, including in Istanbul, held protests demanding the government intervene in Kobane. Demonstrators also gathered in London and Netherlands, demanding Turkey and coalition forces stop ISIS from advancing.
© Copyright IBTimes 2022. All rights reserved.
FOLLOW MORE IBT NEWS ON THE BELOW CHANNELS