US Airstrikes In Syria Cripple ISIS Funding By Hitting Oil Refineries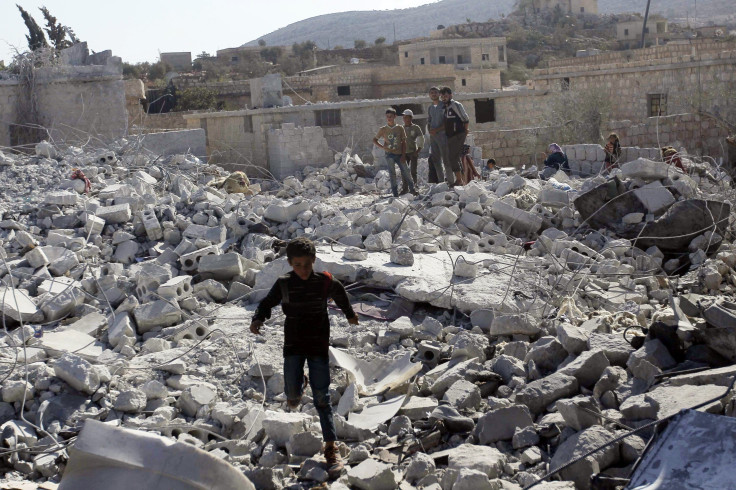 ISTANBUL -- U.S. airstrikes in Syria targeting oil refineries controlled by the Islamic State group are cutting heavily into the group's profits, which at one point were, on average, between $2 million and $3 million a day, analysts say.
"It is crippling for ISIS," Luay al-Khatteeb, director of the Iraq Energy Institute, said of the destruction of oil refineries. After more than a week of U.S. and coalition bombings targeting the Sunni militant group in Syria, "profits [for ISIS] are out of the equation." The group's profits are now in the thousands rather than millions of dollars per day, Khatteeb said in a discussion on the sidelines of the World Economic Forum in Istanbul. Khatteeb said before the airstrikes, ISIS was making anywhere between 30,000 and 40,000 barrels a day in just Iraq, and in Syria, they produced 50,000 barrels. Now, they are making on average 20,000 barrels a day.
Over the past three months the Islamic State group, also known as ISIS or ISIL, has gained control of large parts of Syria and Iraq, including oil fields on the edges of Iraqi Kurdistan. The extremist group began selling oil, turning itself into a multimillion-dollar enterprise. The group has sold both crude and refined oil to locals in Iraq and Syria, and purportedly on the black market in Turkey. According to Khatteeb, ISIS sold the oil for prices ranging between $20 and $40 a barrel. Each truck transporting oil through the border via what Khatteeb said was an already well established "smuggling network" was worth about 7,000 barrels.
The money has been used to finance, at least in part, the group's weapons, ammunition, soldier salaries and procure other resources needed to fight.
Describing ISIS as a "network of death" at his speech at the United Nations last week, President Barack Obama said the U.S.-led coalition would starve the group financially.
"It is time for a new compact among the civilized peoples of this world to eradicate war at its most fundamental source: the corruption of young minds by violent ideology," Obama said. "That means cutting off the funding that fuels this hate. It's time to end the hypocrisy of those who accumulate wealth through the global economy, and then siphon funds to those who teach children to tear it down."
It is unclear exactly how much the group generates in oil sales, or where exactly is gets the rest of its money. Qatari and Saudi businessmen have been implicated in the funding of ISIS directly. Financial analysts and oil experts told International Business Times that if ISIS is taking in millions of dollars a day, some of that revenue is distributed in cash for soldier salaries, and is connected, at least in part, to the banking system. But so far that cash flow has gone undetected.
Yet, Khatteeb said, ISIS is still refining oil in small-scale, mobile refineries that are difficult to detect. Some of that oil, he said, is continuing to get smuggled into Turkey. The small, handmade refineries produce about 5,000 barrels at a time, he said, which is used mostly for heating and transportation.
"The question is, how serious is Turkey in stopping those imports?" he said.
Jenik Radon, a professor at Columbia's School of International and Public Affairs and an expert in oil contract negotiations, said ISIS could still generate significant daily income despite U.S. airstrikes if it took advantage of an already established oil routing system: The pipelines that run from Iraqi Kurdistan into Turkey.
"They could mix the stolen oil with the oil that is already running through that pipeline," Radon said. "It would be untraceable, essentially." So far, Kurdish and Turkish officials have denied any involvement with the ISIS oil trade.
Ibrahim Kalin, assistant undersecretary of state and senior adviser to the prime minister of Turkey, said in side discussions at the World Economic Forum in Istanbul that Turkey has "no use for the smuggled oil" and that refineries in Turkey would "not accept" any crude oil that makes its way into the country via ISIS.
But Khatteeb said ISIS is most likely selling oil to small, local companies. "They aren't brand names," he said.
Murat Lecompte, director of media relations at BP Turkey, the Turkish unit of oil giant British Petroleum, said retail fuel stations in the southeast of the country have experienced a decrease in demand over the last month, most likely from the black market oil trade. The company does not have deals in Iraqi Kurdistan, he said.
Turkish officials at the World Economic Forum this week spent most of the time discussing how Turkey can take advantage of oil production in the region and establish itself as a more reliable transport hub. But the Syrian conflict could cause continued problems for Turkey, potentially affecting its ability to maintain control of its porous border, and therefore, its oil industry.
The current situation at the Turkish border with Syrian areas controlled by ISIS is tense.
Within the past week hundreds of thousands of Syrian Kurds fled the Syrian village of Kobane, also known as Ayn al-Arab, after ISIS attacked it. Initially, Turkish security forces did not allow the refugees to pass through to safety, fearing ISIS soldiers would cross with them. As the fighting intensified in Kobane on Monday, mortar shells fell into Turkish territory. In response, the Turkish military sent tanks to the border.
© Copyright IBTimes 2023. All rights reserved.