ISIS Flag Unfurled In Kobane As Militants Seize Control Of Eastern Districts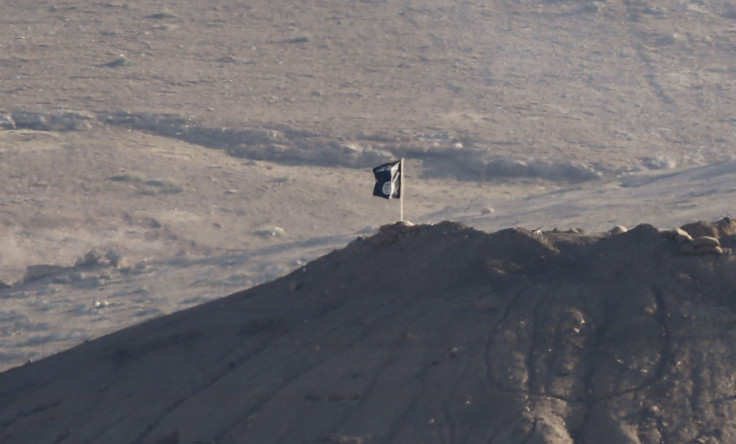 Update as of 4:50 a.m. EDT: The battle for Kobane on the Turkey-Syria border has spread to the town's south after resistance from Kurdish troops forced the Islamic State group to fall back in the east, BBC reported Tuesday, adding that while fighting was less intense than on the previous day, witnesses had reported loud explosions, possibly from airstrikes.
Citing the Syrian Observatory for Human Rights, BBC reported that the Sunni militant group had seized control of several buildings in the town's south. More than 160,000 Syrians, mostly Kurds, have fled Kobane in the past few days, according to the report.
Militants of the Islamic State group have entered the northern Syrian border town of Kobane for the first time and are now in control of three eastern districts, the Syrian Observatory for Human Rights said, according to media reports.
"Urban guerrilla warfare has started and the fighting is taking place for the first time in districts at the eastern entrance, in Maqtala al-Jadida and Qani Arab," Rami Abdel Rahman, director of the Observatory, reportedly said. However, the center of the town is still under the control of Kurdish forces, according to media reports.
"Military officials asked civilians to evacuate - they declared Kobane a military area," Mustafa Bali, a spokesperson for Kurdish forces in the city, told Agence France-Presse, or AFP, adding that more than 2,000 people had left the city.
The Islamic State group's advance into Kobane comes just hours after they captured Mishtenur Hill, which overlooks the Kurdish-populated town, and raised their flags on the hill. ISIS flags were also seen on buildings in the eastern districts of the town, according to media reports.
"If this continues, if there's no international aid, military aid arriving for the residents of Kobane and these Kurdish fighters that are fighting in Kobane, it could fall into the hands of IS (Islamic State)," Karwan Zebari, a representative of the Kurdish regional government in the United States, told BBC.
Asya Abdullah, a senior Kurdish politician, told BBC that airstrikes carried out by the U.S-led coalition had not prevented the advance of the militants into Kobane.
"They have surrounded us almost from every side with their tanks. They have been shelling the city with heavy weapons. Kurdish fighters are resisting as much as they can with the limited weapons they have," Abdullah told BBC. "ISIS has heavy weapons and tanks, that is why our resistance has limits and we need more air strikes,"
Meanwhile, protests broke out in Turkey late on Monday over its perceived inaction in Kobane, according to an Al Jazeera report. The Turkish parliament, had, last week, authorized the government to join the coalition against the Islamic State group, but it has not announced any plans for military action so far, according to media reports.
© Copyright IBTimes 2022. All rights reserved.
FOLLOW MORE IBT NEWS ON THE BELOW CHANNELS