Kobani Update: ISIS Manages To Unite Kurdish Factions, And That's Worrying Turkey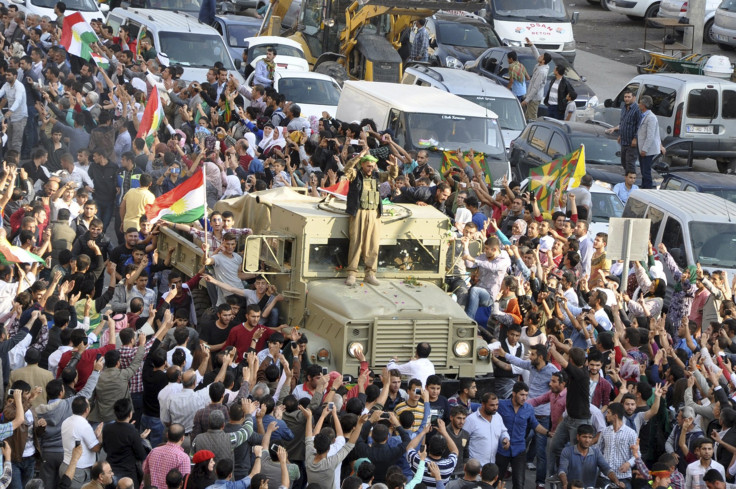 Since it declared its caliphate earlier this year, the Islamic State group has attacked different Kurdish factions in Iraq and Syria, focusing on the town of Kobani -- but so far the militants' main achievement has been uniting the many and sometimes historically rival Kurdish factions on the battlefield, creating political partnerships where there had been enmity. That has also created a headache for Turkey -- historically an enemy of the Kurds.
"Duress brings the Kurds together, and they're more unified now than they were before," said David Phillips, director of Columbia University's program on Peace-building and Rights, and senior adviser to the State Department for the last three administrations. "The only group that has shown any mettle on the battlefield are the Kurds."
Kurdish forces have clashed with the group also known as ISIS in Syria's border city of Kobani for nearly 50 days in what has become one of the closest watched and longest lasting battles involving ISIS. Despite being outnumbered and outgunned, the Kurds' united front against militants has so far been effective, with aerial support from a U.S.-led coalition. The newfound Kurdish solidarity between Iraqi, Syrian and Turkish Kurds is unlikely to result in an all-encompassing, independent Kurdistan, but some alliances will last, experts said.
"The new independent entity is Iraqi Kurdistan which will stand up as Iraq falls down and it will confederate with Kurdish regions in Syria," said Phillips. "But confederate does not mean that Rojava [Kurdish-controlled Syria] will become part of the new independent entity. It may in the future but that won't happen right away."
The Syria's Kurdish People's Defense Units (YPG) took control of Kobani in 2012 and declared it the center of Syrian Kurdistan earlier this year, taking precedence over the two other Kurdish cantons in Syria: Jezira and Efrin. Jezira shares part of its border with Iraq, where ISIS has attacked Iraqi Kurdish peshmerga forces. A peshmerga unit made up of about 150 people aligned with two separate Iraqi Kurdish political parties arrived in Turkey this week, with the intent of crossing into Kobani to help the YPG.
"We are proud that our people in Rojava and in Kurdistan Region are bravely fighting ISIS terrorists and inflicted heavy losses on them," Massoud Barzani, president of the Kurdistan Regional Government and leader of the Iraqi Kurdish Democratic Party (KDP), posted on his Twitter page.
This was an unprecedented show of solidarity, as the KDP has long been at odds with Syrian Kurdish Democratic Union Party (PYD) and its YPG army, both offshoots of Turkey's Kurdistan Workers' Party (PKK). However, Iraq's other Kurdish political parties such as the Patriotic Union of Kurdistan (PUK) are allied with the YPG.
"Iraqi Kurds are not one single voice," said Kurdish affairs analyst and commentator Mutlu Civiroglu. "They have drastically different stances on Rojava. The KDP remained isolated so they had to agree as well. The rest of the political parties in parliament are siding with PYD and YPG."
Peshmerga fighters may not have a significant impact on the battlefield in Kobani, but "it has symbolical meaning. Kurds appreciate the fact that their brothers in Iraq [are] coming all the way to fight for Syrians," said Civiroglu. "It's not the substance that people are appreciating, that people are cheering for. It's the sentiment, it's the aspiration that they're cheering for."
Although Turkey allowed a small number of coalition-allied peshmerga to cross into Kobani, it does not want its own Kurdish groups to help the YPG. Turkey has resisted getting involved in the battle for Kobani as it has long been at odds with the PKK, which it designated a terrorist organization.
Turkey's resistance to Kurdish unity in Kobani has strained its relationships with countries in the coalition to combat ISIS, the Washington Post reported. But the possibility of a future independent Iraqi Kurdistan allied with Rojava doesn't pose an immediate threat to Turkey, experts said.
"The Kurds in Turkey are not seeking union with Iraqi Kurdistan," said Phillips. "But they've certainly joined the fight against ISIS."
"Kurds have been paying the highest price in Iraq and Syria because Kurds are tolerant people. They are a multicultural society," said Civiroglu. "ISIS ideology is threatened by Kurdish ideology."
FOR FREE to continue reading
✔️ Unlock the full content of International Business Times UK for free
offer available for a limited time only
✔️ Easily manage your Newsletters subscriptions and save your favourite articles
✔️ No payment method required
Already have an account?
Log in
© Copyright IBTimes 2023. All rights reserved.