Kosta Karageorge Missing: Body Found Near OSU Player's Apartment In Columbus [LIVE STREAM]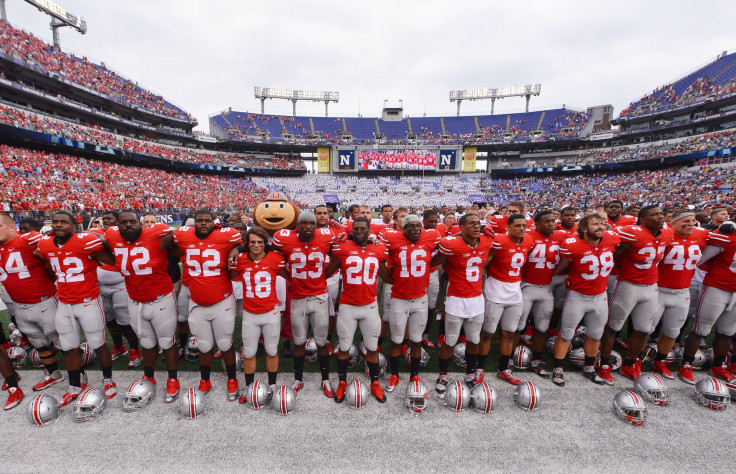 UPDATE 5:39 p.m.: The body has been identified as that of Kosta Karageorge, Columbus Police Sgt. Rich Weiner told a news conference. Tattoos on the body helped authorities identify it as the missing OSU player, Weiner said.
"At this time we are able to confirm through tattoos here at the scene that it is the body of Kosta Karageorge," he said. The preliminary investigation found that Karageorge died of a self-inflicted gunshot wound, Weiner said. A handgun was found at the scene, and Karageorge's parents were notified that his body was found.
Karageorge's body was discovered inside a Dumpster by police following a call from from a woman and her son, who were in the area searching through containers for items, Weiner said.
Original story:
Ohio authorities are investigating a dead body found near the campus of The Ohio State University in Columbus, Ohio, but it's unclear if the body is that of missing OSU football player Kosta Karageorge. The body was found near Karageorge's apartment following a call at around 2:36 p.m. EST on Sunday near East 6th Ave. and Courtland Ave. in Columbus, the city's NBC affiliate, WCMH, reported.
Columbus' CBS affiliate WBNS has a live stream of the scene, which you can view below. The station said police were expected to address the media shortly:
Karageorge, who has a history of concussions, has been missing since Wednesday. His mother, Susan Karageorge, said her son mentioned his concussions and being confused shortly before he disappeared. The 22-year-old was a walk-on with the Ohio State football team, meaning he did not have a scholarship to play football for the school.
Police cordoned off an alleyway near Karageorge's apartment, but they had not positively identified the body as the missing OSU student by 4:15 p.m. EST, WCMH reporter Dan Pearlman tweeted:
Karageorge's sister, Sophia Karageorge, said her brother was upset about something on the day he went missing. His roommates said he took a walk near his apartment, according to Cleveland.com.
During Ohio State's game against the University of Michigan on Saturday, the school publicized his disappearance with a moment of silence and posted police contact information on the scoreboard. "Our prayers and thoughts are with him and his family and to have him return home safe," said Ohio State coach Urban Meyer, according to the Associated Press.
Twitter users posted on Sunday that they hoped the body found was not that of Kosta Karageorge.
© Copyright IBTimes 2023. All rights reserved.