Kurds Call Turkey's President 'ISIS Collaborator': Islamic State On Turkey's Doorstep Foments Kurdish Tensions At Home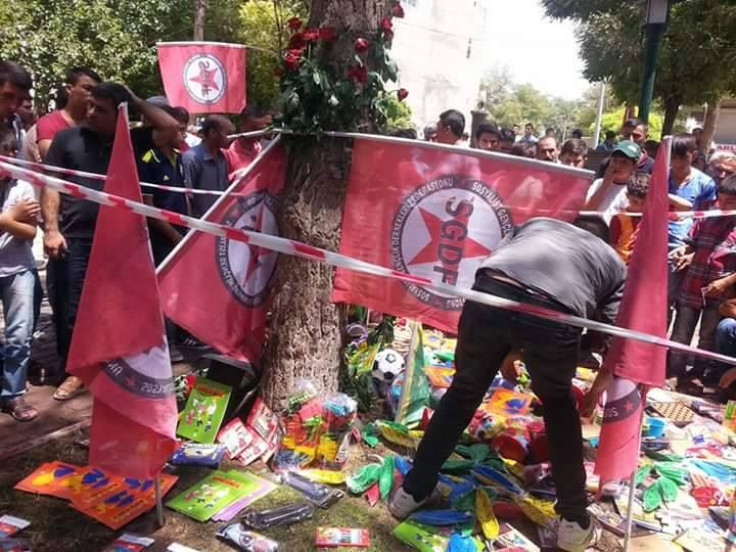 Zeki Mafzan stepped over burned bodies that were barely recognizable as the young men and women who populated Monday's youth activist meeting. The Kurdish activist was looking for signs of life after a bomb detonated in the southeastern Turkish border town of Suruc. Thirty-two activists and students were killed, and the Turkish government blamed the Islamic State group. Kurdish fighters have been battling the militants in Syria for more than a year, but this was the first time they'd attacked inside Turkey.
On Wednesday, Mafzan, along with hundreds of other activists and Kurdish civilians, returned to Suruc Square, holding a sign that read "The Turkish Government Is Pro-ISIS," accusing Turkish President Recep Tayyip Erdogan of turning a blind eye, and covertly encouraging ISIS attacks on Kurds.
The man responsible for carrying out the attack in Suruc was revealed Thursday as a 20-year-old Turkish Kurd, named in the local media as Seyh Abdurrahman Alagoz from Adiyaman, a Kurdish-majority city in southern Turkey. He reportedly left the country six months ago and returned to Turkey just 10 days before the attack. Many suspect that he had gone to fight with Islamic State militants in Syria. The revelation did not stop Kurdish groups from holding the Turkish government responsible for the attack.
"How is it possible that the Turkish intelligence had no idea?" Dilan Kocer, a spokeswoman for the Kurdistan Women's Liberation Movement, a coalition of Kurdish women's organizations, told International Business Times via Skype. "This means that we do not have to search for foreign ISIS fighters inside Turkey ... the terrorists are already inside the country and they are ready for new attacks."
Many Kurdish activists in Suruc blamed the Turkish government for a slow police response in the hours following the attack. "Police didn't help with rescuing injured people. Only civilians and local activists like me from the area helped in rescue operations. I'm aware and 100 percent sure that Turkey's Erdogan and the Turkish intelligence agency are behind this horrible terrorist attack," Mafzan said.
The political fallout from the bomb threatens to destroy fragile peace talks brokered between Turkey and the Kurdistan Workers' Party (PKK), whose Kurdish brothers in Syria have been fighting ISIS in Kobane, a Syrian town just 15 minutes away from Suruc.
One thing most factions agree on is that the ensuing chaos is working in ISIS' favor.
Hamid Yazdan Panah, a Iranian human rights attorney who works on Kurdish issues, told IBTimes, "Whoever was behind this attack is hoping to inflame the situation. This latest bombing can certainly increase tensions .. and could escalate into a confrontational situation."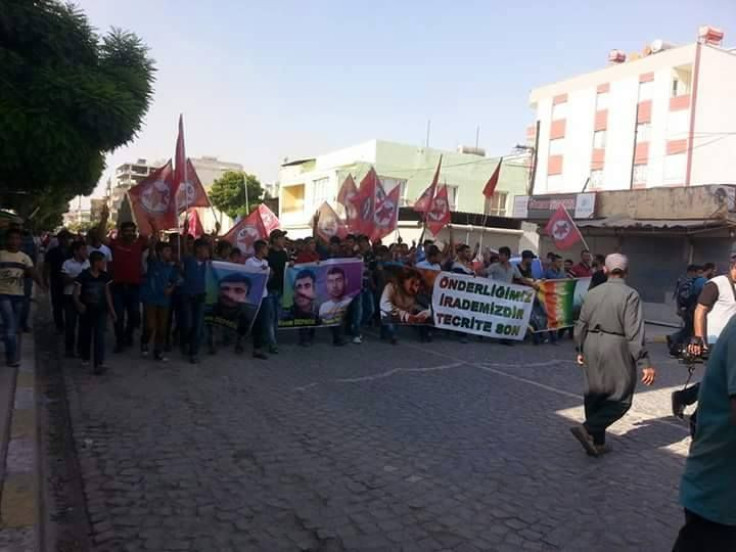 A confrontational situation is already escalating: Kurdish militants have since killed two Turkish police officers, purportedly in revenge for the deaths in Suruc. There are also Turkish nationalists who believe the bomber's Kurdish ethnicity is an indicator that certain far-left Kurdish groups were aware of the operation and hoped it would provoke the Turkish military into open fighting with ISIS.
On Thursday, for the first time, Turkish forces engaged in cross-border clashes with ISIS militants in Syria. Dozens of troops from Turkey's Special Forces Command were sent to reinforce the four Turkish border provinces and F-16 fighter jets were deployed in ISIS-controlled areas of Syria, the Anadolu News Agency reported.
Meanwhile, a growing number of Kurds believe that what happened in Suruc directly reflects Erdogan's policy of violence toward the Kurds. "The war in northern Syria is a kind of war of representations. Kurds are fighting ISIS there but actually ISIS is representing Turkish interests there," Kocer said.
The Suruc attack is exacerbating existing sectarian tensions and creating the atmosphere of civil chaos that ISIS thrives in. Though Kurds make up roughly one-fifth of Turkey's population, they have a bloody history with Turkish nationalists, and wounds from an internal conflict that has claimed at least 40,000 lives have yet to heal.
"The bombing was carried out by ISIS but the Turkish government is closing its eyes on them," said Newaf Xelil, a spokesman for the Syrian Kurdish Democratic Union Party (PYD). "Why are there all the bombings against Kurdish civilians and fighters and there's nothing being carried out against the Turkish government?"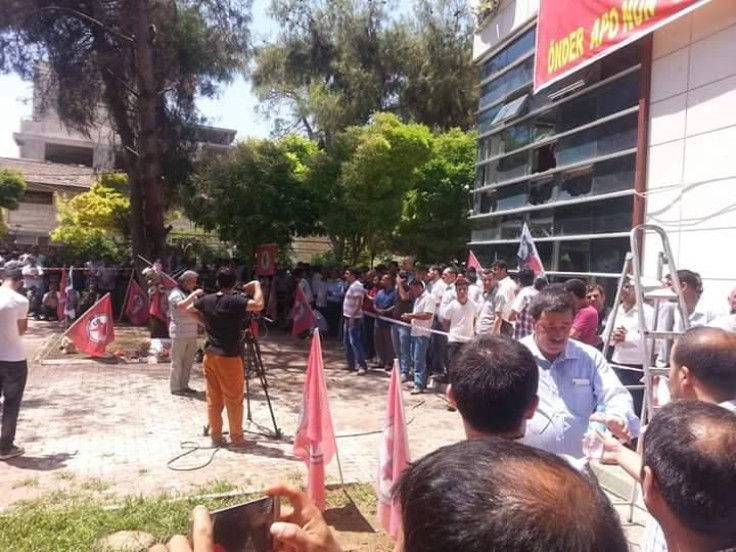 ISIS certainly had no shortage of reasons for targeting the gathering Monday. The Federation of Socialist Youth Association, a leftist Kurdish organization, was meeting in Suruc to discuss fundraising for Kobane, where ISIS and Syrian Kurdish fighters have been fighting since last year.
ISIS is also fighting Kurdish groups in Syria that are supported by the PKK. Lacking an ally in their government, some Kurdish groups in Turkey have aligned themselves with Kurdish groups in Syria, and joined them in the fight against ISIS. This allegiance is particularly problematic for Erdogan, who has adamantly refused to accept the creation of a unified Kurdish state along Turkey's Syrian border.
It's been over a year since ISIS declared its caliphate across Iraq and Syria, but it's only now that the Islamic State group has launched attacks on Turkish soil, drawing Turkish Kurds and nationalists into a long and bitter fight. The Kurds, Mafzan said, would not hesitate to defend themselves against both the government and the militants.
Jack Shahine, a local journalist from Kobane, contributed eyewitness reporting to this article.
FOR FREE to continue reading
✔️ Unlock the full content of International Business Times UK for free
offer available for a limited time only
✔️ Easily manage your Newsletters subscriptions and save your favourite articles
✔️ No payment method required
Already have an account? Log in
© Copyright IBTimes 2023. All rights reserved.