Kylian Mbappe Is 'On Same Level As Lionel Messi, Neymar,' Says PSG Boss
KEY POINTS
Kylian Mbappe signed a new deal in the summer
Mbappe has scored 19 goals for PSG this season
PSG are five points clear at the top of the Ligue 1 table
Kylian Mbappe is "on the same level as Lionel Messi and Neymar," according to Paris Saint-Germain (PSG) boss Christopher Galtier.
Going into the 2022 summer window, Mbappe was heavily linked with a move to Real Madrid. However, in the end, the French forward took a U-turn and instead signed a lucrative extension with PSG. After he signed the deal, it was speculated that Mbappe was given exclusive powers behind the scenes, but Galtier has made it clear that the 23-year-old forward is not above the club.
"He embodies the project, there can be no doubt. But when I say that he embodies the project, it is not that he is above the club. Kylian is at the same level as all the other players. On the same level as Leo Messi who has an incredible career, who is the greatest player in the history of football. Kylian is on the same level as Neymar," Galtier told RMC Sport.
Last month, there were rumors that Mbappe was unhappy at PSG and wanted to move away in January. However, the French player later denied those reports. The head coach has now stated that Mbappe loves PSG and will continue at the Parc des Princes side.
"Obviously he is in love with PSG, but he had a very attentive eye on Real Madrid. He made the decision to stay. He made a strong decision and he must be respected for that. He is respectable," added Galtier in the same interview.
Mbappe has once again started the season well, netting 19 goals and providing five assists in 20 appearances for PSG in all competitions. Messi and Neymar, too, have been in great form, contributing to 26 goals (14 assists and 12 goals) and 27 goals (12 assists and 15 goals) respectively.
Courtesy of the front three players' run in the 2022-23 campaign, PSG are five points clear at the top of the Ligue 1 table. The French side is also scheduled to take on Bayern Munich in the Round of 16 of the Champions League next year in February.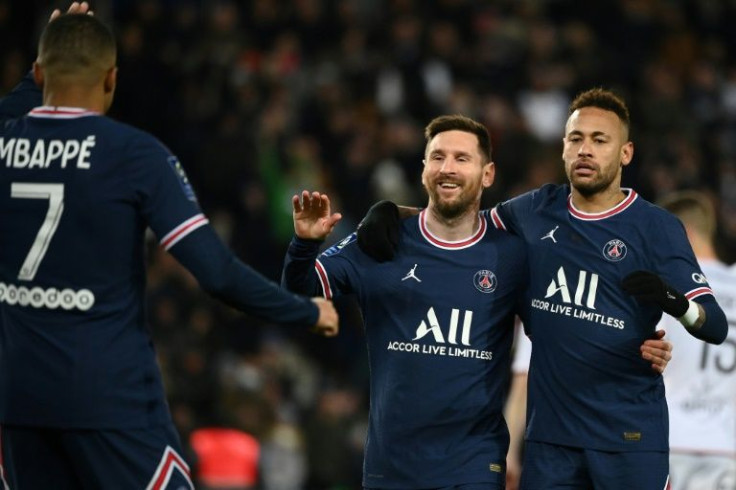 Messi, Neymar and Mbappe are currently with their respective national sides in Qatar for the FIFA World Cup 2022. While Mbappe will be a key figure in France's chances of defending their title, Neymar (Brazil) and Messi (Argentina) will try to win their maiden World Cup.
© Copyright IBTimes 2023. All rights reserved.