Kyrie Irving Wins NBA Rookie Of The Year 2012: 5 Contenders For 2013 Award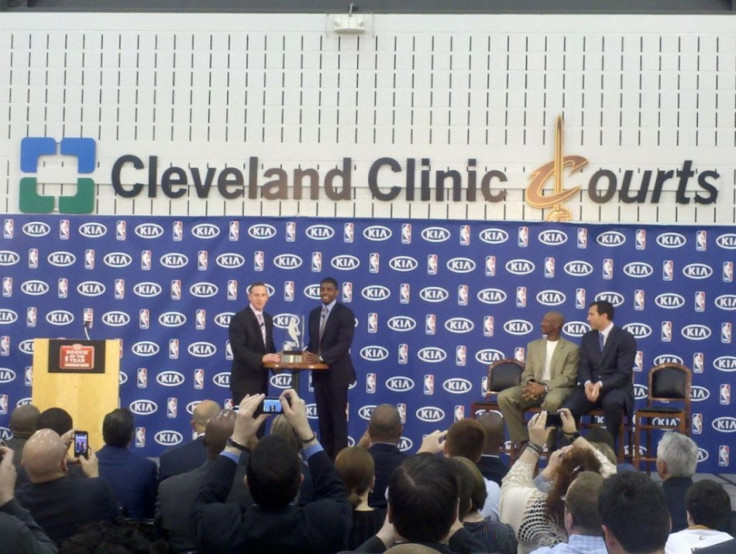 Kyrie Irving won the 2012 NBA Rookie of the Year award on Tuesday. Here's a line-up of 5 contenders to win the award in 2013. No one was shocked when the Cleveland Cavaliers newbie was granted the honor, as he had a killer season that made him the talk of the NBA and the best Cavalier rookie since LeBron James.
Irving had no trouble snagging the award, receiving a full 117 of 120 possible first-place votes, which were placed by a 120-person nationwide crew of writers and broadcasters. He ended up with 592 points in the voting, vs. Ricky Rubio of the Minnesota Timberwolves (who got 170 points) and Denver Nuggets rookie Kenneth Faried (who got 129 points).
Kyrie Irving, 20, is the second Cavaliers rookie to ever win the award, after LeBron James took it home in 2004. And he is the first strong glimmer of hope for the Cavs since James left Cleveland two years ago, devastating his hometown fans by taking his dominant skills to the Miami Heat.
As the #1 pick overall pick in the 2011 NBA Draft, Irving led all rookies with 18.5 points per game, and field goal percentage at 46.8. He was second in assists with 5.4 per game.
Kyrie Irving had a very short college career, playing just 11 games at Duke University before heading to the pros, but he was still the Cavs' most clutch player, finding ways to score points in the fourth quarter and demonstrating an instinct for the game that far surpassed that of any other rookie.
Kyrie Irving is a humble player who doesn't yet have the massive endorsement deals and mega-fame of a LeBron James, but he may be the next Derrick Rose or Blake Griffin, notching big honors and taking his team from floundering to perennial playoffs player.
But Irving will be just another sophomore player next year, no longer to blame any diminished playing ability next year on his rookie status. And he'd better watch his back, as a whole new crop of rookies will be joining the league next year.
Here are the top 5 contenders for next year's award:
1. Anthony Davis: This is too obvious. Anthony Davis is pretty much guaranteed to win Rookie of the Year. He may even win a championship or MVP. Ok, that's an exaggeration, but he's so friggin' good it will be basically impossible for anyone else to take the award, unless he gets injured. Even then, they may give it to him based on his dominance in his first and only year at the University of Kentucky, where the 6'10 notched a 62.3 percent field goal percentage, 14.2 points and 10.4 rebounds and 4.7 blocks per game. Unreal. Or maybe even for his trademark vampiric eyebrows. Keep an eye on Davis -- the rest of the world definitely will be.
2. Thomas Robinson: The NCAA Championship came down to Kentucky vs. Kansas this year, and the top two draft picks will likely follow that same rubric. Thomas Robinson, Kansas' massive power forward, will almost definitely go in the first three picks, and with good reason, after putting up 17.9 points and 11.8 rebounds per game last season, and leading his team to the NCAA Finals. And he is more developed than many other potential draft picks, having played three years for the Jayhawks and building enough muscle to weigh in at 240 pounds of pure basketball skill. He will be a player from the moment he sets foot on an NBA court.
3. Harrison Barnes: Filling out a bracket of the best perennial teams for the last few years would surely bring North Carolina to the Final Four. And as such, we're including UNC's top talent headed to the NBA, one Harrison Barnes, on our list of people who could be slated to have a breakout first season in the NBA next year. Though he is leaving North Carolina after only two years, Barnes has already made a name for himself, and has a nice NBA skillset as a 6'8 small forward with a sick mid-range jumper. And with 17.4 points and 5.2 rebounds per game, the 215-pound Iowan will have a great future in the pros.
4. Jeremy Lamb: Though he's not being ranked in the top 5 in mock NBA drafts, Jeremy Lamb is a player with a lot of room to grow once he hits the big-time. As a freshman last year he helped lead the UConn Huskies to a national championship, throwing down 12 points in the second half alone, proving his ability to play under pressure in clutch situations. And his second season this year was a success as well, upping his scoring over last year from 11.1 to 17.7 points per game, and notching 4.9 rebounds and 1.7 assists per, as well. Though he's just 6'5, the Georgia native is on the up-and-up, and could fit in well with many NBA rosters.
5. Michael Kidd-Gilchrist: With the team's dominant season this year, we couldn't have just one University of Kentucky player on this list. So Kidd-Gilchrist comes in as our fifth selection. Though just a freshman, he helped guide the Wildcats to a championship and notched 11.8 points, 7.6 rebounds and 2.0 assists per game. Plus he's only 18. Though Michael Kidd-Gilchrist won't storm the league like a young Kobe, Kidd-Gilchrist has a lot of growing to do, and when he's done, he'll be a forced to be reckoned with.
© Copyright IBTimes 2023. All rights reserved.
FOLLOW MORE IBT NEWS ON THE BELOW CHANNELS