The Lack Of Affordable Housing Is 'The Single Biggest Problem California Faces'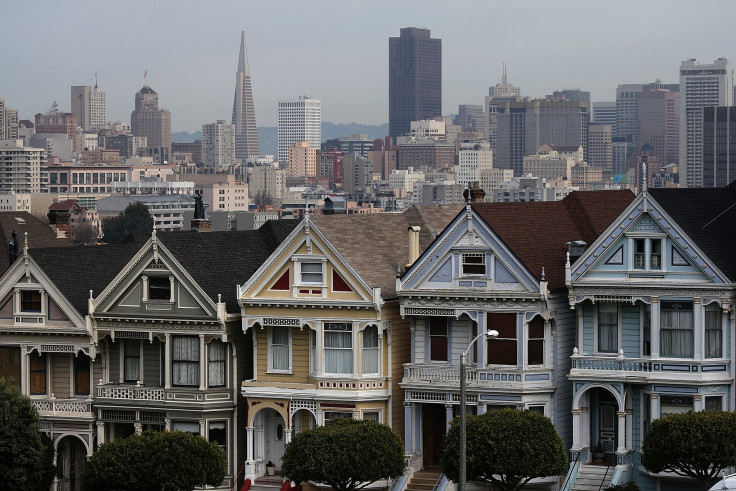 This story is being co-published with Capital & Main as part of a series on California Game Changers : Nine Big Ideas That Could Transform the State and Nation.
Last week, Governor Jerry Brown and Democratic leaders visited the Hunter's View low-income development in San Francisco to sign a package of 15 bills designed to combat California's affordable housing crisis. The package included a permanent revenue stream for affordable housing projects through a real estate document fee, a housing bond for the 2018 ballot, and "streamlined" development of multi-family structures through easing permitting requirements.
Elected officials made housing affordability a priority in 2017 amid a growing recognition from academics and advocates that California has reached a point of crisis. The median home price in the Golden State is twice the national average, and average monthly rents also far outpace the rest of the country. Stories of four-hour commutes are as commonplace as stories of families leaving the state because of expensive housing. The lack of affordable units fuels inequality, sprawl, toxic emissions that overheat the planet, increased homelessness and what the Census Bureau recently targeted as the highest poverty rate in the nation.
"It's the single biggest problem California faces," University of California, Berkeley, economics professor Ken Rosen told the Sacramento Bee.
But even supporters of the spate of legislation passed this year aren't willing to say that it solves the problem. The funding isn't big enough, and the costs of building remain too high. That's why it's puzzling that the bills, so focused on increasing construction of new housing, miss entirely the other side of the issue: the loss of existing housing. A great example of this neglect can be told through the story of the First Baptist Church of Venice.
It's a 12,000-square-foot, brick-and-stucco structure, with a large sign announcing its presence to the Oakwood neighborhood. The church was once a focal point for a predominantly African-American community by the Pacific Ocean. But Oakwood is now one of the most expensive areas in all of California, after new Google and Snapchat offices moved in nearby and gentrification followed.
Between the church and its parking area, First Baptist sits on more than 29,000 square feet, enough room for affordable units for dozens of families. But the church's buyers want to convert it into a single-family home. This is a prime example of an oft-neglected phenomenon that reduces the possibility of maximizing available housing for families.
"It's such a heartbreaker," Sue Kaplan, a local housing activist in Venice, told me. "This was the first African-American church in Venice. We're losing the black churches."
Jay Penske, CEO of the media conglomerate behind Variety magazine and over a dozen other brands, bought the property last February under somewhat contentious circumstances. The pastor claims to have gotten permission from the aging owner to sell the church, but parishioners have fought the matter in court.
Despite this uncertainty, the local neighborhood council in Venice approved construction of the house for Penske and his family, without a single opposing vote. This is fairly unsurprising, since the architect of the project, Robert Thibodeau, is a member of the neighborhood council (he voted yes). The Department of City Planning held a hearing on final approval of the project in August.
It may seem reasonable to dismiss this as a hyper-local issue, something outside the confines of the state legislature. But the entire housing package this year was crafted to force California localities to change their land-use policies. Senate Bill 35 intervenes in local decision-making directly, requiring expedited approval of large projects in cities that aren't meeting state-mandated housing goals. Senate Bill 167 fines cities $10,000 per unit if they don't allow certain developments under the state's Housing Accountability Act. The state legislature has the demonstrated ability to insert itself into local housing questions.
That means the legislature could have passed a law that said, until the state reaches its building goals, no new construction that doesn't match the maximum allowable units in the current zoning code should be permitted. If you can build up to two units on a lot, you shouldn't be able to build anything less. If you're allowed to build four, so be it. This would protect existing affordable housing stock and end the downsizing of tracts from multi-family to single-family. It would be an emergency response befitting the crisis every legislator rightfully decries, and it would stop the conversion of the First Baptist Church of Venice in its tracks.
But no bill passed by the state legislature addresses that. Critically, nearly all the interventions the legislature made in 2017 remove local restrictions on building. "We do need to build more affordable housing," said Larry Gross of the Coalition for Economic Survival, an affordable-housing advocacy group in Los Angeles. "But we need a two-pronged approach that builds more while preserving the existing stock. Anything other than that isn't serious." Gross' organization estimates that Los Angeles alone loses seven affordable housing units every day — 22,000 rent-controlled units since 2001.
The multi-family projects slated for accelerated approval under SB35 aren't even guaranteed to be affordable. "That does nothing to meet our affordable housing needs," said Omar Taylor, an East Oakland tenant who represents the Alliance of Californians for Community Empowerment, in a statement. Assemblyman Richard Bloom's AB 1505, which restores the ability of cities to require affordable units in all large-scale projects, did pass, a critical step. However, it only gives cities the option of inclusionary zoning. While large-scale developer projects must be quickly approved, cities can ignore the idea of forcing affordable units in them.
This offers clues about who drives the legislative process in Sacramento. In this "grand compromise" of an affordable housing package, developers get subsidies for building and an expedited, streamlined path to construction. It's hard to see what they gave up in the exchange. "How can we keep working families in their homes when we've giving free rein for profit-thirsty luxury developers to take over our neighborhoods?" Taylor asked, in his statement.
The state legislature, not just city council members, has been complicit in this. The 1995 Costa-Hawkins Act pre-empts municipal rent-control laws for single-family units, new construction and new tenants — giving landlords and developers huge incentives to eject families. Combined with the Ellis Act, which enables landlords to evict entire buildings to convert from affordable rentals to market-rate or luxury condos, these laws tilt the legal structure toward developers and cut directly against affordable housing goals.
Ellis Act usage has risen in 2017, as developers see the opportunities of a hot housing market. A related scheme involves landlords evicting tenants and converting units or entire apartment complexes into lucrative Airbnb properties.
Bloom and other lawmakers introduced legislation to repeal Costa-Hawkins, but it never got a final vote. Nor did anything that would have forced developers to earn something less than the maximum possible revenue from every unit they build. That's the big idea advocates say lawmakers must embrace — ensuring that the housing crisis doesn't get solved on the backs of longtime residents.
"Everything where developers have to share in the crisis has the least chance of getting through," said Larry Gross. "If they expect us to put faith in private developers providing us affordable housing, we're doomed."
© Copyright IBTimes 2023. All rights reserved.
FOLLOW MORE IBT NEWS ON THE BELOW CHANNELS