Lakers May Have Competition For Free Agent Big Man In Warriors, Report Says
KEY POINTS
The Golden State Warriors could make a pitch for Dwight Howard in free agency, a report says
Howard has just won the NBA championship with the Los Angeles Lakers
Reports say Howard is likely to re-sign with the Lakers
The Golden State Warriors are expected to undergo a major overhaul this offseason in their bid to bounce back from a disastrous campaign last year. In dire need of a reliable big man, speculation has emerged that the Dubs could be interested in newly-minted NBA champion Dwight Howard.
Shams Charania of The Athletic reported that the Warriors are "likely to register interest" in the former three-time Defensive Player of the Year.
Howard is coming off a successful run with the Los Angeles Lakers, which won the NBA title Sunday. The 6-foot-11 center was a pivotal piece in coach Frank Vogel's rotation where he played as a back-up at the frontcourt.
Despite playing limited minutes, Howard still provided efficient numbers for the purple and gold. According to Basketball-Reference, he averaged 18.8 points, 18.5 rebounds and 2.9 blocks per 100 possessions.
With Stephen Curry and Klay Thompson back for Golden State, the addition of Howard would be welcomed, with the team needing a potent presence down low to free out space for the Splash Brothers on the perimeter.
Moreover, it is being reported that the Warriors are more interested in picking a guard or wing for their No. 2 pick in the draft, making it more logical for them to go after a veteran big man like Howard.
However, the rumored plan might not come to fruition for Golden State as Howard is likely to re-sign with the Lakers, Charania added.
Bleacher Report's Joseph Zucker noted that the benefits are "obvious" for Howard to stay in the storied franchise. Besides being a great fit with the Lakers' weapons, staying with the team also puts the 16-year veteran in the best position to win, especially now that he is already in the twilight of his career.
From being one of the most dominant players in the league, Howard has embraced a relatively lesser role since signing a non-guaranteed deal with the Lakers in 2019. And it turned to be one of his best decisions as the sacrifice earned him his first-ever NBA title.
"Don't ever give up on your dreams," Howard said while holding the prestigious Larry O'Brien trophy. "You can f---ing do it. I swear, just keep fighting. I swear to God, don't ever give up on yourself. Look at this s--t. I'm sorry for cursing to all the kids out there. Bro listen, don't ever give up on yourself. You're already a champion."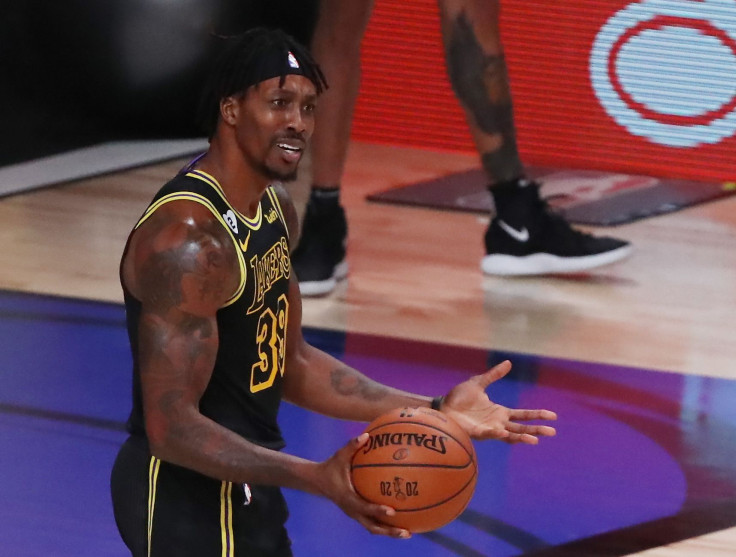 © Copyright IBTimes 2023. All rights reserved.