Lakers' Move For Durant, Butler Will See Beasley Leave, NBA Insider Says
The Los Angeles Lakers' 2019 recruitment plan continues to be regular topic of discussion during the ongoing NBA off-season despite them making the biggest move this summer.
The second most successful franchise in NBA history are keen to get back to winning ways after more than a few seasons without silverware and signed up the hottest free agent in recent years – LeBron James on a four-year deal.
In the aftermath of James' arrival the talks shifted toward who will be the next big player to arrive to partner the three-time NBA champion. Kawhi Leonard was on their radar, but they chose not to trade one of their young stars for the two-defensive player of the year.
Along with James' arrival, the Lakers also brought in Rajon Rondo, Michael Beasley and Lance Stephenson on one-year deals and they have shied away from making another big move.
However, the Lakers are planning for the future after they agreed to a buyout and a stretch provision with Luol Deng, which allowed him to become a free agent. The British basketball player forfeited around $7.5 million of his salary to push through the move.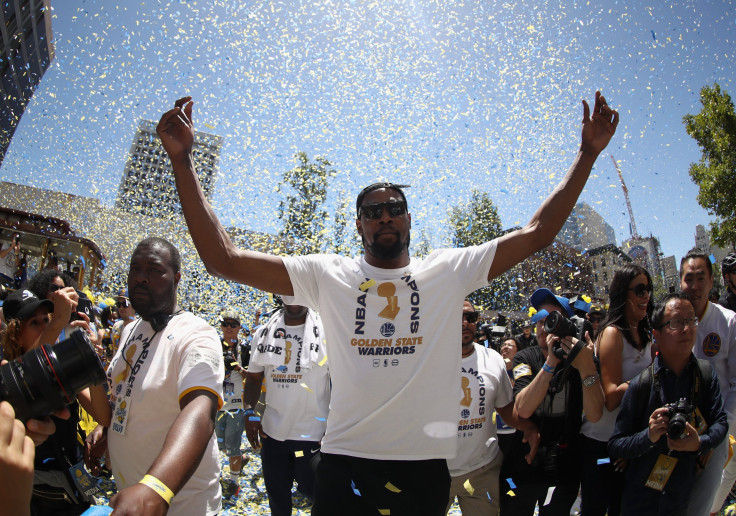 Deng's departure gives the Lakers $38 million cap space next summer to go out and make a big signing and NBA front office insider Bobby Marks believes they can go out and get one of Kevin Durant, Jimmy Butler or Klay Thompson, who can all enter free agency next summer.
Marks also indicated the likes of Rondo, Beasley and Stephenson will have to leave for the Lakers to make a major signing. The Los Angeles franchise also have a roster filled with talented youngsters and the NBA insider believes a lot of hope will be put on them to fulfill their potential.
"They're going to have $38m in cap space to go out and get a Kevin Durant, Jimmy Butler or Klay Thompson," Marks told ESPN's the "The Jump".
"The placeholders, the Michael Beasley's of the world, the one-year players, all those guys would have to go. You then hope your young players, [Brandon] Ingram, [Kyle] Kuzma, [Lonzo] Ball, they all develop into a-line starters," he explained.
"Then you slide in a Jimmy Butler or maybe a Kevin Durant into the equation."
Durant and Leonard have been linked with moves to the Lakers in recent weeks. The former can enter free agency after re-signing with the Warriors in July on a 1+1 deal. But the New York Knicks are also said to be interested with center Enes Kanter recently revealing he will try to recruit the two-time NBA Finals MVP.
Leonard, meanwhile, will become a free agent next summer after he was traded to the Toronto Raptors earlier this summer. He was keen to leave San Antonio Spurs for Los Angeles – either the Lakers or the Clippers – but was shipped to Toronto as part of the deal that brought DeMar DeRozan to Texas.
© Copyright IBTimes 2023. All rights reserved.