Lakers Should Sign Butler, Durant And Kawhi Out Of Reach, Cowherd Says
Los Angeles Lakers signed LeBron James on a four-year deal last summer and expected to return to the playoffs this season but it was not to be. They finished a franchise record sixth consecutive season outside the playoff positions and are looking to make major changes again this summer.
They parted ways with head coach Luke Walton, who has since joined the Sacramento Kings, and they lost Magic Johnson, who stepped down from his position as president of basketball operations. Jeanie Buss and Rob Pelinka are interviewing candidates for the coaching vacancy and are aware that they need to land at least one big free agent in the summer to complement James.
NBA expert Colin Cowherd believes they should make a move for Jimmy Butler as he is the best they can hope to lure to Los Angeles in the summer. The Philadelphia 76ers shooting guard will become a free agent this summer and is expected to look for pastures new unless his current franchise makes a deep run in the playoffs – they are set to face Toronto Raptors in the Eastern Conference semifinals after overcoming the Brooklyn Nets in five games.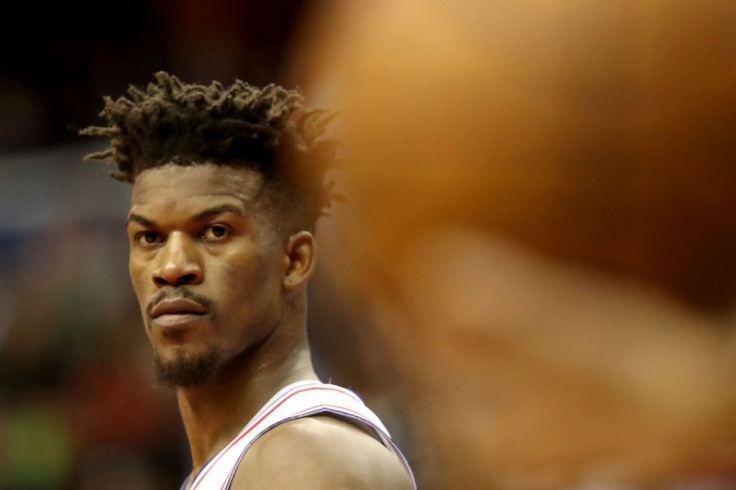 Cowherd, who was speaking to Bleacher Report's Ric Bucher on his show "The Herd", is certain that the Los Angeles franchise will not be able to attract any of the top free agents entering the market, namely, Kevin Durant, Kawhi Leonard, Klay Thompson and Kyrie Irving. He feels Butler is the best they can hope for and believes that the guard can help elevate the team alongside James and the team's young core.
Apart from free agency, where they have $38 million in max salary cap space, the Lakers will certainly be active in the trade market. They tried desperately to sign Anthony Davis in February but all the offers from the team were turned down by the New Orleans Pelicans.
Cowherd is one among many experts who believe the Los Angeles franchise will make another move for the power forward. They had offered a large chunk of their young contingent including Kyle Kuzma, Brandon Ingram and Lonzo Ball and could do so again in the summer.
The Los Angeles Clippers and the New York Knicks are likely to be the Lakers' main competitors in the free agent market with both teams holding cap space to sign at least two free agents in the summer. Moreover, the Clippers are giving a good account of themselves by taking its first round playoff series against Golden State Warriors to Game 6 unlike the other two, who have not made the playoffs yet again.
© Copyright IBTimes 2023. All rights reserved.