Lakers Trade Rumors: Pau Gasol for DeMarcus Cousins a Possibility?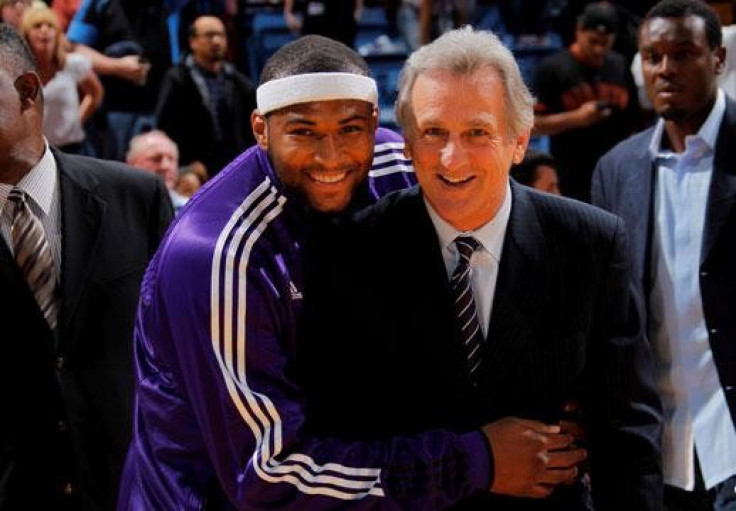 Pau Gasol appears to have worn out his welcome in Los Angeles.
The two-time NBA champion could be on his way out of L.A. The Lakers are fielding offers from teams who have a top-10 pick in this year's NBA Draft.
It won't be easy for the Lakers to find a suitable trade partner. They are looking to acquire an established NBA player to go along with a draft pick.
The Kings are one of the few teams that might be able to fill the Lakers needs of a high pick and an established player. Sacramento could send a package surrounding the number five pick in the draft and DeMarcus Cousins to the Lakers in exchange for Gasol.
It would be hard for the Lakers to turn down such a deal.
Cousins is one of the best young big men in the game. He improved a lot in his second year in the league, averaging 18.9 points and 10.9 rebounds per game. Both of those marks top Gasol's stats from this past season.
It might not be ideal for the Kings to trade Cousins, but he has had his share of problems since being drafted in 2010. He's clashed with Kings brass, and reportedly forced management to fire head coach Paul Westphal just seven games into the 2011-2012 Season.
If the Kings can get equal value for someone who's been a headache during his entire time with the team, they might decide to pull the trigger.
Gasol is still one of the best players in the league, but a young seven-footer and the number five pick in a deep draft might be too much for the Kings to part with. Sacramento was 22 games under .500 this past season and hasn't made the playoffs since 2006. They aren't ready to contend for a title and could need more incentive to part with young talent.
If the Kings throw Chuck Hayes and John Salmons in the deal, and the Lakers are willing to part with Metta World Peace, perhaps the two sides can agree upon a trade. Doing so would provide Sacramento with a lot of salary cap relief.
The move would help the Kings shed $8 million off next season's payroll. They'd also be free of Hayes' and Salmons' contracts, which don't expire for another three years. Getting rid of them would free up playing time for Jimmer Fredette and Marcus Thornton.
World Peace isn't the player he once was, but he' still a formidable small forward. A starting lineup including Tyreke Evans, Thornton, Gasol and World Peace could help the Kings be competitive next year.
L.A. might not want to take on that much salary, but a deal involving two good young players might be too much for them to turn down.
Salmons has struggled since joining the Kings, but he's proven in the past that he can be a major contributor. Hayes also experienced success before being sent to Sacramento, averaging eight points and eight rebounds per contest with the Rockets.
A deal between the Lakers and Kings isn't imminent, but both sides could benefit from a swap of Cousins and Gasol.
© Copyright IBTimes 2023. All rights reserved.