Lamar Odom Update: Kobe Bryant, Odom's Longtime Friend, Says He Is Making 'Remarkable' Recovery, LA Lakers Star 'Doing Better'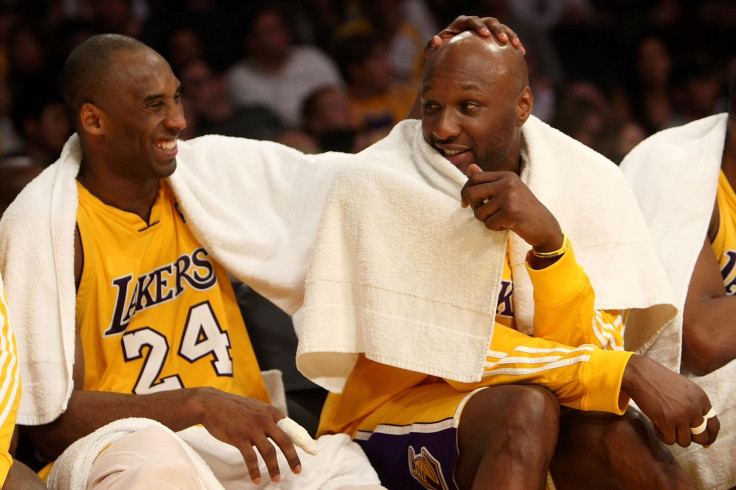 Kobe Bryant, a longtime friend of Khloé Kardashian's husband Lamar Odom, said Tuesday he is glad to see the former Los Angeles Lakers player recovering so well. Odom is being treated at the Cedars-Sinai Medical Center in Los Angeles after he was found unconscious in a brothel in Las Vegas on Oct. 13.
"He's a brother above everything else ... it's important to see him get back on his feet," Bryant said, according to TMZ, adding: "It's amazing to see him doing so well. It truly is remarkable.
"It puts things in perspective a little bit more. This is what we do, this is not who we are. Sometimes basketball can get in the way of life and the way of living," said Bryant, who had visited Odom in the Las Vegas hospital.
Odom is believed to have overdosed on cocaine and other drugs and is on the road to recovery. The results of his blood tests taken at the Sunrise Hospital in Las Vegas were revealed earlier this week, and showed the presence of cocaine in his system. A TMZ report said, citing sources, it was "distinctly possible" that Odom could face prosecution over his alleged drug use.
Odom's kidneys are still failing and a report by Us Weekly on Monday said the basketball player had suffered a dozen strokes that could have caused severe damage to his brain. Reports also suggested the possibility of a kidney transplant.
"The doctors just don't know the extent of all the damage yet. There are still a lot of tests that need to be done," a source told Us Weekly, adding: "He'll get more of his motor skills back gradually, but cognitively, he's not where he used to be."
A source told E! News on Tuesday that Odom's immune system is weak, but he is "making small steps every single day," and is "doing better."
"It is hard to get to Lamar at this point," a second source told E! News, adding: "Every day his functions are improving."
Kardashian and Odom signed their divorce in July, but they decided to dismiss it last week. The "Keeping Up With the Kardashians" star is said to be by Odom's bedside all the time. According to a report by Hollywood Life on Tuesday, which cited a source, Odom wants his wife to get back to normal life and focus on her health in the gym, and not spend her entire time at the hospital.
"Khloe wasn't rushing to leave Lamar's bedside," the source said, according to Hollywood Life, adding: "She would have still been there if both Lamar and doctors hadn't told her it was best she get out, exercise and have some Khloe time. Lamar's so grateful to be alive and breathing. That's why he's encouraging her to get out of the hospital and recharge her batteries."
Kardashian also posted a message on her website Monday, thanking her fans for the support amid Odom's medical crisis.
© Copyright IBTimes 2023. All rights reserved.