Leader of Russian Anti-Putin Protests Jailed, Threatens Hunger Strike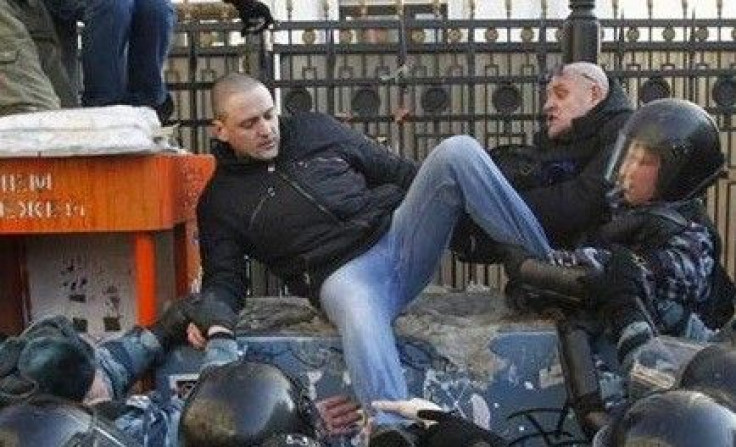 Russian opposition leader Sergei Udaltsov has been sentenced by a Moscow court to 10 days in jail for disobeying police during an anti-Vladimir Putin demonstration earlier this month.
Udaltsov, a leader of the Left Front movement, said he would appeal the sentence and also announced he would go on hunger strike, the Associated Press reported.
The 35-year-old was one of the ringleaders behind the protests in Moscow that drew tens of thousands of activists angry at the re-election of Putin as President for a third time.
Elsewhere, fellow protest leader Alexei Navalny was fined 1000 rubles ($33) for also disobeying police orders at the same rally.
Thursday's sentence is not the first time Udaltsov has been jailed for his activism.
Over the past few years he has been locked up for several months, repeatedly going on hunger strikes that have raised concerns over his health.
Earlier in March, thousands of protesters outraged over Putin's return to the Presidency took to the streets of Moscow and St Petersburg, amidst claims by Western monitors that the election was skewed in favor of the Russian strongman.
Police estimated 14,000 protesters turned out in the capital's Pushkin Square, chanting Russia Yes! Putin No! as hundreds of riot police prevented more from joining the crowd.
Moscow police arrested dozens of protesters, according to Agence France Presse, with nearly 100 detained at an unsanctioned rally in St Petersburg.
The protests followed accusations from international observers and foreign media that the election was riddled with procedural irregularities.
There was no real competition and abuse of government resources ensured that the ultimate winner of the election was never in doubt, Tonino Picula, one of the vote monitors from the Organization for Security and Co-Operation in Europe, said at the time, according to Reuters.
Putin is due to assume the Presidency later this year, swapping his current position as prime minister with protégé Dmitry Medvedev.
© Copyright IBTimes 2023. All rights reserved.