Greg Smith Attacks Goldman Sachs: Is He A Hero, A Whistleblower Or Having A Midlife Crisis? [POLL]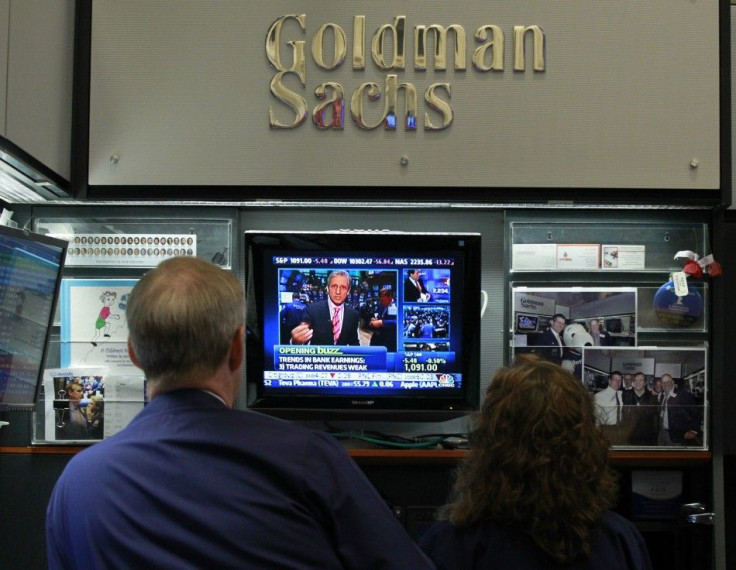 Greg Smith did not choose the subtle approach for his exit from Goldman Sachs, where he had worked for 12 years. Instead, he decided to post his resignation letter in The New York Times for the entire world to read. The resignation letter, entitled "Why I Am Leaving Goldman Sachs," included scathing commentary on the "toxic" environment at the bank, its lack of "moral fiber" and the "muppets" who work there.
Greg Smith blasted Goldman Sachs for sullying its historic culture and putting profits before clients. "What are three quick ways to become a leader?" wrote Smith, who worked for Goldman in London.
His answer: "a) Execute on the firm's 'axes,' which is Goldman-speak for persuading your clients to invest in the stocks or other products that we are trying to get rid of because they are not seen as having a lot of potential profit. b) 'Hunt Elephants.' In English: get your clients - some of whom are sophisticated, and some of whom aren't - to trade whatever will bring the biggest profit to Goldman. Call me old-fashioned, but I don't like selling my clients a product that is wrong for them. c) Find yourself sitting in a seat where your job is to trade any illiquid, opaque product with a three-letter acronym."
Social media went wild over the bombshell letter, and it quickly became a Twitter trending topic Wednesday morning. The most retweeted comment on the subject was: "This attack on Goldman Sachs from resigning exec is astonishing. The damage to the firm could be pretty serious," posted by Robert Peston, business editor for the BBC.
Goldman Sachs is certainly not taking the attack lying down. "We disagree with the views expressed, which we don't think reflect the way we run our business," a Goldman spokeswoman told the Wall Street Journal. "In our view, we will only be successful if our clients are successful. This fundamental truth lies at the heart of how we conduct ourselves."
The Journal went one step further and included comments from "a person familiar with the matter," who critiqued Greg Smith's position at the bank.
"Mr. Smith described himself as an executive director and head of Goldman's U.S. equity derivatives business in Europe, the Middle East and Africa," wrote WSJ's Deal Journal blog. "A person familiar with the matter said Mr. Smith's role is actually vice president, a relatively junior position held by thousands of Goldman employees around the world. And Mr. Smith is the only employee in the derivatives business that he heads, this person said."
Matt Taibbi of Rolling Stone, who famously labeled Goldman the "vampire squid," was none too pleased with the Journal's "smear" of Smith. "You just knew that sooner or later, the bank was going to come out and say that Smith was actually a janitor in Goldman's Mozambique office or something. It's just surprising they did it so quickly," wrote Taibbi. "Anyone who reads these critiques and even thinks about believing them should go back and look at Senator Levin's report on Goldman. There's backup in there for all of Smith's allegations, from the bit about the axes to the derogatory comments about clients."
Goldman Sachs was at the bulls-eye of Occupy Wall Street's target. Some think that Greg Smith's open letter might help revitalize the movement. Taibbi is one who believes that change is possible from this one man's "brave departure."
"Real change was always going to have to come from within Wall Street itself," he wrote, "and the surest way for that to happen is for the managers of pension funds and union retirement funds and other institutional investors to see that the Goldmans of the world aren't just arrogant sleazebags, they're also not terribly good at managing your money."
Others agreed. "I would be very surprised if it did anything more than anger the people who are already hostile to Goldman," Lawrence Baxter, a former Wachovia executive who teaches at Duke University's law school, told the Detroit Free Press. He added that there is no clarification as to whether Smith's letter is "a genuine indication that things are badly out of line or just somebody who's really disgruntled."
Forbes had a different opinion. Writer Nathan Vardi, who thinks Smith's tale is really a midlife crisis, wrote: "Smith is not the first person who wants to tell his former bosses to shove it. He is also not a whistleblower. He remained happily employed at Goldman after it took a massive taxpayer bailout. He stuck around to enjoy the firm's $45 billion of 2009 revenues after Goldman got $10 billion from the Treasury Department's Troubled Asset Relief Program and sold $29 billion of low-cost bonds backed by the Federal Deposit Insurance Corporation's Temporary Liquidity Guarantee Program."
What do you think about Greg Smith's Goldman Sachs attack? Take our poll below.
FOR FREE to continue reading
✔️ Unlock the full content of International Business Times UK for free
offer available for a limited time only
✔️ Easily manage your Newsletters subscriptions and save your favourite articles
✔️ No payment method required
Already have an account? Log in
© Copyright IBTimes 2023. All rights reserved.