At Least 10 Palestinians Wounded In Clashes With Israeli Soldiers In West Bank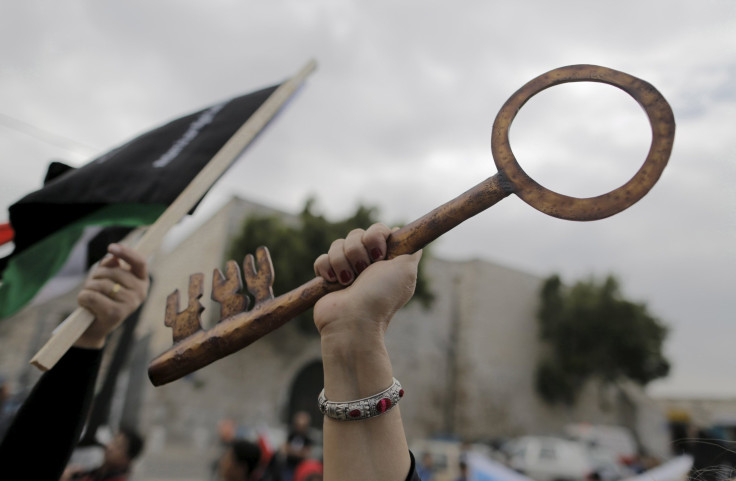 Clashes broke out between Israeli soldiers and Palestinians in the northern West Bank city of Nablus on Friday, a day after three Israelis were wounded in an alleged attack close to a settlement near Jerusalem. At least 10 Palestinians were wounded on Friday when soldiers fired rubber bullets and live rounds, Agence France-Presse (AFP) reported, citing eyewitnesses and security sources.
The clashes reportedly broke out early in the day, which is marked as the "Nakba" (Catastrophe) Day by Palestinians to commemorate the expulsion of over 700,000 Palestinians from their homes in 1948.
The Israeli army had reportedly blocked roads leading to Joseph's Tomb -- a funerary monument venerated by Jews, Christians and Muslims -- so that over 1,000 settlers could visit the site without being troubled by Palestinians.
Israeli soldiers resorted to "riot dispersal" after Palestinian protesters hurled stones and burned tires, a spokeswoman for the military told AFP. However, she denied that the military had used live rounds.
Over 350,000 Israelis currently reside in the West Bank and more than 200,000 live in East Jerusalem in settlements that have been denounced as illegal by the international community.
Although tensions on the ground have defused since their peak in the aftermath of the 50-day war in the Gaza Strip last year, the region continues to be a site of frequent conflagrations over the disputed status of Al-Aqsa and Temple Mount compound in East Jerusalem as well as over Israel's settlement policy.
In recent days, following his re-election, Israeli Prime Minister Benjamin Netanyahu has also faced criticism from many moderate politicians within the country for his decision to appoint Ayelet Shaked, a member of the Zionist Jewish Home party, as the justice minister in the new government. In July last year, Shaked had sparked controversy by sharing an inflammatory article written by journalist Uri Elitzur that justified killing of Palestinians "including the mothers of the martyrs," and referred to Palestinian children as "little snakes."
© Copyright IBTimes 2023. All rights reserved.