Lebanese Army Surrounds Border Town, Evacuates Refugees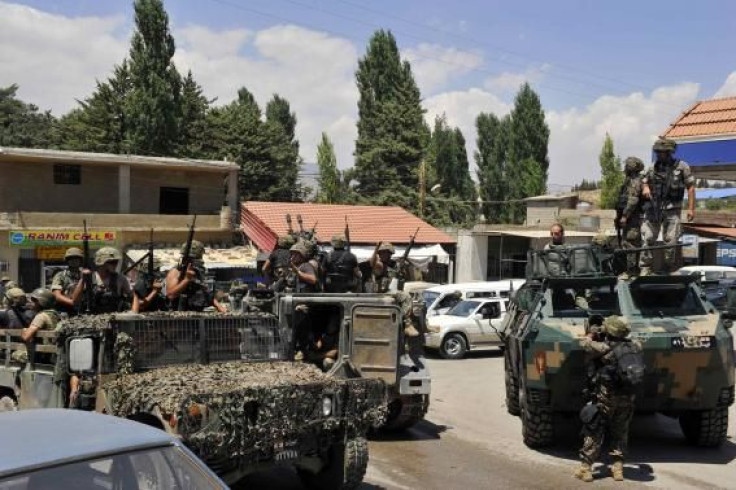 (Reuters) - Lebanon's army surrounded a border town occupied by Islamist militants on Wednesday as mediators reported progress in negotiations to end to the most serious spillover of Syria's civil war yet onto Lebanese soil.
Soldiers arrested men and evacuated refugees from the hill town of Arsal on the border with Syria. One Syrian refugee said she had seen fighters' bodies lying in the streets.
"We saw death with our own eyes," said Mariam Seifeddin, a 35-year-old mother of nine, who said she had sheltered with about 50 others in a single room without food or water for three days amid intense fighting.
Saudi Arabian King Abdullah granted $1 billion to help the Lebanese army bolster security as they battle militants in Arsal on the Syrian frontier.
Sunni Muslim clerics trying to mediate an end to the fighting said a ceasefire frequently violated since it was agreed on Tuesday was extended for a second day. Fighting flared just one hour into the extension: the army fired artillery when soldiers came under fire, security sources said.
Political sources said the army was not planning immediately to retake Arsal but to evacuate civilians. A security official and a doctor in Arsal said many militants had fled into the surrounding mountains following the army bombardment.
Arsal is the first major incursion into Lebanon by hardline Sunni militants - leading players in Sunni-Shi'ite violence unfolding across the Levant - which threatens the stability of Lebanon by inflaming its own sectarian tensions.
While Lebanon has officially tried to distance itself from Syria's conflict, the country's powerful Shi'ite movement, Hezbollah, has sent fighters to aid President Bashar al-Assad.
Dozens of armoured-personnel carriers and tanks were seen on the road heading towards the area. Lebanese special forces were also being deployed on Wednesday, arriving at the nearby town of al-Labwa, where hundreds of soldiers are stationed.
Around 30 prisoners with their hands tied behind their backs were driven out of the town on an army truck. Most were young men, many were wearing red kaffiyeh headscarves.
Members of the Muslim Clerics Association said three captive soldiers had been released, militants had started to withdraw and the ceasefire had been extended for 24 hours.
"They pledged to withdraw from Arsal and the news we received is that they started pulling out," Sheikh Houssam al-Ghali told a news conference.
The clerics said they would start negotiating the release of 27 members of the security forces still being held in the town - 10 soldiers and 17 policemen. That is some 10 fewer than the number cited by officials.
CIVILIANS SUFFERING
At least 17 soldiers have been killed in the violence. Reports from inside the town suggest dozens of civilians and militants have been killed.
The Syrian Observatory for Human Rights, which monitors violence in Syria's war, said it had confirmed that at least 41 people had been killed in Arsal, including at least 14 civilians.
The militants have been identified by officials as members of the Nusra Front, al Qaeda's branch in Syria, and of the Islamic State, which has seized large areas of Iraq and Syria.
Rebel sources told Reuters several members of the Islamic State had been killed in the fighting, including senior leader Abu Hassan al-Homsi.
Local officials in Arsal said it was completely surrounded by the army apart from a corridor apparently left for gunmen who want to retreat.
The town was the first stop for many civilians fleeing the bloodshed in Syria. Refugee camps in Arsal that provide shelter to tens of thousands of Syrians who fled the war have been badly damaged in the fighting, forcing refugees to seek shelter in the town itself, Syrian activists in the area have said.
Qassem al-Zein, a Syrian doctor at the field hospital in Arsal said militants "wanted to leave since yesterday but they haven't been able to because of the shelling."
"The important thing is to stop the shelling. The wounded and dead are still coming. Since this morning we've had 30 wounded, all from shelling and snipers. All civilians," he said.
He said the hospital had counted 36 dead civilians since the fighting began. The army has been using artillery to shell Arsal, which is densely populated by tented settlements.
On Wednesday, the army was taking women and children out of the Arsal area. A convoy stopped near Labwa to feed them, carrying water, bread and cheese. Barefoot and dirt-stained children, clearly hungry, devoured the food.
"Since the fighting started, we haven't eaten, drunk or slept. The fighters were firing all the time. We were stuck in one room, then the army came and evacuated us today," said Seifeddin, the 35-year-old mother of nine.
Men had been taken away for interrogation by the army, but insisted they were farmers, not fighters, she said. Some teenage men said the army had questioned them and let them go.
"Shells and bullets were raining all around us, we've been under siege for three days," said Sabah Omar, a 40-year-old Syrian woman with three children who said she had been displaced three times before.
The clashes in Arsal began on Saturday after security forces arrested an Islamist commander popular with local rebels who often move across the porous border with Syria.
SHI'ITE FIGHTERS
The Islamists freed three policemen on Tuesday in what one militant called a "goodwill gesture" in response to the clerics' mediation. The gunmen told the clerics they were willing to withdraw if the army agreed to man checkpoints only outside Arsal and not enter the town itself.
A political source, speaking on condition of anonymity, said the army aimed to retake the hills around Arsal.
Lebanon - a country of about 4 million bordering Israel - has avoided the kind of war afflicting Syria and Iraq, but regional conflicts have rekindled decades-old tensions.
Rocket fire, suicide attacks and gun battles connected to Syria's war have plagued Lebanon and the conflict has worsened Lebanon's perennial political deadlock, with officials divided largely along sectarian lines.
More than 170,000 people have been killed in Syria's war, which started in 2011 as a peaceful protest movement, then degenerated into civil war after a government crackdown.
Syria's President Bashar al-Assad, like Hezbollah, is backed by Shi'ite power Iran, Saudi Arabia's rival in the Gulf.
In the Shi'ite town of al-Labwa downhill from Arsal, men wearing black shirts and khaki trousers with walkie talkies and pistols tucked into their belts were on the streets.
One Hezbollah member who refused to give his name said many of the Sunni militants in Arsal were foreigners.
"They will kill anybody who is not like them. Even Sunnis who are not like them, they will chop off their heads," he said.
© Copyright IBTimes 2023. All rights reserved.