LeBron James On Cavaliers Slow Start: 'I'm Fine And We're Fine'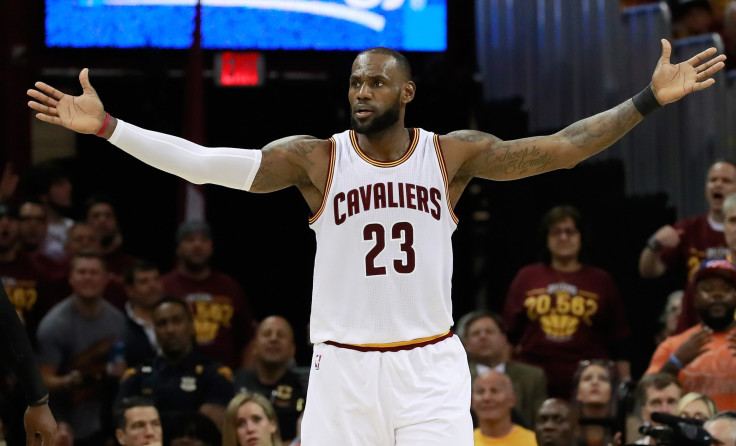 The Cleveland Cavaliers started the 2017-2018 season at 3-3 and sit at the eighth spot in the Eastern Conference standings as of Sunday. Although injuries have hampered team performance according to LeBron James, he isn't concerned.
"I'm fine, I'm fine, and we're fine," James told ESPN's Dave McMenamin after the team's 123-101 loss to the New Orleans Pelican Saturday night. He scored 18 points and logged eight assists in just 31 minutes of play.
The Cavs dropped three of their last four games and two of those losses have been blowouts. The team has allowed their opponents to score an average of 33.8 points in the first quarter during this stretch, according to ESPN.
James attributed part of the team's rough patch to injured point guards Isaiah Thomas and Derrick Rose.
"We're out two starting point guards," James said referring to Rose and Thomas. "So I'm not overlooking what's going on. I wasn't overlooking if we had success. I'm not going to overlook if we had a couple games off. I'm not getting too high and getting too low. I'm an even-keel guy. I understand this is a long process. We played some different [lineups]. Like I told you guys, we played some crazy lineups that we haven't even played in practice. So we'll continue to get better."
Teammate Dwyane Wade echoed James' point. He felt the team could right the ship soon. Wade scored 15 points on 7-for-12 shooting off the bench with four assists in 23 minutes.
"At some point, we'll get tired of being down early," Wade said. "At some point, we'll get tired of being a .500 ball club. At some point, you'll get tired of it, and whatever team you want to be, it will show itself."
Despite a slow start, @KingJames still sees some positives from the @Cavs #AllForOne pic.twitter.com/9EgH1hUeKX

— FOX Sports Ohio (@FOXSportsOH) October 29, 2017
This year's team is very different from the 2016 NBA Finals group. The Cavaliers have added eight new players since last season, including the blockbuster trade which sent All-Star point guard Kyrie Irving to the Boston Celtics in exchange for Thomas.
Injuries have also hurt team chemistry. Rose has missed four games and Thomas might not suit up until January. James also sat out most of the preseason with ankle woes.
Coach Tyronn Lue added that the team could do a better job on the defensive end. The Cavs let New Orleans make 13 3-pointers in Saturday's loss.
"Well, we got to do a better job taking the one-on-one challenge, first," Lue said. "Guys are driving us, beating us on the catch, point of entry. But, I mean, a lot of this, if we're missing 3s and missing shots offensively and turning the basketball over, then we can't get back in transition. So better offense helps with our defense. Because if we're scoring, then we can get back and get set. We just got to be better."
The Cavs look to redeem themselves Sunday against the New York Knicks (1-3) at the Quicken Loans Arena in Ohio.
© Copyright IBTimes 2023. All rights reserved.