Is LeBron James Cheating? Carmen Ortega Claims He Lied About Relationship With Fiancee Savannah Brinson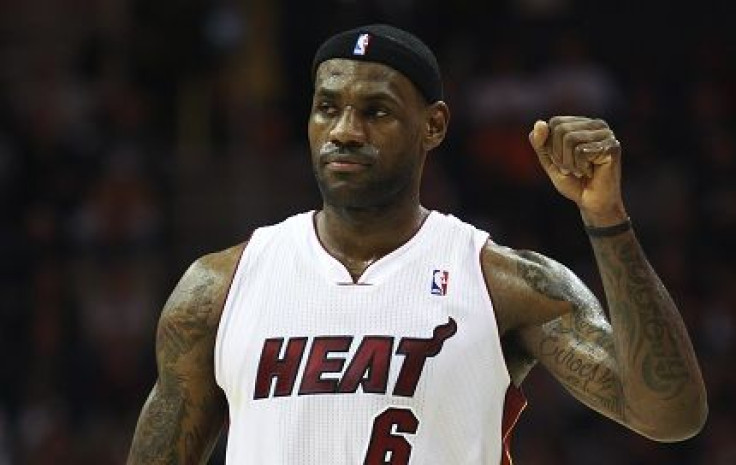 Video model Carmen Ortega claims that she exchanged text messages and had dinner with NBA star LeBron James, despite his upcoming wedding to fiancée Savannah Brinson.
In an exclusive interview with Bossip, Ortega confirmed that leaked text messages that she allegedly exchanged with James were real, and she discussed her rendezvous with the Miami Heat star in Los Angeles. In addition, she claims that James lied about his engagement to Brinson, his fiancée.
On August 14, Bossip posted a series of text messages from July in which James allegedly flirted with Ortega, asking the model to visit him in Los Angeles. During Monday's interview, Ortega confirmed that the alleged texts were real, and she said they leaked after "somebody took [her] phone in Ibiza.
"And yes, those were real texts from LeBron, you can verify the number if you want," Ortega told Bossip. "I have no reason to make it up."
Ortega claims that she first met James while she was in a relationship with an unnamed man, Bossip reports. She said that the NBA star "sent guys to [her] table to get [her] number," but that she "didn't even know who he was."
However, when Ortega broke up with her boyfriend "about a month-and-a-half ago," she said that she contacted James, who allegedly invited her to dinner in Los Angeles, Bossip reports. The video model claims that she texted James about the news that he was engaged to Brinson.
"I didn't even know about LeBron being engaged, I literally sent him a screengrab like 'What is this?' and he was like 'Don't believe everything you read.'"
At one point in the interview, Ortega expressed her belief that James' fiancée, Brinson, was aware of her future husband's alleged indiscretions. "I almost feel like Savannah does know. He made some comments before. I asked him straight up, just tell me what's your situation, he was more like 'I'm not on lockdown, it's not even like that.'"
Despite her claims, Ortega told Bossip that the alleged relationship never became physical. "If he was single I would probably give him the time of day, of course. But the fact that I've already been in a situation like that, never again!"
Ortega claims that a similar situation once unfolded while she was dating NFL star Reggie Bush, Bossip reports. According to Ortega, Bush lied about his ongoing relationship with Kim Kardashian while he was simultaneously in a relationship with her.
James has yet to respond to Ortega's claims. The basketball star proposed to Brinson last New Year's Eve, and he is scheduled to marry his fiancée sometime during the weekend of Sept. 13.
© Copyright IBTimes 2023. All rights reserved.