LeBron James Loses Headband, Leads Miami Heat To Game 6 Win Over San Antonio Spurs In 2013 NBA Finals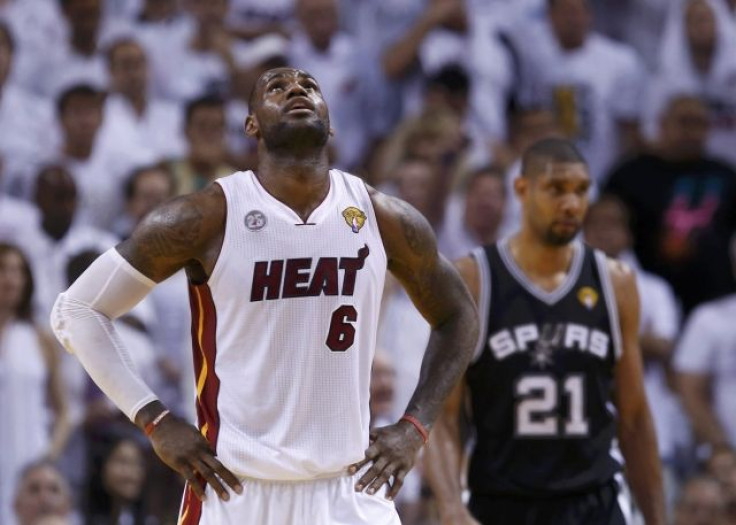 LeBron James lost his trademark headband and won Game 6 of the 2013 NBA Finals, extending the series and starting the "#noheadband" Twitter trend in the process.
James, the centerpiece of the Miami Heat, is rarely spotted on the court without at least one (and sometimes two) headbands in tow. He's worn them for several years now; some sports pundits suggesting that the accessories are part of the 29-year-old's bid to hide his infamous receding hairline.
In the fourth quarter of Tuesday night's crucial Game 6 matchup between the Heat and the San Antonio Spurs, James was in the process of a put-back dunk when Tim Duncan accidentally raked a hand across his brow. As a result, LeBron lost his headband — and promptly caught fire.
Incredibly, the loss of the headband seemed to spark a change in James; the Heat started making their shots, and the Spurs lost the shooting touch that had earned them a double-digit lead through the game's first three quarters.
''I don't even remember the play much,'' James told reporters after what has already been dubbed the "Headband Game." ''I was just focused on the job, the task at hand, and just trying to be aggressive, just trying to figure out ways I could help the team get back into the game. And you know, I guess the headband was the least of my worries at that point.''
Behind James' stellar play, the Heat rallied to erase a 13-point deficit, culminating in LeBron's vicious block of a Duncan lay-up, followed by a game-tying jumper. Miami eventually managed to defeat the Spurs in overtime, 103-100.
The Sporting News put together some statistical evidence of LeBron's post-headband transformation. Through the first 36 minutes of Game 6, James had 20 points, seven rebounds and nine assists. Without the headband, James had 12 points, three rebounds and two assists—all of which occurred during a wild 14-minute stretch that allowed the Heat to extend the NBA Finals to a seventh game.
The Heat-Spurs series will wrap up on Thursday night, when the titans will clash in Game 7 of the NBA Finals. If Game 6 was any indication, James may have to think about losing his headband yet again.
Besides the obvious basketball implications of James' stellar Game 6 performance, the "#noheadband" Twitter trend produced some rather hilarious comments. We've compiled a few of the best examples below.
© Copyright IBTimes 2023. All rights reserved.