VIDEO Heat - Spurs Game 5 Highlights: San Antonio Goes On Late Run To Hold Off Miami; LeBron Struggles While Green Stays Hot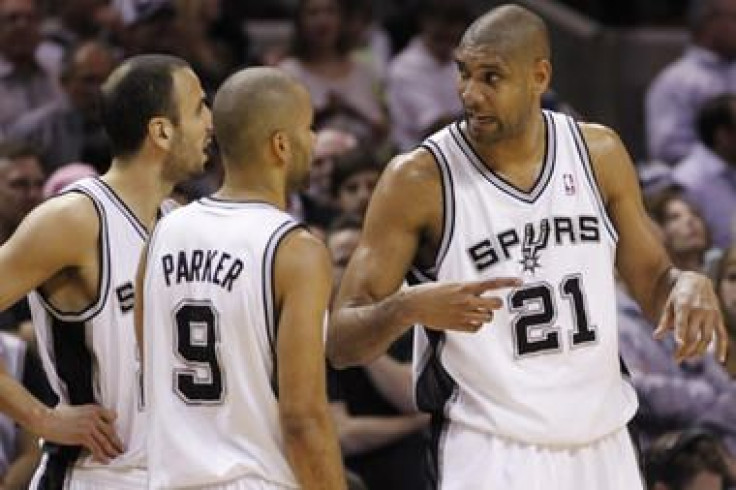 Veteran guard Manu Ginobili broke out of his scoring slump on Sunday night, as the San Antonio Spurs used excellent shooting and feisty defense against the Miami Heat at AT&T Center to take Game Five, 114-104, and gain a 3-2 series lead in the 2013 NBA Finals.
The Spurs shot 60 percent from the field, and were lifted by strong scoring from the starting line-up, who combined to score 107 points. San Antonio also blocked eight shots, and limited LeBron James to eight-of-22 shooting from the field.
Ginobili entered Game Five with just a 7.5 scoring average in the Finals, off an unimpressive 34.5 shooting percentage. Head coach Gregg Popovich's decision to start the 35-year-old raised some eyebrows, but Ginobili delivered with a 24-point effort, to go along with 10 assists.
"Today, I just happened to attack better," said Ginobili, who says he feels just as comfortable starting as coming off the bench. "It's great to see that we responded."
"When Manu plays like Manu Ginobili, we're a much better basketball team," said Popovich.
It also helps to have a supporting cast that was playing to their potential. Tony Parker, who has battled hamstring problems, led all scorers with 26 points by converting 10 of his 14 shot attempts. Parker scored 15 points in the second half after failing to score in the second half of Game Four.
"I was trying to pace myself better," said Parker, who conceded that he was a little winded late in the Spurs' Game Four loss.
Tim Duncan added 17 points, 12 rebounds, and three assists. Swingman Danny Green also continued his stellar play. The 25-year-old shot nearly 58 percent from the field in the first four games, and hit six of his 10 three-point shot attempts in Game Five to finish with 24 points. Green has made more three-pointers than any other player in Finals history.
"If you're going to leave Danny open, he's going to make threes," said Parker about Green.
The Heat received solid production from a number of players. Dwyane Wade picked up where he left off in Game Four with 25 points in Game Five, and Chris Bosh made seven-of-11 shots. Off the bench, veteran sharpshooter Ray Allen scored 21 points on seven-of-10 shooting. Miami converted 11 of their 23 three-point attempts, and forced the Spurs into 18 turnovers.
However, the defending champions often looked incapable of holding off Spurs' runs due to some poor shooting stretches. Head coach Erik Spoelstra cited how the Heat's failure to convert layups and easy shots snowballed, and sparked the Spurs' momentum.
"We just couldn't recover from there," he said.
Game Six shifts back to Miami on Tuesday. Neither team has won two consecutive games in the series.
© Copyright IBTimes 2023. All rights reserved.