Libya calls for cease-fire amid allied bombings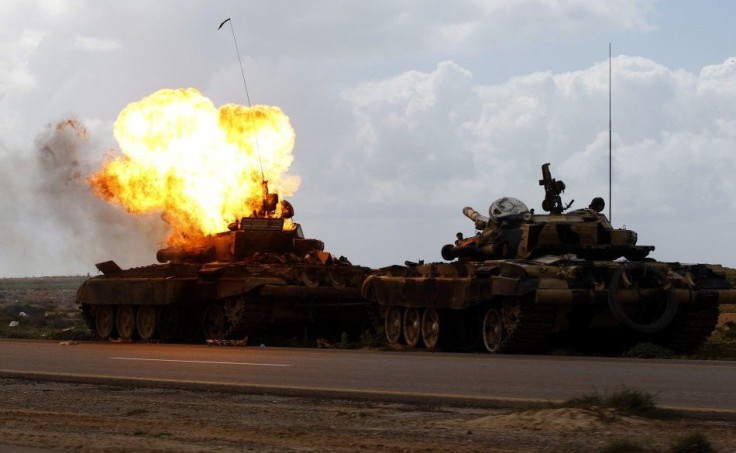 The Libyan military called for an immediate cease-fire as allied forces pounded convoys across the country.
The alliance likely won't rely on the word of the Libyan military, which according to its spokesman Milad al Fuqhi, issued command to all military units to safeguard immediate cease-fire everywhere.
As with previous cease-fire announcements, we have to wait and see if it's genuine, U.S. Africa Command spokesman Vince Crawley told CNN. We urge the Libyan government to do everything it can to demonstrate its sincerity.
British, French and American jets bombed strategic targets across Libya on Sunday to enforce a no-fly zone over the country meant to stop leader Muammar Gaddafi's forces from killing civilians .
The three governments issued statements confirming the attacks had continued on Sunday, the second day of operations over Libya.
French Ministry of Defense spokesman Laurent Teisseire said Sunday morning that Qatar would join an operation with French Jets in the hours to come, according to the Associated Press.
Gaddafi said in a phone call to Libyan state television that he would continue to attack Benghazi and opened up weapons depots to all Libyans who were now armed with automatic weapons, mortars and bombs, the Associated Press reported.
He promised a long war, and called the attacks simply a colonial crusader aggression that may ignite another large-scale crusader war.
The head of the Arab League, Amr Moussa, said Sunday he had requested an emergency meeting of the 22-nation voluntary group. The Arab League had show support for the establishment of a no-fly zone over the country. U.S. officials had said that bombing of Libyan air defenses were essential to establishing the zone.
Moussa said the bombings had led to the deaths and injuries of many Libyan civilians.
What is happening in Libya differs from the aim of imposing a no-fly zone, and what we want is the protection of civilians and not the bombardment of more civilians, Egypt's state news agency quoted him as saying, according to Reuters.
The U.S. Navy said on Sunday said radar-jamming planes and U.S. jets had launched in support of the mission.
The EA-18G Growlers launched from coalition bases while AV-8B Harrier jets launched from aircraft carrier USS Kearsarge, the Navy said.
The Harriers conducted strikes against Qadhafi's ground forces and air defenses. Video released by the navy shows Harrier jets taking off in nearly dark conditions and landing as dawn arrives.
British Prime Minister David Cameron late Saturday said in a released statement British forces are in action over Libya. He said the actions were necessary, legal and just.
A U.K. Ministry of Defence spokesman on Sunday confirmed attacks began Saturday evening.
Targets were carefully selected to avoid civilian casualties and to strike at key military installations in Libya, he said.
He said U.K. submarines launched missiles to hit Libyan targets and were followed by Tornado Jets which flew 3,000 miles round trip. All aircraft arrived safely he said.
UK surveillance planes also launched, he said.
This operation is currently under US command, supported closely by French and UK armed forces. AFRICOM is the supported Combatant Command, and UK has liaison officers and staff embedded at every level.
The French ministry of defense said Sunday that 20 of its country's jets have been enforcing the no-fly zone over the country and conducting strikes on targets.
© Copyright IBTimes 2023. All rights reserved.