Libya Finds Mass Grave from 1996 Massacre; NATO Bombs Sirte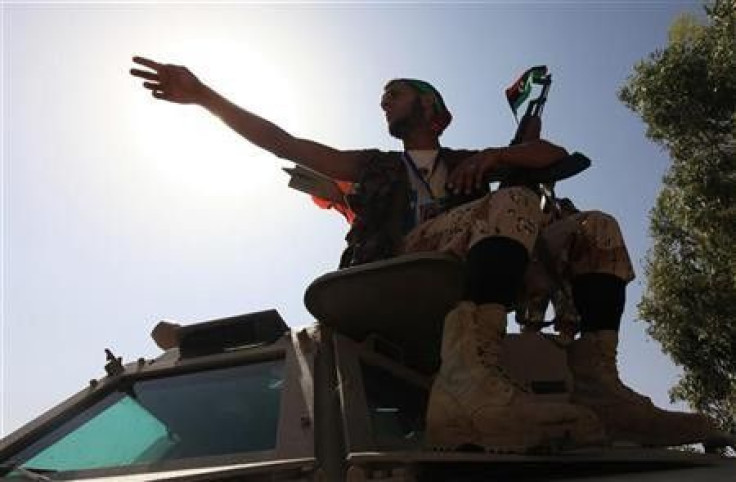 Libya's interim rulers said Sunday they had found a mass grave containing the bodies of 1,270 inmates killed by Moammar Gadhafi's security forces in a 1996 massacre at a Tripoli prison.
To the east of the capital, NATO bombers hammered the city of Sirte to clear the way for fighters of the National Transitional Council who are trying to capture Gadhafi's hometown.
But Gadhafi loyalists showed they were still a threat by attacking the desert oasis town of Ghadames, on the border with Algeria. The interim government said the attacks had been repulsed but some reports said fighting was still going on.
A spokesman for the Tripoli Military Council said investigators had found the mass grave about two weeks ago.
The uprising that toppled Gadhafi was ignited by protests linked to the Abu Salim massacre. In February, families of inmates killed there in 1996 demonstrated in the eastern city of Benghazi to demand the release of their lawyer.
We are dealing with more than 1,270 martyrs and must distinguish each one from the other for identification by comparing their DNA with family members, said Dr. Osman Abdul Jalil, a medical official. It may take years to reach the truth.
Human rights groups have estimated that about 2,000 Abu Salim inmates were killed in the 1996 massacre.
NATO JETS
Earlier this weekend, the forces of the NTC had pushed to within a few hundred meters of the centre of Sirte -- one of the last bastions of pro-Gadhafi resistance in Libya -- but later drew back to let the NATO jets do their work.
Yesterday our freedom fighters attacked Sirte city from two sides. That doesn't mean that Sirte is free now, but it is an indication that Sirte will be free soon, said Ahmed Bani, NTC military spokesman in Tripoli.
I'm asking now any militiamen fighting on the side of the tyrant [to realize] that the game is over.
On Sunday, the roar of jet engines could be heard overhead, and sporadic booms when NATO ordnance hit targets on the ground. One strike, giving off a deep thud, released a big cloud of smoke and dust over the south of the city.
NATO has dropped a lot of bombs today, said one rebel fighter, who declined to give his name. You can see the planes up above. They struck along here, he said, gesturing with his hand across the area south of the city center.
NATO's support for the rebellion played a major part in toppling Gadhafi and the alliance says it will keep up its operations for as long as needed.
In a statement, the alliance said its sorties on Saturday in the vicinity of Sirte had struck targets including two command and control facilities, a military staging area, a storage bunker and radar facility, and 29 armed vehicles.
Taking Sirte would be a huge boost for the NTC as it tries to establish credibility as a government, and a blow for Gadhafi, widely believed to be on the run inside Libya.
But it is an awkward proposition because pro-Gadhafi fighters there are well armed and many of the residents have family and tribal ties to the dictator.
Accounts from NTC fighters and people who had managed to leave Sirte indicated that pro-Gadhafi forces were trying to prevent civilians from fleeing, effectively using them as human shields.
Gadhafi's forces have surrounded the area, closed it off, by shooting at people, said a man called Youssef, who was driving away from Sirte with his wife. There are a lot of people who want to get out but can't.
He said he and the other civilians from Sirte leaving the city on Sunday morning had escaped by cutting through the desert.
That was echoed by another man, called Abubakr, who was heading out of Sirte with his wife and four children in a car loaded with baby diapers and food.
The situation is not good, really it is not good. It is terrible. There are [pro-Gadhafi] gangs unloading on people, shooting at them. It's really bad, he said.
A Gadhafi spokesman has accused NATO and NTC forces of killing several hundred civilians in strikes on Sirte.
That, along with the accounts that pro-Gadhafi forces are killing civilians, could not be independently verified because journalists have only been able to reach the parts of Sirte held by the interim government.
FRAGILE GRIP
The attack by pro-Gadhafi forces on Ghadames underlined the fragility of the NTC's grip even on parts of the country nominally under its control.
The town, about 600 km (400 miles) southwest of Tripoli, is near a border crossing that pro-Gadhafi Libyans have used to flee into Algeria. Its old town, an intricate maze of mud walls, is listed as a UNESCO World Heritage Site.
These militias have attacked our people in Ghadames city ... All the information we have got is that these groups are related to the son of Gadhafi, Khamis, the NTC's Bani told a news conference.
Our freedom fighters have taken control of that area, he said, though he acknowledged the clashes were not completely over. This problem will end soon. It's a matter of days.
NTC officials said the attack by Gadhafi loyalists had been repulsed on Saturday, but two Arabic television stations reported new clashes at dawn on Sunday.
The battle is continuing, a witness called Mohammed Adeemus told Al Jazeera. He said pro-Gadhafi snipers were inside the town, targeting civilians. We call the NTC to intervene immediately, he said.
A month after ousting Gadhafi's forces from Tripoli and most of the country, the NTC is now facing challenges to its rule from only two main locations, Sirte and Bani Walid, a town about 170 km (105 miles) southeast of Tripoli.
Until both those places are captured, Libya's new rulers say they cannot begin the process of holding the first elections.
That leaves the country in a tense limbo where the only real authority comes from disparate factions of anti-Gadhafi fighters who are still armed and want a stake in the new Libya.
Attempts to capture Bani Walid have ended in chaos, and now the NTC forces appear to have switched their focus instead to taking Sirte.
The symbolism of a Sirte victory would be much greater than winning Bani Walid, said Geoff Porter, an independent U.S. expert on North Africa.
The collapse of Gadhafi's hometown would reverberate amongst the dead-enders and could facilitate the fall of Bani Walid, said Porter.
© Copyright Thomson Reuters 2023. All rights reserved.