Limbaugh Boycott Gets Mixed Results; Sponsors Still Out On Ratings Decline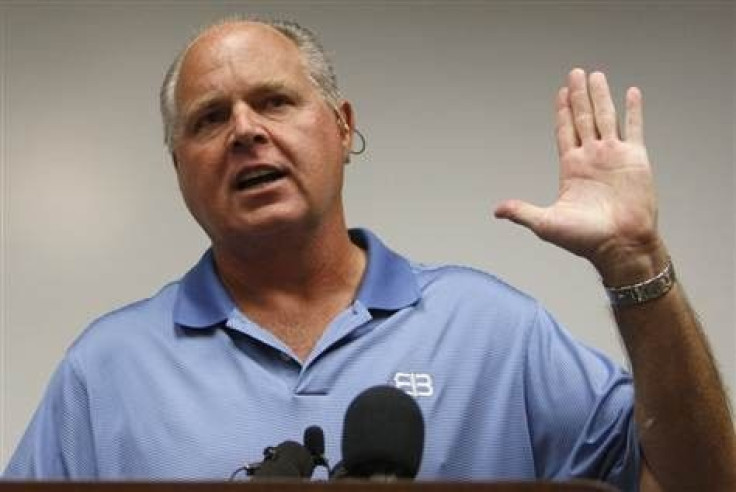 Three months after Rush Limbaugh characterized Georgetown Law School student Sandra Fluke as a slut and a prostitute, a liberal-backed boycott of the right-winger's radio show has been effective.
More than 100 advertisers, including all of his technology advertisers except for LifeLock, withdrew their commercials from The Rush Limbaugh Show.
For years the number one talk show host in the U.S., Limbaugh's ratings have fallen in several key markets and demographics, the Arbitron ratings service has determined.
In New York City, Limbaugh's ratings fell 27 percent among listeners aged between 35 and 54. In Houston-Galveston, the drop was 31 percent, and the decline was as high as 40 percent in Seattle-Tacoma. In San Francisco, ratings briefly fell by 79 percent, apparently due to the initial controversy.
Earlier this month, Lewis Dickey, CEO of Cumulus Media (Nasdaq: CMLS), which broadcasts Limbaugh on 38 stations, said the company lost several million in first-quarter revenue.
Cumulus reported a first-quarter loss of $12.1 million, or 12 cents a share, reversing prior-year net income of $16.1 million, or 37 cents, for the year-earlier quarter. Pro-forma revenue fell 3.5 percent to $245.3 million, reflecting a merger.
Shares of Atlanta-based Cumulus, with 578 stations, have declined 22 percent over the past three months.
The four-times-married but childless Limbaugh, 61, provoked the boycott after mocking Fluke, 30, after she testified before Congress on Feb. 23 on behalf of federal contraception funding.
Limbaugh, whose three-hour radio talk show reaches as many as 20 million daily listeners, said he's doing well and denied he's anti-woman. He's continued with his usual provocative style by claiming on Thursday that with Obama and the Democrats, there'll never be fairness in the NFL if there are no women or transgenders playing.
Limbaugh's initial remarks triggered an outcry from women's and liberal groups that are usually at odds with his rhetoric. Within three days, most of his technology advertisers, such as Carbonite (Nasdaq: CARB), the developer of PC backup systems; software management provider Citrix Systems (Nasdaq: CTXS); and online service provider AOL (NYSE: AOL) withdrew.
They were quickly followed by Netflix (Nasdaq: NFLX), Stamps.com (Nasdaq: STMP) and PolyCom (Nasdaq: PLCM); Capital One (NYSE: COF), Deere (NYSE: DE), Allstate (NYSE: ALL), and Sears Holdings (NYSE: SHLD); and privately held ProFlowers, LegalZoom, Sleep Number and Sleep Train.
LifeLock Remains Loyal
Private LifeLock, of Tempe, Ariz., has remained. The company deals with identity theft issues. One of its directors is Tom Ridge, a former Republican governor of Pennsylvania and a former Secretary of Homeland Security under President George W. Bush.
Limbaugh representatives, though, said several national sponsors have signed on, though.
Media Matters, a liberal advocacy group, as well as market researcher A.C. Nielsen (NYSE: NLSN), now report the dropped advertisers list continues to grow, although there is some confusion regarding companies with contracts on many of Limbaugh's 600 stations whose spots may or may not air during the broadcaster's showtimes.
H&R Block (NYSE: HRB), Reputation.com, Fisher Nuts and Papa John's International (Nasdaq: PZZA) left the Limbaugh roster in March.
New Broadcast Challenger
Limbaugh's show is syndicated by Premiere Networks, which has responded to the criticism by telling radio stations to replace withdrawn commercials with other things. The move has also extended to advertisers on hourly newscasts that precede Limbaugh.
Premiere itself is owned by Clear Channel, now based in San Antonio. Clear Channel was taken private in a $20.6 billion buyout in 2008 led by Bain Capital and Thomas H. Lee Partners, two giants of the private equity sector. Republican presidential candidate Mitt Romney is the co-founder of Bain Capital and still receives funds from the company, although he doesn't participate in management.
To compete with Limbaugh, rival Cumulus Media, which owns 570 stations, launched a new showlast month featuring Mike Huckabee, 56, a former Republican governor of Arkansas and unsuccessful presidential candidate.
Huckabee's show airs on 180 stations. Huckabee goes mouth-to-mouth with Limbaugh at noon EDT, including on 40 of its own channels. Cumulus CEO Dickey told the New York Times the show is being marketed as an alternative for economic reasons.
The Fox Connection
If the Huckabee show gains traction, Cumulus might be able to book stations that now air Limbaugh when their contracts with Limbaugh run out.
Cumulus also plans to launch a radio show with Geraldo Rivera, already a fixture on News Corp.'s (NYSE: NWS) Fox Broadcasting, where Huckabee has long had a talk show.
Nielsen Media estimates that Limbaugh's show brings in as much as $361 million annually. The broadcaster himself, No. 23 on the Forbes celebrity list, doesn't publish his finances but speaks about his lavish estate in Palm Beach, Fla., his private jet, and his luxurious golf outings with friends to Hawaii and other venues.
Limbaugh has long boasted of his affection for technology, especially Apple (Nasdaq: AAPL) products. He's complained on the air that Apple has never advertised with him.
Cumulus shares fell a penny to $2.80 in Friday trading.
© Copyright IBTimes 2023. All rights reserved.