Lithuania, Fearing Russian Aggression, Calls On NATO Members To Immediately Implement Measures To Defend Region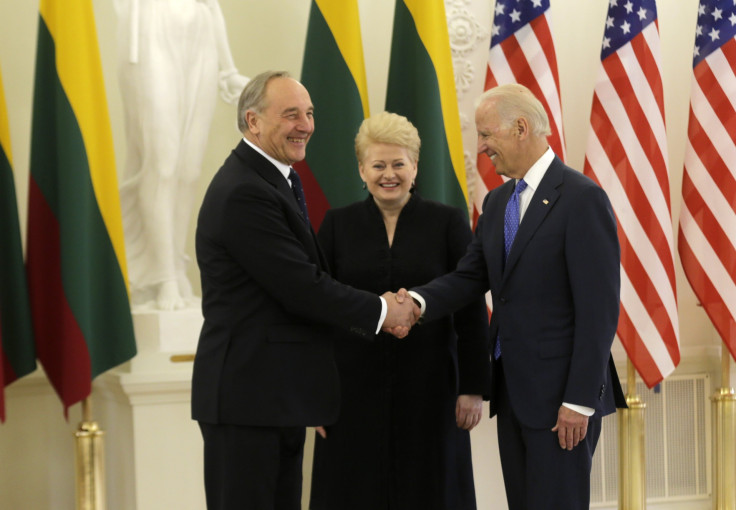 A high-ranking Lithuanian defense official called on NATO member states to immediately take measures to ensure the security of the region from possible Russian aggression, the Lithuania Tribune reported Friday.
"Today no one is in doubt anymore whether the security situation in Europe calls for immediate actual steps for ensuring a reliable defense of the territories of NATO member states," Dr. Vaidotas Urbelis, the defense policy director of Lithuania, told participants at a meeting.
Urbelis comments comes as Lithuania is feeling vulnerable to Russian action in Crimea, as well as a buildup of Russian troops near Ukraine's eastern border. In addition, several war game simulations have taken place over the month of March, adding to NATO member states' fears. Lithuania is one of the three Baltic states, along with Latvia and Estonia, that gained membership to NATO in 2004. All three countries share a border with Russia and were formerly part of the Soviet Union before its collapse in 1991.
"We are exploring a number of additional steps to increase the pace and scope of our military co-operation, including rotating U.S. forces to the Baltic region to conduct ground and naval exercises as well as training missions," Vice President Joseph Biden said last Thursday, during meetings with Estonian and Polish officials.
Biden visited Eastern Europe last week to show U.S. support, after the Russian military occupation of the Ukrainian autonomous region of Crimea and a referendum with a 97 percent vote favoring secession from Ukraine and joining Russia. Western powers rejected the referendum.
Members of the alliance have become extremely suspicious of Russia's intentions, especially as Russia's pretext for occupying Crimea was based on protecting the ethnic Russian majority.
With that logic, officials say, eastern Ukraine and many other former republics of the Soviet Union -- especially Estonia and Latvia -- could be Russia's next target. Many of these countries have sizable ethnic Russian or Russian-speaking populations.
The small Baltic states, for example, sit right next to Russia, and memory is vivid in all three of the Soviet invasion in the 1940s that ended their independence.
"This is the gravest threat to European security and stability since the end of the Cold War," Anders Fogh Rasmussen, NATO's secretary-general, said last week at the Brookings Institution, the Washington think tank. He added that Russia's actions are a wakeup call to NATO and a reminder that security in Europe cannot be "taken for granted."
"We need to take tough decisions in view of the long-term strategic impact of Russia's aggression on our own security," Rasmussen said.
Biden's and Rasmussen's statements could be seen as a concerted effort to show NATO's strength and ability to defend its borders against Russian aggression.
In early March, the U.S. sent additional F-16 fighter jets to Lithuania on top of those it maintains there for the Baltic air policing mission that is shared by NATO countries.
© Copyright IBTimes 2022. All rights reserved.
FOLLOW MORE IBT NEWS ON THE BELOW CHANNELS