London Riots 2011: Photos the British Capital in Chaos
All of England is preparing for Wednesday night, hoping that darkness will not again bring the wave of destruction it has over the past five days.
On Monday and Tuesday, demonstrators threw firebombs at police officers and torched property, cars and London city buses. In Tottenham, where the violence started Saturday night, rioters smashed store windows and burned buildings to the ground.
Rioting and looting has been continuing in the British capital since the weekend, when angry citizens of Tottenham marched to police headquarters to protest the fatal shooting of 29-year-old Mark Duggan. The anarchy then spread to Hackney, Peckham and Lewisham on Monday afternoon and by night-fall reached the neighborhoods of Ealing, Camden and Croydon.
Nearly 800 people have been arrested in London at last report.
In what police and the British media have called a "copycat riot," gangs of masked youths began looting retail shops in the center of Birmingham Monday night, and the new Bull Ring shopping complex was attacked. The violence continued into Tuesday, and 150 people have been arrested in the Midlands city, while 13 were hospitalized.
In Liverpool, police reported a "number of isolated outbreaks of disorder," including the familiar trademarks of the London rioters, namely burning cars and broken windows.
Liverpool is traditionally a working-class city, with a similar reputation as the tough, blue-collar Tottenham, where the riots began Saturday evening. Witnesses are detailing incidents of violence and destruction mirroring what has been happening in London for the past few days.
By Tuesday evening, rioting and looting had hit the cities of Nottingham, Bristol, Gloucestershire, West Bromwich, Wolverhampton, Salford and Manchester.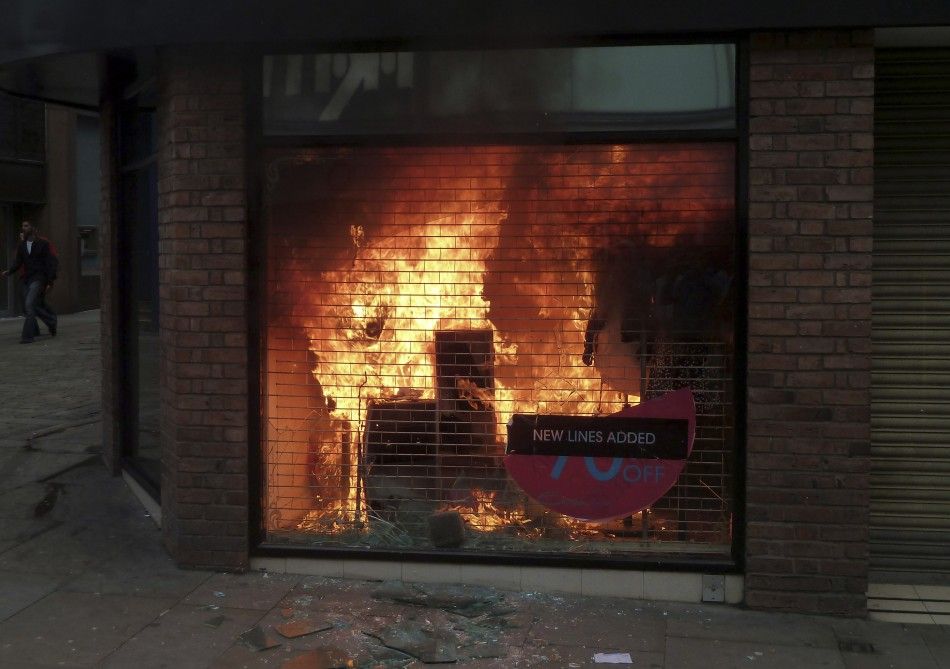 © Copyright IBTimes 2023. All rights reserved.