Lonzo Ball Will Be The Michael Jordan Of Assists, Says Ex-NBA Player Jay Williams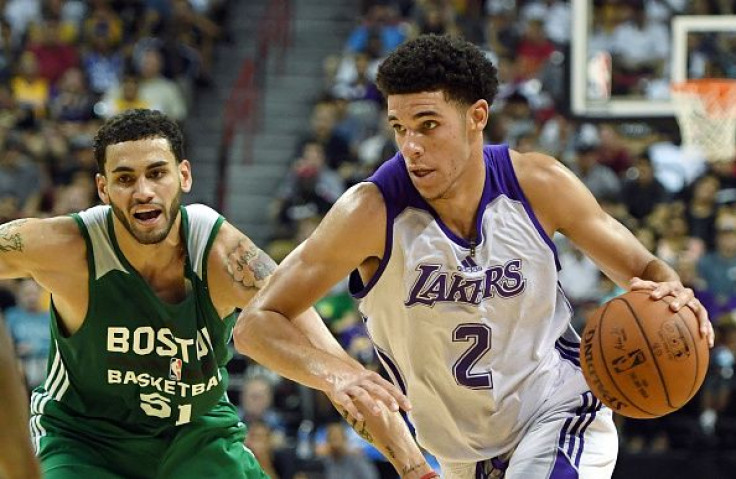 Newly acquired Los Angeles Lakers point guard Lonzo Ball showcased his skills during the NBA's Summer League in Las Vegas this month and received comparisons to Hall of Famer Michael Jordan.
The 19-year-old guard played in the Las Vegas Summer League over the weekend and notched 11 points, 11 assists and 11 rebounds in a loss to the Boston Celtics. He recorded the first triple-double since the league began recording stats in 2008. In a TMZ interview Wednesday, former NBA player Jay Williams likened Ball to Jordan for his impact on the game through passing. He suggested that Ball would be an elite assist man just as Jordan was an elite scorer.
"He's going to make passing what Jordan made scoring. If you watch him play in summer league, he gets everybody the ball. He makes the game so damn easy," Williams said. "Especially in a game where everybody dominates the ball. He's going to get $150 million, 200 million."
READ: LaVar Ball Explains Why Big Baller Brand Sneakers Are So Expensive
This wasn't the first time Ball received comparisons to great players. One name mentioned the most was Jason Kidd. He was one of basketball's best point guards in the '90s to impact the game without scoring the ball. The Los Angeles Times asked Kidd Sunday about how some compared Ball's game to his.
"It's a great compliment," Kidd said. "But everybody is different at the end of the day. There's always comparisons of the great players in this league. Of Magic [Johnson], Michael [Jordan], Larry [Bird]. There's always guys who come before for these young players to be compared to. It's a great compliment. We'll see."
During his career, Kidd recorded multiple triple-doubles but averaged just 12.6 points per game. Like Kidd, Ball also averaged an impressive number of assists. The young point guard broke the UCLA assist record during his college stint, he averaged 7.7 assists per game.
"[Ball] has a skill set," Kidd said. "He can make the game easy for guys who can score the ball. He knows how to win. He has a very high I.Q., basketball I.Q."
"First play, they set up a great first play for him," Kidd added. "Just understanding that it's not always going to go in the basket, and the second game he had a triple double so it just shows he has a great feel. There's a lot of anticipation, a lot of hype around the game. He came back and showed that he can be one of the best rookies in the league."
READ: Twitter Reacts To Nick Young Signing With The Golden State Warriors
Kidd commented on Ball's personality off the court and acknowledged Ball's maturity amid the attention that often surrounded him.
"I think when we see he handles everything off the court extremely well with all the attention surrounding him," Kidd said. "He just goes out and plays basketball. It's really good to see his composure on the court. He enjoys the moment late game. His dad and the coaches that he's had this early in his career have done a really good job with him."
© Copyright IBTimes 2023. All rights reserved.
FOLLOW MORE IBT NEWS ON THE BELOW CHANNELS