Lorne Michaels' Meerkat Bet: Why The Saturday Night Live Creator Thinks It Will Survive Twitter's Periscope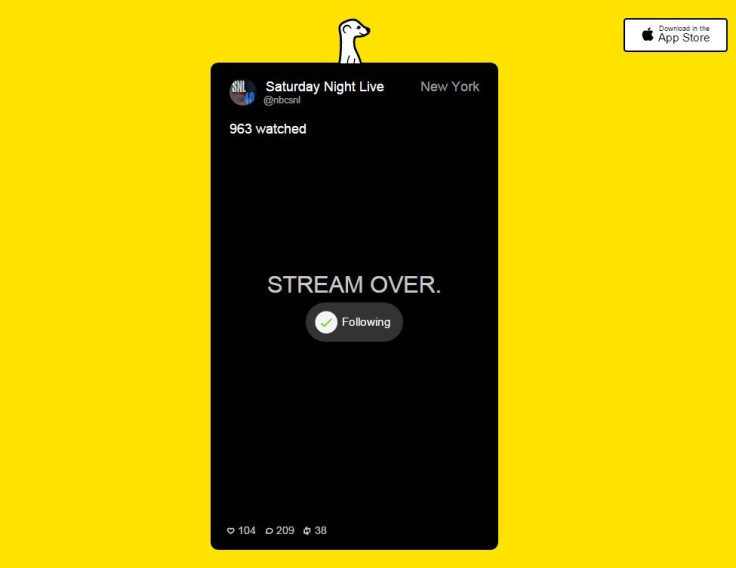 Live-streaming or "life streaming" via smartphone has taken over the Internet with the rise of two new, competing mobile apps. Meerkat, created by 10-person startup Life on Air, launched in February and quickly became the darling of tech bloggers. Just a month later, Twitter seemingly stuck a fork into the Meerkat phenomenon by launching its own version, Periscope, which is fully integrated into the messaging service.
But just days before Twitter launched Periscope, a coterie of Hollywood names plowed $14 million into Meerkat, including Ashton Kutcher's Sound Ventures, YouTube co-founder Chad Hurley, four of the biggest talent agencies (William Morris, Endeavor, CAA and United Talent Agency) and Lorne Michaels' Broadway Video Ventures.
Broadway Video Ventures is the investment arm of "Saturday Night Live" creator Michaels' entertainment studio, which helps develop and launch new businesses. President David Birnbaum said they knew Twitter's Periscope was coming and still invested in Meerkat for one big reason: The audience will go where the talent, and, yes, the celebrities, are.
SNL was a pioneer of live entertainment, and Birnbaum said live streaming has been an interest of Broadway Video Ventures since late last year. He said the company knew of the team behind Periscope before Twitter acquired it in January. When Meerkat founder Ben Rubin and Greylock Partners' Josh Elman, who led the investment round and now sits on the board, approached them in February, Broadway signed on. Now, the company has been able to use its connections to promote use.
"It seemed like a strategic fit given our relationship in the broader media entertainment," Birnbaum said. "Talent should go where the audience is. We think both [Meerkat and Periscope] will grow."
Saturday Night Meerkat
During its taping over the weekend, SNL used Meerkat to show backstage footage of its show with Dwayne Johnson and George Ezra. While also bringing in more than 2 million viewers, the company used Meerkat throughout the night -- at one point attracting 963 simultaneous users to a view of production assistants.
Michaels is also executive producer of "The Tonight Show Starring Jimmy Fallon," and Fallon was one of the first celebrity adopters testing the platform, giving viewers the behind the scenes at his monologue rehearsals. He started using the app prior to Michaels' investment, and they aren't tying him to one company. But Meerkat's appeal to celebrities is clear with the initial adoption. Other entertainers using it include DJs like Diplo and Afrojack.
"Their fanbase is very resilient, and we see them being willing to adopt new technologies. DJs are digitally first and willing to expand. We think it could be huge in that community," said Meerkat's community manager, Ryan Cooper.
Now with this first round of investment and celebrity names, Cooper said Meerkat has been able to hire more community managers to support new and old users.
Meerkat has more 400,000 users, and that base has been growing by 30 percent week over week, Cooper said. But while Periscope is now No. 49 on the most downloaded apps on the Apple Store, Meerkat has been unable to break into the top 200 -- evidence that Periscope is still ahead. Results from social media analytics company Topsy do show the number of tweets of live streams from both companies about level. But while Meerkat users must tweet their live streams, Periscope does not require it.
Meerkat attracted a great deal of talent early on by debuting before Periscope and during South by Southwest, bringing attending journalists and celebrities alike to the app. Meerkat's leaderboard (a competitive point system of how many times you use the app) includes "Saturday Night Live," Shaquille O'Neal, Al Roker and Jimmy Fallon. But there also are a handful of names you may not recognize from entertainers, shows, and brands.
Meerkat Stars
These other leaders include early adopter social media strategists, tech journalists and also bloggers like Swedish Food TV, LA-based model Nora Segura and video bloggers Cullen and Katie. One leaderboard member, Cody Stevenson, is using Meerkat to take people along for his drive across the United States this week.
With this new talent, will there be new celebrities, as have arisen with YouTube, Vine and Snapchat? Unlike with Vine and Snapchat, we may not see YouTube stars take off on the network due to existing live-streaming services with Google.
As a blogger, Michaela Angemeer, a 22-year-old student at the University of Waterloo in Canada, has been an early adopter and sits on Meerkat's leadership. As an active user, she said she sees Meerkat as the perfect way to engage with celebrities, new talent and just random people -- connecting via Twitter -- viewing your stream.
"With Meerkat, you're always going to get different experience with different people watching you and you doing something cool. There's an instant gratification," Angemeer said.
© Copyright IBTimes 2023. All rights reserved.