Los Angeles Lakers Guard Is Confident Of Winning Another Title
KEY POINTS
Danny Green believes the Lakers should prioritize keeping Anthony Davis and LeBron James together
With the duo intact, Green believes the Lakers can win one more
Green attributes Lakers' success to James and Davis
After winning the 2020 NBA Finals earlier this month, the Los Angeles Lakers shifted its focus on creating a championship dynasty out of it next year.
While many are skeptical that they can do it all again in the coming season, Danny Green believes that it is possible as long as the top management will be able to keep its core intact that consists of LeBron James and Anthony Davis.
"For sure, I think we can definitely get one more for sure," Green told Forbes.
"It's going to be tough because we have so many free agents, with 10 guys that are free agents. Trying to bring everybody back and reconstruct the contracts, it's going to be difficult, but when you have the nucleus of LeBron and AD — if they bring back AD — that's pretty much what you need. You don't need much else around them."
It is expected to be a lot of work for the Lakers' front office this offseason as Davis will much likely to opt out of his contract and negotiate for a new deal with the Lakers.
So far, only James, Green, Kyle Kuzma, Alex Caruso and Talen Horton-Tucker are under contract for next season, according to a report by Silver Screen and Roll.
Given how Davis performed in the Lakers' championship bid, Green stressed that the team will be fine as long as the 6-foot-10 forward gets to play in the same uniform with James.
"As you can see the times where we weren't playing well, we still won games," he stated. "We shot incredibly above average for a team, but when you have those two guys [James and Davis], you can win a lot of games just from sheer talent just because of how good they are."
James went on to have a stellar championship series against the Miami Heat as he tallied averages of 28.4 points, 10.2 rebounds, and 7.8 assists en route to his fourth NBA Finals MVP.
For Davis, he was a consistent force throughout the NBA Bubble as he averaged 26.2 points and 9.4 rebounds per game.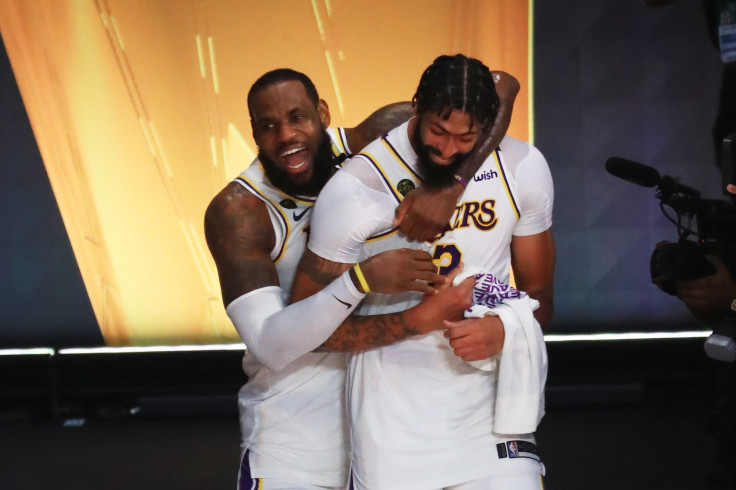 © Copyright IBTimes 2023. All rights reserved.