Luiz Felipe Scolari Quits; Mixed Feelings In Argentina After World Cup Loss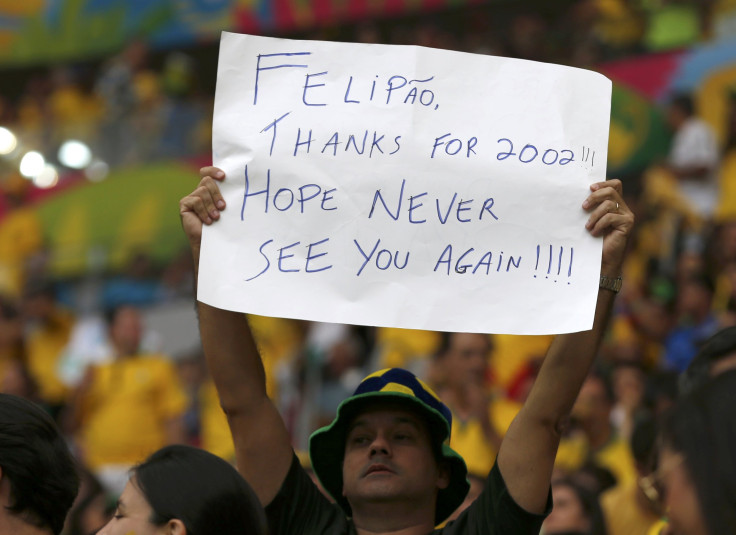 After Brazil's historic 7-1 defeat against Germany in the World Cup semi-final, followed by a 3-0 loss to the Netherlands in the game for third place, the Brazilian Football Confederation, or CBF, chose not to renew head coach Luiz Felipe Scolari's contract, media reports said late on Sunday.
Scolari, who coached the Brazilian soccer team to its last World Cup title in 2002, was booed during and after the game against the Netherlands, and reportedly turned in his resignation Sunday. However, he had maintained that his future as coach of the national team was in the federation's hands.
"It's the president (of the confederation) who has to decide," Associated Press quoted Scolari as saying. "We had already agreed that after the tournament we would hand over the command regardless of whether we won or lost. I will turn in a report to the president and he will analyze what he wants to do."
On Sunday, following Germany's victory over Argentina in the finals, CBF decided not to renew Scolari's contract, Globosporte, a sports news website, reported.
This year's World Cup was never an easy road to take for the Brazilian team, which began the tournament with an own goal from defender Marcelo. The team, which was heavily dependent on the 22-year-old star, Neymar, did not perform as expected, except in two group-level games against Croatia and Cameroon.
"We didn't have great performances but we were reaching our goals," Scolari said. "We still finished in the top four."
World Cup Loss Saddens Argentina
Meanwhile, Argentine riot police had to fire gas and water cannons in the capital city of Buenos Aires on Sunday when dozens of people threw rocks at a rally celebrating the national team's performance in the final, Reuters reported, adding that at least 15 police officials were wounded and more than 50 people were arrested.
Argentina lost the game 0-1 to Germany, dashing the country's hopes of lifting the World Cup trophy again after 28 years. Argentina last won the World Cup in 1986, when a team inspired and led by Diego Maradona, beat West Germany in Mexico City.
According to local media reports, tens of thousands of Argentine fans marched to the Obelisk monument in Buenos Aires in celebration of reaching the final in Brazil, the country's arch-nemesis on the soccer field. However, the violence, which reportedly destroyed store fronts, brought down street lights and damaged a theater, soured the festive atmosphere.
"The players put everything into the game, their hearts and souls. They lost the best way possible, not like Brazil who were smashed to smithereens," an Argentine supporter told Reuters.
© Copyright IBTimes 2023. All rights reserved.