World Cup Final: Brazilians Supporting Argentina, Mostly, Despite Their Long-Standing Rivalry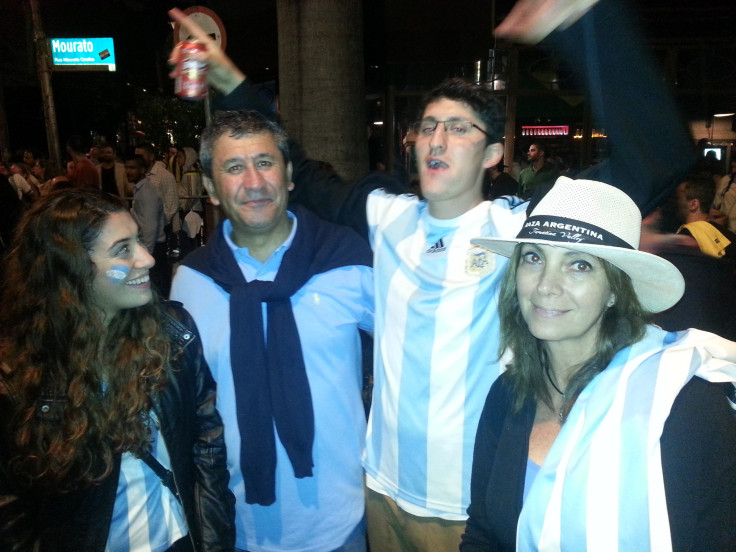 São Paulo--"Today seleção shirts are half price, after that catastrophe," said Alberto Borges, 47, a Brazilian shopkeeper from Minas Gerais. Behind a green counter, next to the register, he spread out World Cup memorabilia, applying fresh stickers, discounts for FIFA pens and Brazil keychains. Customers come in asking for Argentina jerseys, but they've sold out. So have the German ones. Customers from Paulista, the city's main financial center, shuffle through clothing racks looking for a new shirt. Borges says he's decided which team he'll cheer for on Sunday when Argentina and Germany face off at Maracanã.
"I'm going to support Germany," said Borges. More specifically, he'll cheer against Argentina. "They think they're the best team of all time, but they're not. They've only won two Cups; we've won five." Borges' choice makes sense, given Brazil's long rivalry with Argentina, and he's not alone. As the International Business Times reported on Wednesday, many fans are saying "Argentina can't win, not in our house." At the same time, Argentines weren't exactly exuding neighborly love, either.
Argentine fans flooded São Paulo last Wednesday following their 2-1 shootout victory over Holland in Itaquera Stadium, waving blue and white flags and cheering so energetically, their face paint was flaking off.
"Hey Brasil, how does it feel, having your daddy boss you around in your own house?"
"Maradona is greater than Pelé."
They sang the taunting songs on subway platforms and at street crossings, in impromptu and sometimes intimidating packs of more than a dozen, some leaving the downtown FanFest, and some on their way to Vila Madalena, the city's de facto soccer victory afterparty neighborhood.
"We promise you that even as the years pass / We are never going to forget / That Diego [Maradona] dribbled you, that [Claudio] Cani[ggia] vaccinated you, and that you've been crying since Italy until today!"
The "Italy" lyric refers to the 1990 World Cup, the last time that the two teams faced off in actual World Cup match. Maradona did indeed out-dribble the Brazilian squad, helping boot Brazil out of the tournament with a 1-0 victory. In 1982, Brazil destroyed Argentina 3-1, and a frustrated Maradona got tossed from the match with a red card after hitting a Brazilian player.
Most Brazilian commuters who heard the singing just shook their heads, still in shock after their team was crushed by Germany 7-1 on Tuesday. The more spirited listeners shouted a counter chant.
"Thousand goals, thousand goals, only Pelé, only Pelé; Maradona is a cokehead."
On Tuesday, the day of Brazil's loss, Argentine fans reportedly swept through Vila Madalena en masse, taunting Brazilians and starting fights. It's unclear whether any of the fights that night were between Argentine and Brazilian fans. In any case, the military police cited fan tension in their decision to shut down the party zone at 1 a.m., after nearly a month of all-night partying there.
On Wednesday night, Argentine fans were back at Vila Magdalena.
"It's exciting to be in our rival's house, and after [a 24-year drought] make it to the final after beating such a good team, Holland," said Tomás Gomez, a car salesman in his early thirties from La Rioja, Argentina. Gomez traveled to Brazil on a whim, bringing his four younger siblings and his parents. How did he find out about Vila Madalena, the unofficial, off-the-map celebration district?
"We came here with our Brazilian friends after last night's game," he said. Thanks to them, "we knew that it was the best place to get together and party." Rivalry or no rivalry, soccer fans support each other in their revelry.
Behind Gomez, a group in white-and-blue shirts chanted Argentina's anti-Brazilian slogans "Maradona is better than Pelé..." while during the pauses a passing Brazilian would shout back the "cokehead" line. In other breaks between Argentine cheering sessions, Brazilians cheered instead for their hometown -- not World Cup -- teams.
"Go super team, Corinthians," shouted a handful of São Paulo residents, in a traditional chant from the hometown team, set to play in Itaquera Stadium at the end of the World Cup. No one in the group wore a Brazil jersey. In fact, the yellow and green shirt of the seleção have been shelved for the past few days, and it's more common to see the black shirts of Corinthians, the red of SPFC, or the green-and-white of Palmeras.
"I'm cheering for Argentina in the final," said Paulo Tonera, a 25-year-old salesman from São Paulo. "I really like their playing style."
The next day, another -- far more famous -- Brazilian made headlines by declaring his own support for Argentina.
"It's weird for a Brazilian to want Argentina to win, but I have two great teammates [from FC Barcelona] and I'd like them to win," said Neymar Jr., the seleção's superstar striker, in a press conference. He was speaking about Mascherano, and also about Messi, an "idol" that Neymar has "admired from afar." He's not the only one to be seduced by Argentine players through their professional teams abroad.
"When I was a kid, my schoolmates were split into two camps: Messi and Ronaldinho," said Vinicius Carvalho, a shopkeeper at another sports merchandise store downtown. For 20-year-old Carvalho, the Cups of '82 and '90 are ancient history. "I was in the Messi camp," he said.
Messi draws a lot of Brazilian fans. "There's no way you can't like Messi," said Borges, the pro-Germany shopkeeper.
Messi isn't the only player to win Brazilian fans. Carvalho has been a fan of Mascherano since long before he played for Neymar's FC Barcelona. Mascherano, along with Teves, another member of the Argentine squad, played for Corinthians, Carvalho's local team, in the late 2000s. By 2010, Carvalho was cheering for Argentina in the 2010 World Cup. He even learned Spanish, helping him get his current job at the memorabilia store, where he's made many sales to Argentine tourists. He was sold out of miniature Argentine mugs--one of which he bought himself--and almost almost out of A.F.A. keychains.
"My boss gets on my case when I wear an Argentina jersey... he lets me, but he doesn't like it," Carvalho said.
"I'm not that patriotic, holding up a flag and everything. I cheer for the players I like." Even when Argentina isn't playing, Carvalho --intent on being a rebel -- roots against Brazil.
But even some patriotic Brazil fans are pledging support for their southern neighbor.
"We should cheer first for Brazil, then for the Mercosur countries, then for South America, and finally for Latin American ones," wrote Tarso Cabral Violin, a lawyer from Curitiba. In his blog post (full translation here), Violin laid out the reasons he's cheering for Argentina over Germany.
Germany humiliated Brazil by beating them 7-1. An Argentine victory would be a form of South American vengence.

If Germany wins, they'll hold 4 titles, getting close to Brazil's 5, whereas if Argentina wins, it'll still be two titles away.

Argentina is having a tougher time [economically], so their fans are more deserving of the happiness of winning.
Aside from the game against Brazil, Violin argues, "Germany didn't really play that well during this World Cup."
Echoing Violin's blog post, Gomez, the Argentine car salesman, saw Brazilians as natural allies for Sunday's game. Not far from his Brazilian friends, he held his beer under the street lights of Vila Madalena, and paused.
"We're rivals but we're friends, we're all from the Americas, right?"
© Copyright IBTimes 2023. All rights reserved.
FOLLOW MORE IBT NEWS ON THE BELOW CHANNELS