Luke Bryan Apologizes For Writing National Anthem On Hand During 2012 All-Star Game Performance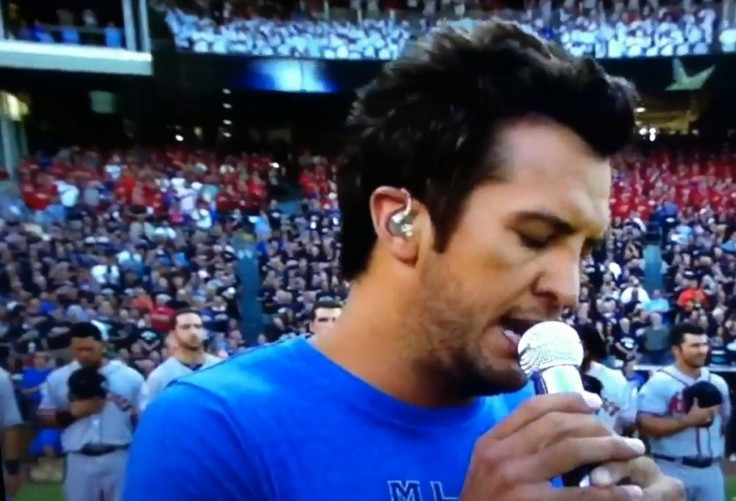 Country singer Luke Bryan apologized this week to anyone who was offended when he looked to his hand for guidance in singing the national anthem at the 2012 All-Star Game.
Luke Bryan wrote some words to the anthem on his hand, and many observers saw the incident as a lack of professionalism and respect for the anthem.
Bryan used his Twitter account Thursday to explain his 2012 All-Star Game performance.
I had a few key words written down to insure [sic] myself that I wouldn't mess up. I just wanted to do my best. I promise it was from the heart, the country singer tweeted. If I offended anyone with my approach I sincerely apologize. Anytime I sing the anthem it is an honor and my heart beats out of my chest.
Luke Bryan was also criticized for looking at his watch as he sang the national anthem, which made it appear as if he was disinterested in giving the performance.
I did check my watch because I knew the stealth bomber would fly over 2 minutes in and I knew [I] started a little late, Bryan explained.
The country singer said he enjoyed his All-Star experience.
Being a part of the all star game was amazing and I look forward to the next time I can perform the anthem. Thanks y'all. Love ya, Bryan wrote.
Fans of Luke Bryan forgave the country singer after he apologized.
No explanation needed...you are awesome and did great! said Twitter user @Lovinlife161.
you gave it justice, mr bryan, said @rookiecookie828.
Respect! I love you still. You are awesome! said user @KarizzleC.
Twitter User Erin Lena said she thought Bryan writing words to the national anthem on his hand was thoughtful if he was unsure of which words to sing.
Better to write them down than butcher the song, she tweeted, You were great. Love you!
Bryan fan @TailgateBlues35 said he believed nobody should have been offended by Luke Bryan's behavior.
If anyone was offended , they can kiss you're a-- and all of your fans a--! You sang from the heart as normal & we love u! they opined.
© Copyright IBTimes 2023. All rights reserved.