Mahmoud Abbas Resigns As Head Of Palestinian Liberation Organization: Report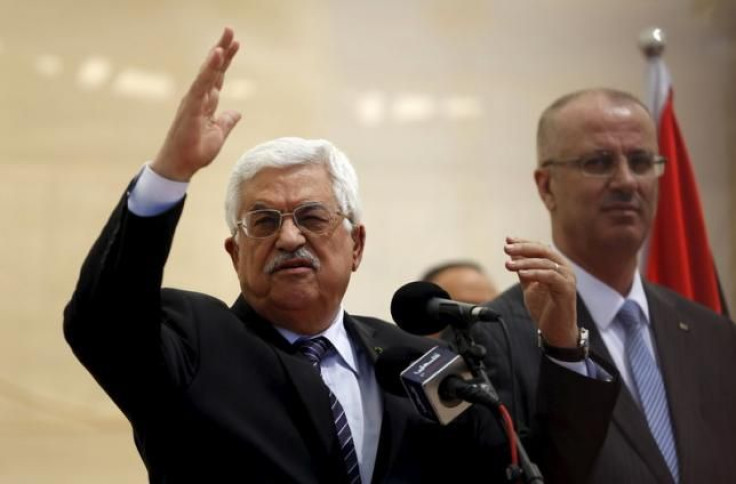 Palestinian President Mahmoud Abbas has stepped down from his position as the head of the Palestinian Liberation Organization (PLO), local media reported Saturday. Several other top-level officials of the PLO also reportedly resigned.
Abbas, 80, remains Palestinian president, a position he has held since 2005. The Palestinian National Council has called for a new election within 30 days to determine who will take over on the PLO's executive committee, according to Al Arabiya News.
The Times of Israel reported this week that Abbas was planning to resign as the chair of the PLO's executive committee, saying the move "reflects growing dissatisfaction and factionalism in Palestinian politics." Abbas has not yet publicly stated reasons for his resignation, but a Palestinian official, Wassel Abu Yussef, said it was intended to force new elections for the executive committee, Agence France-Presse reported. The resignations have "created a legal vacuum" in the body, Yussef added.
The PLO's executive committee is the body's top decision-making authority and acts as the Palestinian representative in international matters, including peace negotiations with Israel.
Speculation has been rife for months that Abbas would step down as Palestinian president as well, particularly after U.S.-brokered peace talks between Palestinian and Israeli leaders broke down in April 2014. Rumors of Abbas' declining health and reports of political infighting have added more fuel to expectations of his resignation.
Palestinian chief negotiator Saeb Erekat was named secretary-general of the PLO executive committee last month, a move that raised some expectations that he could be in line to succeed Abbas as head of the organization or as president of the Palestinian Authority.
Abbas has been president of the Palestinian Authority for a decade, despite only being elected to a four-year initial term. He has said on several occasions that he does not plan to run again when the next elections are held.
© Copyright IBTimes 2023. All rights reserved.