Major Corporations Detail Costs, Burdens of Defense of Marriage Act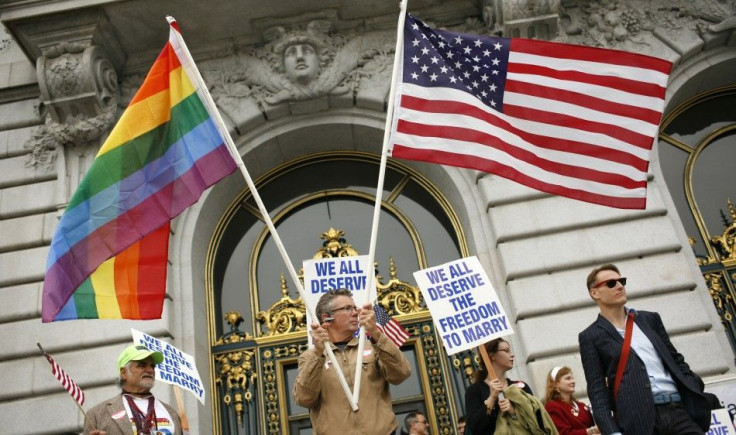 Major corporations headquartered in states that allow same-sex marriages have waded into the effort to repeal the Defense of Marriage Act, arguing that the law preventing the federal government from recognizing wedded gay couples is burdensome and costly.
A group of 70 corporations, trade groups and organizations from a variety of industries last week filed a court brief in a case, now at the appellate court level, challenging DOMA.
The group consists of some of the most well-known companies in the U.S. and around the world, including Nike, Starbucks, Microsoft, Chubb, Google and Xerox.
It puts us, as employers and enterprises, [through] unnecessary cost and administrative complexity, the court filing read. And regardless of our business or professional judgment, forces us to discriminate against a class of our lawfully-married employees.
Congressional Democrats Also Act to Repeal DOMA
This so-called friend-of-the-court brief was entered into the Congressional record Thursday when Democratic senators moved legislation repealing DOMA out of committee for a full Senate vote.
There are seven states and Washington, D.C., that allow gay couples to get married. With DOMA, which defined marriage as a union between a man and a woman, the federal government had a uniform rule determining eligibility for thousands of federal marriage benefits.
These companies say that the ever-growing number of legal same-sex marriages has now ended that uniformity.
The burden of a dual regime arises where enterprises that conduct operations or do business in any state that has legal same-sex marriages, the brief said.
For health care plans given to heterosexual couples, the benefits are not subject to federal income tax, while a same-sex spouse of an employee must treat these benefits as taxable income. The value of these benefits create a larger tax burden, creating different paychecks and W-2 tax forms to report wages among heterosexual and gay married couples, the brief explains.
Employers must also eat the cost of creating 401(k) retirement plans that allow an employee to take money out to pay for medical bills of a sick same-sex spouse. Heterosexual couples can do this from their 401(k) plans under federal law.
Two Sets of Books
On record keeping, businesses must treat employees in same-sex marriages as single under federal law but married under state law.
This requires [the businesses in the court brief] to maintain two sets of books, the brief said. The double entries ripple through human resources, payroll and benefits administration.
Beyond compliance costs and administrative burdens, these businesses say that DOMA requires them to affirm discrimination they say harms their corporate mission or opens them up to litigation.
The fate of DOMA could be decided either through the courts or legislatively. The DOMA repeal bill that was reported out of the Judiciary Committee Thursday has a tough slog before it reaches the White House.
After the Obama administration declined to argue the constitutionality of DOMA in court challenges, Republican leadership in control of the U.S. House of Representatives hired its own outside counsel to do the job.
© Copyright IBTimes 2023. All rights reserved.