Major Terrorist Attacks In India Over The Last 20 Years: A Timeline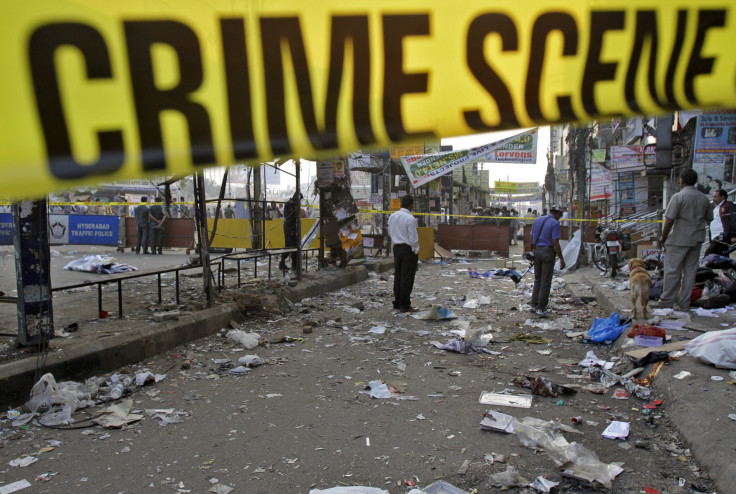 On Saturday, police in the southern city of Bangalore arrested a man suspected of managing a Twitter profile sympathetic to the Islamic State group, and one that was reportedly being used as a recruiting tool for the militant group, following a report by Britain's Channel 4 News Thursday.
The arrest yet again shines a spotlight on India's problems with militancy and its efforts to prevent the message of violent jihad from influencing Indian nationals. Local authorities have been on high alert over the past few months after Abu Bakr al-Baghdadi, ISIS leader, said in July that Indian nationals could be part of his insurgent group. In September, al-Qaeda chief Ayman Al-Zawahiri announced that the group would also begin operating in South Asia.
However, India is no stranger to terrorist attacks, and over the years, many of the country's major cities have been targeted. According to a Global Terrorism Index 2014 report, India was among the top 10 countries to be affected by terrorist activities in 2013.
Here is a chronology of the major attacks carried out within India over the last two decades.
March 1993: A series of 13 bomb blasts that took place in Bombay (now Mumbai) on March 12 killed more than 350 people and injured as many as 1,200. The attacks were allegedly coordinated by Dawood Ibrahim, don of a Mumbai-based international organized crime syndicate, in retaliation for the demolition of a mosque in northern India in December 1992.
December 1996: On Dec. 30, a bomb on an express train -- the Brahmaputra Mail -- in the northeastern state of Assam killed at least 33 people.
February 1998: A series of 12 bomb attacks at 11 locations in the city of Coimbatore in the southern Indian state of Tamil Nadu killed 58 people and injured more than 200.
October 2001: The Jammu and Kashmir State Legislative Assembly complex in the state's capital of Srinagar was targeted by a car bomb and three suicide bombers, leading to 38 deaths. Militant outfit "Jaish-e-Mohammed" was reportedly blamed for the attack.
August 2003: Two car bombs on Aug. 25 killed 54 people and injured 244 in Mumbai. Pakistan-based Lashkar-e-Taiba was blamed for the attack.
October 2005: Three explosions killed 62 people and injured at least 210 others in New Delhi on Oct. 29. Kashmir separatists and Lashkar-e-Taiba were believed to be behind the attacks.
2006
March: A series of bombings across the Hindu holy city of Varanasi in the northern Indian state of Uttar Pradesh on March 7 killed at least 28 people and injured about 100. A little known group calling itself the Lashkar-e Kahar -- possibly linked to Lashkar-e-Taiba -- reportedly claimed responsibility for the blasts.
July: A series of seven bomb blasts over a period of 11 minutes on suburban trains in Mumbai on July 11 killed 209 people and injured more than 700. Once again, Lashkar-e Kahar claimed responsibility for the bombings, while the Indian government also accused Pakistan's spy agency, Inter-Services Intelligence (ISI), of planning the attacks.
September: At least 37 people were killed and more than 120 injured in three simultaneous blasts in the town of Malegaon in the western state of Maharashtra on Sept. 8. The National Investigation Agency (NIA), India's premier anti-terror agency, filed a chargesheet last year, blaming four Hindu activists for carrying out the blasts.
2007
February: On Feb. 18, two blasts on the Pakistan-bound Samjhauta Express passenger train killed 66 people, mostly Pakistanis, in what was seen as an attempt to disrupt a peace accord between India and Pakistan. An India-based Hindu fundamentalist group called Abhinav Bharat and Lashkar-e-Taiba were linked to the attack.
August: Two bomb blasts in the city of Hyderabad, the common capital of the southern Indian states of Andhra Pradesh and Telangana, killed 42 people and injured more than 50 on Aug. 25. According to security agencies, "Harkat-ul-Jehadi Islami," a banned militant outfit from Bangladesh was likely behind the blasts.
2008
May: Nine blasts rocked the northern city of Jaipur in Rajasthan on May 13, killing 63 people and wounding about 216. A terrorist group calling itself the "Indian Mujahideen" claimed responsibility for the attacks.
July: A series of nine bombs exploded in Bangalore on July 25 in which two people were killed and 20 injured. The incident was followed by a series of 21 bomb blasts the next day in Ahmedabad in the western state of Gujarat. At least 56 were killed and more than 200 were injured during the bombings. Indian Mujahideen claimed responsibility for the terror attacks in Ahmedabad, while the bombings in Bangalore remained unclaimed.
September: Five bomb blasts in New Delhi killed 30 people and injured more than 100 at busy shopping locations on Sep. 13. Several television channels subsequently reported that they received e-mails from Indian Mujahideen claiming responsibility for the attacks.
October: As many as 18 bombs reportedly went off in the city of Guwahati and surrounding areas in the northeastern state of Assam on Oct. 30, killing at least 77 people and injuring more than 450. Evidence emerged later on suggesting that the National Democratic Front of Bodoland executed the bombings.
November: Ten gunmen launched a series of 12 coordinated shooting and bombing attacks over four days on various major locations in Mumbai, killing 164 people and wounding at least 308. The attacks were carried out by Pakistani members of Lashkar-e-Taiba, while the only attacker who was captured alive -- Ajmal Kasab -- later confessed that the attacks were conducted with the support of Pakistan's ISI. The attacks began on Nov. 26 and lasted until Nov. 29. Six American nationals were also among those killed in these attacks, which also targeted a Jewish synagogue in the city.
February 2010: A bomb blast at the German Bakery in the city of Pune in Maharashtra on Feb. 13, killed 17 people, including an Italian woman, two Sudanese students and an Iranian student. The Indian Mujahideen was blamed for the blast.
2011
July: On July 13, Mumbai was rocked by a series of three coordinated bomb explosions that targeted diamond and jewelry trading locations in the city. The attacks killed 26 people and injured 130.
September: A bomb blast killed 17 people and injured 76 outside the High Court in New Delhi on Sept. 7. Harkat-ul-Jihad-al-Islami reportedly claimed responsibility for this attack.
2013
February: Two blasts occurred in the city of Hyderabad in southern India in a crowded shopping area, killing 16 people and wounding 119.
May: Naxalite insurgents of the Communist Party of India (Maoist) attacked a convoy of Indian National Congress leaders in Darbha Valley in the Sukma district of the central Indian state of Chhattisgarh on May 25. The attack caused at least 27 deaths, including that of a former state minister and two other politicians.
October: A series of bomb blasts rocked Patna in the northern state of Bihar at an election rally for Narendra Modi, who was the prime ministerial candidate of the Bharatiya Janata Party at the time. Six people were killed during the attack and 85 others were injured.
© Copyright IBTimes 2023. All rights reserved.