Malaysia Airlines Calls On Companies, IATA, For Better Flight Warnings Above Conflict Areas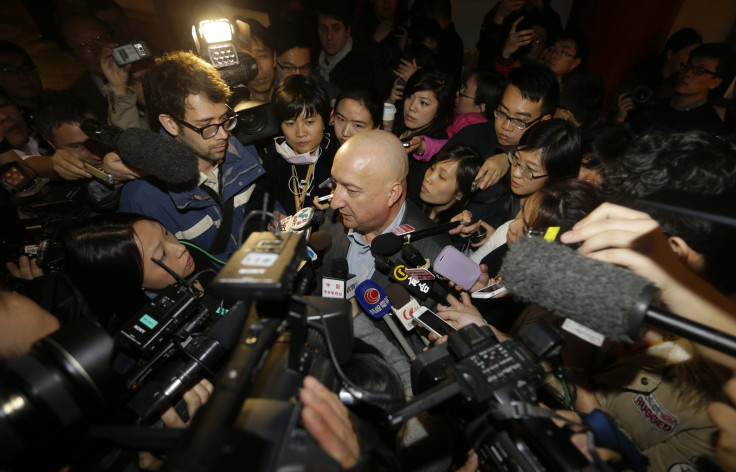 Malaysia Airlines has called on the international community to create a method to help carriers know which areas are unsafe to fly over. The call comes a little more than a week after MH17 was shot down, likely by Russian separatists, over Ukraine, killing all the passengers and crew members on board.
"This tragedy has taught us that despite following the guidelines and advice set out by the governing bodies, the skies above certain territories are simply not safe," Hugh Dunleavy, an executive vice president at Malaysia Airlines, wrote in the Telegraph Saturday.
"It could have been any one of several well-known airlines operating in the same flight corridor that day," he wrote.
Indeed, an Air India flight carrying 126 people was flying just 90 seconds behind MH17 July 17.
"The fact that a civilian aircraft was shot out of the sky over what was designated a safe flight corridor is proof that we have to take a much closer look and redefine what we consider safe flight corridors," Dunleavy wrote.
The Federal Aviation Administration, a U.S. agency regulating air transportation, initially issued a warning to planes flying over the region, as Mashable reported. However, it exempted aircraft flying higher than 32,000 feet. MH17 was flying at roughly 33,000 feet when it was shot down, likely by a missile capable of hitting targets much higher.
The International Air Transport Association, or IATA, said it "believed that the airspace that the aircraft was traversing was not subject to restrictions."
After the incident, carriers such as Air France, Lufthansa and Russian airline Transaero began avoiding the area and other conflict zones.
"Against the backdrop of areas with increasingly volatile political situations, such as Ukraine and Gaza, we as an industry must act now to create a system of approval that guarantees safe air passage for all commercial airlines," Dunleavy wrote. He asked that airlines work together with organizations such as IATA to review their current methods and set stricter standards.
"We have to act together as an industry," he wrote.
© Copyright IBTimes 2022. All rights reserved.
FOLLOW MORE IBT NEWS ON THE BELOW CHANNELS