Manchester United Transfer News: Borussia Dortmund CEO Makes Big Erling Haaland Confirmation
KEY POINTS
Manchester United is still expected to pursue Borussia Dortmund's Erling Haaland next summer
The Bundesliga side's CEO has revealed the truth about Haaland's situation
Red Devils boss Ole Gunnar Solskjaer didn't want to say a lot about the striker
Borussia Dortmund's stance on Erling Haaland's situation has handed Manchester United a major boost.
It has been reported that Cristiano Ronaldo's return to Manchester United "hasn't altered" the club's "determination" to pursue Borussia Dortmund goal machine Haaland next summer.
While the Norwegian striker had been widely tagged as Manchester United's top target this past summer, Borussia Dortmund CEO Hans-Joachim Watzke confirmed that the interest from the English side dates back to 2019
. In fact, the Red Devils even had a "better" offer for Haaland at the time.
"Our offer wasn't the best," Watzke told German media outlet Sport1.de via Manchester Evening News. "The offer from Manchester United was better. But consultant [agent] Mino Raiola has recognized that Erling is in better hands with us. "
As it stands, widespread rumors still link Manchester United to a mega-expensive transfer swoop for Haaland at the end of the season.
Lifting the lid on the subject, Watzke uttered Borussia Dortmund "also need hygiene in the cabin," hinting at being open to the idea of selling Haaland to the biggest bidder in the future.
"That means: To believe that you will go all-in for Haaland and that all other players will stay as they are, then you will be wrong about the character of the players," the chief explained.
"The renewal process is permanent with us," he continued. "At some point, the best players are bought away and you start all over again. Developing a top European team over the long term is difficult if you can't keep your players for three or four years. We're not at this level yet."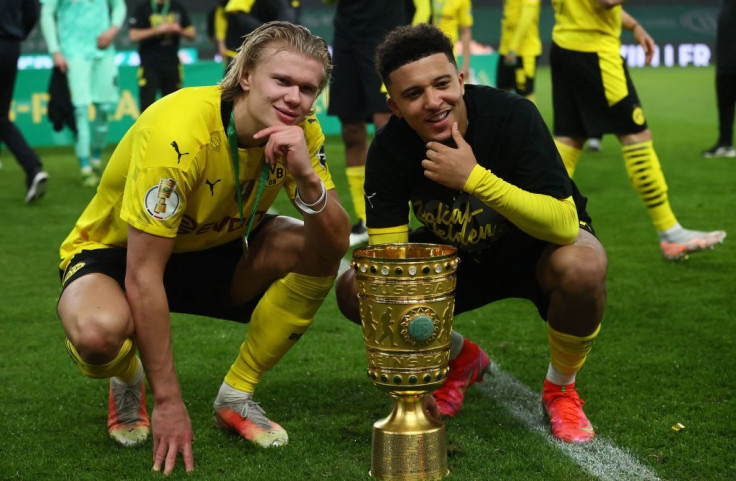 As for Manchester United, club manager Ole Gunnar Solskjaer--who has maintained a good relationship with Haaland--had already expressed his deep admiration for his former pupil's qualities.
However, Solskjaer chose not to discuss Haaland's situation, stressing that clubs will surely chase his compatriot for obvious reasons, but until then, he's still a Borussia Dortmund player.
"He's a Dortmund player – we just wish him well there and let's see what life will bring later on," Solskjaer said of Haaland earlier this year.
"You know I can't speak about Erling because he's at Borussia Dortmund, and it's disrespectful to talk too much about it, apart from that I know him and I speak to him. Who wasn't interested in him a year ago? Everybody would say you would take the best players in the world and Erling is a top player."
© Copyright IBTimes 2023. All rights reserved.