Manny Pacquiao Net Worth: Boxing Legend Is Worth $220M
KEY POINTS
Manny Pacquiao is selling his mansion in Manila, Philippines, for $31 million
He is one of the wealthiest athletes in the world
Pacquiao will face UFC superstar Conor McGregor in the ring next year
Manny Pacquiao has amassed a hefty fortune in his 25 years as a professional boxer. Aside from the sport, he has also dabbled in acting and singing and was elected senator in the Philippines in 2016.
Pacquiao is the richest Filipino athlete, with an estimated net worth of $220 million (11.1 billion Philippine pesos), Celebrity Net Worth reported.
At his peak, the boxing legend earned around $448 million before taxes, Esquire reported. This includes his prize earnings, sponsorships and salary from his brief entertainment career and coaching stint.
His biggest paycheck came with his 2015 bout against Floyd Mayweather Jr. at the MGM Grand Garden Arena in Las Vegas, Nevada, where he reportedly took home $130 million. Pacquiao lost the fight but still earned the respect of experts and fans in the process. He also earned $35 million after defeating Miguel Cotto and Antonio Margarito.
Aside from making money in the ring, Pacquiao is also a sought-after endorser in the Philippines. He was able to use his popularity for different business ventures and even tried acting in movies and hosting several shows.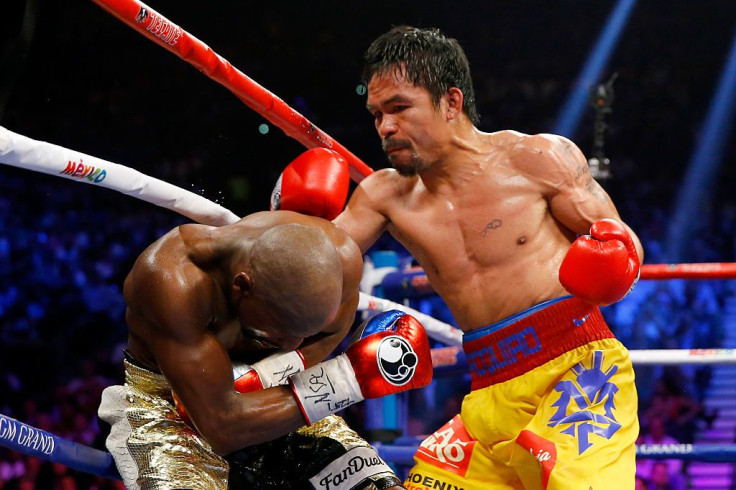 Pacquiao's life is a success story out of fairy tales. He grew up poor and had several odd jobs before embarking on a boxing career.
"Pac-Man" became a professional boxer at age 16. It was his only hope out of poverty. The hard work and perseverance paid off as boxing not only helped Pacquiao amass wealth but also opened up a lot of opportunities outside the ring.
The 41-year-old is the only eight-division world champion in the history of the sport and is considered one of the best pound-for-pound fighters today, even at an advanced age.
The boxer currently owns several real estate properties in the Philippines and abroad. Pacquiao's mansion in an upscale area in Manila is now being sold for $31 million. The luxury mansion features five bedrooms and five bathrooms.
Pacquiao also owns a home in Los Angeles where he stays when he has a fight in the U.S.
Pacquiao has a fight scheduled for 2021 against UFC superstar Conor McGregor, CNN reported. A portion of the winnings will be used for COVID-19 relief in the Philippines, a representative from Pacquiao's camp said.
© Copyright IBTimes 2023. All rights reserved.