Manny Pacquiao Punch Literally Faster Than Blink Of An Eye, According To Studies
KEY POINTS
Studies revealed that Manny Pacquiao's punch is faster than a blink of an eye
The weight of Pacquiao's punch can be compared to a shotgun
Shane Mosley couldn't explain why Pacquiao hits so hard
Studies revealed that Manny Pacquiao's punch is literally faster than a blink of an eye.
In sports, the idiomatic expression "faster than a blink of an eye" is typically a way of describing one's speed with exaggeration. However, for eight-division title holder Pacquiao, the famous description is a reality.
In 2015, the "Sports Science" team decided to study and figure out how hard does Pacquiao hit. The team experimented to know how powerful the people's champ punch is using a punching bag and a high speed-motion capture technology to analyze the punching power.
To everybody's surprise, the team found out that the results showed the speed of Pacquiao's punch landed in just 0.12 seconds, which was "literally" even faster than a blink of a human eye. The Filipino legend's punch was delivered using his entire body. And combining his speed, momentum and weight, the c alculations revealed that he had hit the target with "806 pounds" of force. This amount of force revealed that Pacquiao's punch would likely feel "like a shotgun."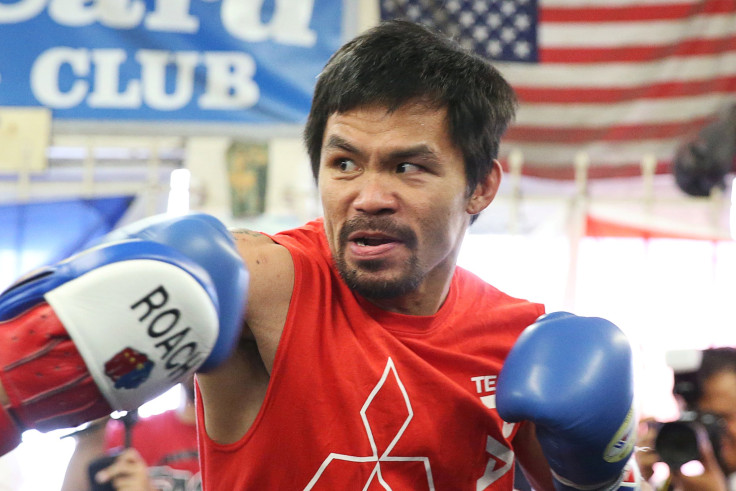 Indeed, the world has witnessed how Pacquiao utilized and made a history with the power he possesses in hands. Among the champions that "Pacman" has stopped over the course of his career include all time boxing great Oscar De La Hoya, and former world champions Miguel Cotto, Ricky Hatton, Marco Antonio Barrera, David Diaz and Erik Morales.
It's no wonder why only few fighters lasted the distance with Pacquiao. One of them was former multi-division champ Shane Mosley. Back in 2011, Pacquiao faced Mosley in a blockbuster welterweight showdown. Although Mosley survived Pacquiao's lethal power, he was knocked down thrice by the Filipino boxer.
Several months after his defeat, Mosley tried to describe how hard Pacquiao really hit. According to him, Pacquiao is a unique puncher and got "something in his hands" that can hurt his opponent without even noticing it, Fight Saga reported.
"He's got something in his hands where he just, pop, and you can wobble. He can hurt you," Mosley said in 2011.
"He has some different hitting power. He's not physically strong, but he hits pretty good, like he has a good snap or something," Mosley added.
Mosley even noted that there were much bigger guys who have hit him in the past but Pacquiao was just different.
"I get hit, even now, I get hit by bigger guys all the time and there's no dazing, I don't wobble, I don't do any of that stuff. With Pacquiao, he just touches you and you're already wobbling. [But] It's not like he's heavy-handed. It's the weirdest thing," Mosley noted.
© Copyright IBTimes 2023. All rights reserved.