Manny Pacquiao vs. Floyd Mayweather Fight: Start Time, Undercard, TV Replay Details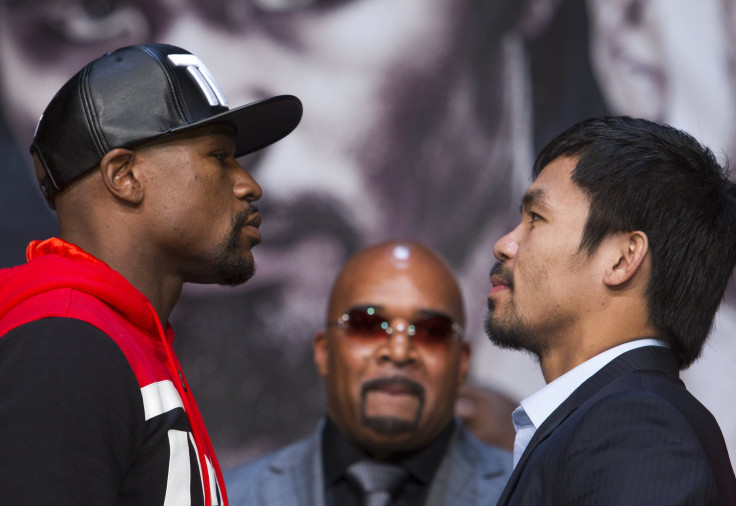 Floyd Mayweather vs. Manny Pacquiao will highlight what will be the most profitable pay-per-view event of all-time, but the long-awaited meeting between boxing's top stars isn't the only fight on the card. Six bouts will precede the main event, and two matches on the undercard will be broadcast on PPV.
Saturday's mega-fight at the MGM Grand Garden Arena in Las Vegas won't begin until after two televised title fights. WBO Featherweight Champion Vasyl Lomachenko will put his belt on the line against Gamalier Rodriguez. Jose Cayetano will challenge Leo Santa Cruz for the WBC Super Bantamweight World Championship. Both bouts will be fought at 126 pounds.
The day's action officially begins at 6 p.m. ET with four bouts that won't be on PPV. The untelevised undercard includes Chris Pearson vs. Said El Harrak, and Brad Solomon vs. Adrian Rene Granados, both of which will be fought at 154 pounds. Middleweights Jesse Hart and Mike Jimenez will face off in a fight between a pair of undefeated boxers. Andrew Tabiti and Anthony Caputo Smith will meet in a cruiserweight bout.
Mayweather has two fights left on his contract with Showtime, and Pacquiao is signed to fight on HBO PPV through 2016. As a result, Showtime and HBO have put together a joint PPV for only the second time in history. The same happened when Mike Tyson and Lennox Lewis faced off in 2002, a fight that resulted in 1.95 million PPV buys.
The PPV is set to begin at 9 p.m. ET and will cost a record $99.95 to purchase in HD. But those who don't fork over money to see the event live can still watch it legally at a later date. A replay of the fight will be televised on May 9 by both Showtime and HBO. HBO's replay will preempt the live fight between Canelo Alvarez and James Kirkland, while the final part of a documentary about the rivalry between Mayweather and Pacquiao will follow Showtime's taped version of the bout.
In the 2002 mega-fight between Lewis and Tyson, Lewis's victory won HBO the right to air the replay, though they did pay Showtime $3 million. In the weeks leading up to the official agreement between Mayweather and Pacquiao, it had been reported that the details of which network would be allowed to air the replay was one of the sticking points in the negotiations.
© Copyright IBTimes 2023. All rights reserved.