March Madness 2014: Picks Against The Spread For All NCAA Tournament Sweet 16 Games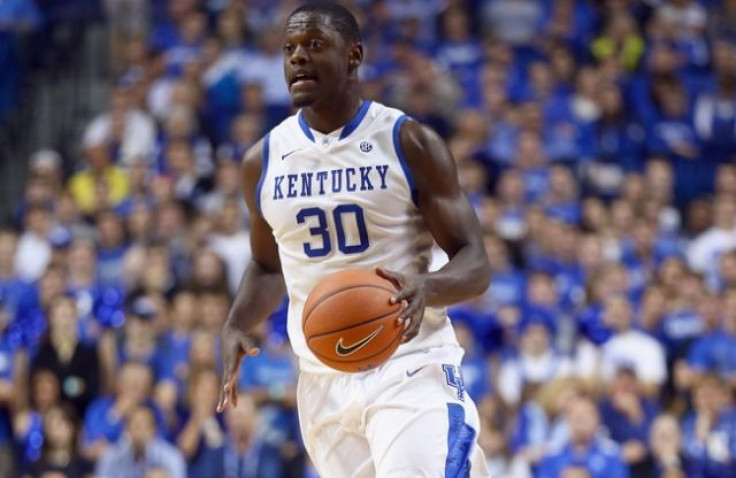 Only 16 teams remain in the 2014 NCAA Tournament. Ten of the teams were favored in their first two games, while the other six pulled off upsets to advance.
Most of the Sweet 16 games are expected to be close matchups, so there won't be any major upsets. Below are picks against the spread for all the games.
Thursday, March 27
(11) Dayton+3 vs. (10) Stanford
Both teams barely made the field of 68, and now one of them is guaranteed to reach the Elite Eight. Dayton squeaked out victories against Ohio State and Syracuse, while Stanford just got by New Mexico and Kansas. The Cardinal, though, was in control for the last 10 minutes of both their games. The Flyers have been fortunate to be on the right side of a few last-second shots. Against a hot Stanford team, their luck might run out.
Prediction ATS: Stanford
(6) Baylor+3.5 vs. (2) Wisconsin
The Bears underachieved earlier in the year, making them a No.6 seed. Since the middle of February, though, they've performed like one of the best teams in the country. They had an easy road to the Sweet Sixteen, winning two games by a total of 44 points. Wisconsin is a legitimate contender to win the national title, but they might be facing the wrong team at the wrong time.
Prediction ATS: Baylor
(4) UCLA+4.5 vs. (1) Florida
Getting almost five points, it's difficult not to take the Bruins. They have two potential first-round draft picks in the starting lineup, as well as one coming off the bench. However, Florida has proven itself to be the nation's best team for almost the entire year. Not only do the Gators have 28 consecutive wins, but most of them have come in convincing fashion. Including their March Madness run, the No.1 overall seed has 10 victories against tournament teams, nine of which have come by at least six points. Thursday will likely see that streak extend to 11.
Prediction ATS: Florida
(4) San Diego State+7.5 vs. (1) Arizona
The Wildcats have already beaten the Aztecs on the road this season, and there's little reason to believe they won't do it on a neutral court. Arizona has played like an elite team all year, losing just four games, all of which have been close contests. They are giving San Diego State more points than any other team in this round, but they've performed very well against the spread, going 21-14.
Prediction ATS: Arizona
Friday, March 28
(11) Tenneesee+2.5 vs. (2) Michigan
The Volunteers are being given less than three points, even though there is a nine-seed difference between the two teams. Tennessee is one of the hottest teams in the field, having won eight of their last nine. Most of those wins, though, have come against subpar competition. None of their five consecutive victories, before the SEC Tournament, were against NCAA Tournament teams. Even in the round of 32, they beat No.14 Mercer. Michigan has been one of the best teams all season long, and should end Tennessee's run on Friday.
Prediction ATS: Michigan
(7) Connecticut+2 vs. (3) Iowa State
A week ago, the point spread would have been much higher. However, the loss of Georges Niang gives the Huskies a chance of pulling off the upset. Even with Iowa State losing one of their top players, though, they're still the better team. Without Niang, DeAndre Kane stepped up against North Carolina, scoring 24 points and falling three assists shy of a triple-double. UConn defeated No.2 Villanova in the third round, but they were overrated, having beaten few quality teams.
Prediction ATS: Iowa State
(8) Kentucky+4.5 vs. (4) Louisville
The Wildcats have proven they're better than an average No.8 seed, handing Wichita State their first loss of the season. They even showed they can beat Louisville, defeating them in December. In the Sweet Sixteen, however, Louisville has the advantage, returning a large part of their national championship winning team. If the Cardinals can pull out to an early lead, Kentucky's inexperience might prevent them from giving Louisville much of a scare.
Prediction ATS: Louisville
(4) Michigan State-2 vs. (1) Virginia
The Spartans are one of the favorites to win the national championship, despite being a No.4 seed. As experts continue to pick Michigan State, Virginia has become underrated. Before cruising into the Sweet Sixteen, the Cavaliers had one of the best seasons in college basketball, defeating five teams that went on to get NCAA tournament wins. Michigan State wasn't playing well, prior to the Big Ten Tournament, and they could easily slip up on Friday.
Prediction ATS: Virginia
© Copyright IBTimes 2023. All rights reserved.