Marco Rubio President 2016: Can His Underdog Campaign Prove The Experts Wrong Again?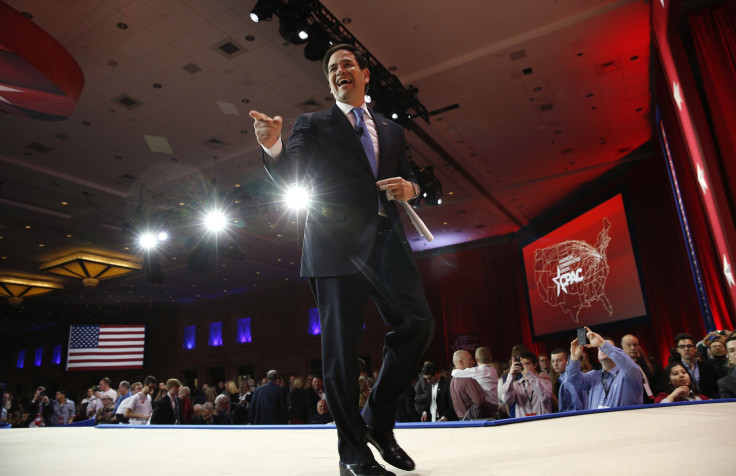 It was 2009, and Marco Rubio, then a state legislator, was trailing by 50 points in the polls to popular Florida Gov. Charlie Crist in the Republican primary for the state's open Senate seat. "The only people who thought I could win my Senate race all lived in my home. Four of them were under the age of 8 at the time," Rubio recalled recently. He went on to shock the political establishment with a surge that forced Crist out of the primary and then defeated the governor in the general election. Now, with his eyes on the White House, Rubio is hoping to make the pundits look like fools once again.
By planning to announce he is seeking the Republican nomination for president Monday night at the Freedom Tower in Miami, Rubio, 43, is surprising political experts who believed he would sit out 2016 in deference to Jeb Bush, who was governor when Rubio was speaker of the Florida House of Representatives and is one of Rubio's political mentors. Bush formed a political action committee in January that lets him raise money for campaign staff and to travel to early primary states to test the waters for a presidential run, which he is widely expected to make.
"The conventional wisdom was that he would not run if Jeb Bush was in the race, but he proved us all wrong," said Sean Foreman, a political science professor at Barry University in Miami. "Marco Rubio thinks that he brings some unique factors to the race that the other candidates don't have."
The son of a maid and a hotel bartender who immigrated to the United States in 1956 from Cuba, Rubio has since risen from humble beginnings, working his way up to speaker of the Florida House and a United States senator -- something Rubio said would not have been possible if Cuba wasn't 90 miles away. He has used that compelling narrative in the past to win over voters disillusioned with Washington.
'A Debt To America'
"See, America doesn't owe me anything. But I have a debt to America that I will never be able to repay," Rubio, fighting back emotion, told a conservative Republican audience in February. "For me, America isn't just a country. It's the place that literally changed the history of my family."
Rubio is also effective on the stump -- one of the reasons he went from being down 53 points in the polls in early 2009 to the next U.S. senator from Florida in 2010. "He's a great speaker. He can deliver a speech well like President Obama, but also Rubio can speak off the cuff on a number of issues like a Bill Clinton or a Jeb Bush," Foreman said. "Because he's articulate, he will engage audiences across the country, whether it be on foreign policy or tax policy or education or immigration or on football and pop culture."
While it's still early on the road to 2016 -- Rubio and fellow Sens. Ted Cruz and Rand Paul are the only Republican candidates to officially declare so far -- the Florida senator is in seventh place among 12 likely contenders for the nomination, according to an average of the most recent polls compiled by Real Clear Politics. Bush leads the field with 17 percent, followed by Wisconsin Gov. Scott Walker at about 16 percent, and Cruz, Paul, retired neurosurgeon Dr. Ben Carson, and ex-Arkansas Gov. Mike Huckabee hovering around 9 percent. Rubio is at about 7 percent support, ahead of New Jersey Gov. Chris Christie at 5.6 percent, ex-Texas Gov. Rick Perry at 3 percent, former Pennsylvania Sen. Rick Santorum at 2 percent and Louisiana Gov. Bobby Jindal and Ohio Gov. John Kasich slightly above 1 percent. Democrat Hillary Clinton announced Sunday she was also running for president.
One of the ways Rubio will try to differentiate himself from the crowded Republican field is with his foreign policy experience. Despite being in the Senate for less than a full term, Rubio can make the case he is more seasoned on foreign policy than the governors who are likely to run for president. As a member of the Senate Foreign Relations Committee, Rubio has been critical of President Barack Obama's executive actions on immigration and the administration's policy of opening up diplomatic relations with Cuba. He's also called out the president for not being aggressive enough in the fight against the Islamic State group in Iraq and Syria.
That background also gives Rubio a record that his Republican rivals can attack, particularly on immigration reform. Rubio was among the so-called Gang of Eight senators who pushed for a controversial immigration reform bill that would have given a path to citizenship for illegal immigrants, but the plan was scuttled by the House. Rubio's position was to the left of Republican primary voters, who are more conservative than the general electorate.
"This is a major challenge for his campaign. He's on record with his support for a pathway to citizenship and he's made many comments over the years about 'The reality is we're not going to round up 11 million people and deport them and so we have de facto amnesty under the current system so we have to find some legal solution,'" Foreman said. "If he caves and says, 'I was wrong to support the Gang of Eight Senate agreement,' then he's a flip-flopper and we'd have to wonder what other issues he'll change his positions on in order to be electorally viable."
'There Will Be Questions'
Another significant weakness is his lack of executive experience. Perry was governor of Texas for nearly 15 years, Bush served eight years as Florida's governor and enjoys high name recognition thanks to his father's and brother's presidencies, and Huckabee headed Arkansas for nearly a decade before running for president in 2008.
"There will be questions about his age and experience, but he's very experienced for his age," Foreman said. "But it's about ideas and where Rubio may have his biggest advantage is that he's a thinker and he puts out original ideas for policy innovation."
His main obstacle to the nomination will be Bush, an early front-runner who acquired advisers and donors from his father and brother and has goals of raising $100 million in the first quarter of his campaign. Rubio most likely won't be able to compete with Bush for dollars, but he needs to raise only about half as much as Bush to be considered a viable candidate. "Florida is big enough for both of them but Jeb comes first in the eyes of most Republican donors," Foreman said. "Marco Rubio is great in a room and a setting with a small group of people, so as long as he has substance to back up his style, I think he'll appeal to a lot of the big Republican donors who are looking for a new base to lead the party and so he will have the ability to raise enough money to be competitive."
Rubio's strategy may hinge on Nevada, where he lived from age 8 to 14 while his mother worked as a housekeeper and his father a bartender at Las Vegas hotels. The swing state also has a large Hispanic population.
The first contest, the Iowa caucus, is nine months away, and Rubio may benefit there from the underdog status that has characterized his political career. Flying under the radar means he won't be a target of attacks from his GOP rivals. "He has room to grow his popularity nationally. He has the opportunity to define himself," Foreman said. "He's in a pretty good spot."
FOR FREE to continue reading
✔️ Unlock the full content of International Business Times UK for free
offer available for a limited time only
✔️ Easily manage your Newsletters subscriptions and save your favourite articles
✔️ No payment method required
Already have an account?
Log in
© Copyright IBTimes 2023. All rights reserved.