Presidential Election 2016: Can Florida Donors Support Jeb Bush And Marco Rubio?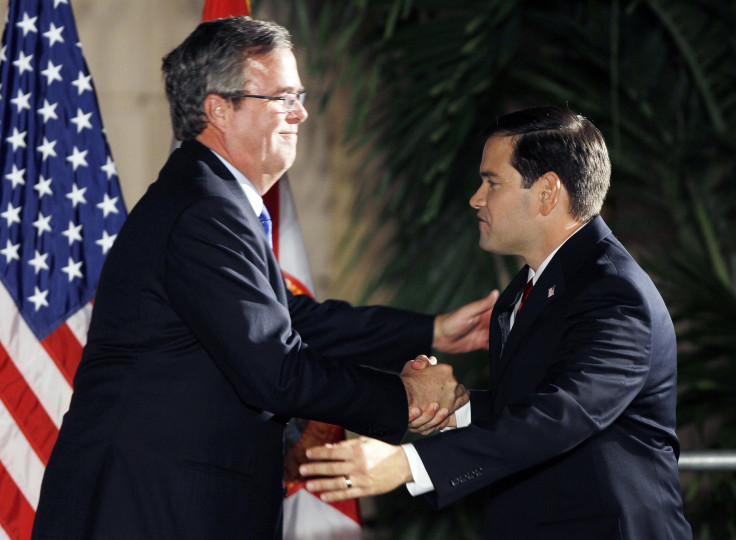 There may be enough money in Florida to support two presidential campaigns from two candidates who call the Sunshine State home, but politics and similarities between former Gov. Jeb Bush and Sen. Marco Rubio preclude having them both in the 2016 race, say the political experts. Donors with deep pockets and Florida Republican Party higher-ups have no interest in Bush and Rubio battling it out for money and political support in the state in 2016.
Bush took a big step toward running for president on Tuesday, when he said he would "actively explore" a campaign. Rubio, another rumored 2016 candidate, said Bush's decision will have no bearing on his own decision to run a campaign.
But Rubio's statement is just public posturing, according to Robert Watson, a professor of American studies at Lynn University in Boca Raton, Florida. Bush has been one of Rubio's political mentors and cemented the relationship by giving Rubio a Samurai sword when Rubio became speaker of the Florida House of Representatives in 2006, when Bush was governor. If Rubio ran, it "would be seen as disloyalty, or jumping over the boss, and that wouldn't fly well," Watson said.
Sean Foreman, a political science professor at Barry University in Miami, agreed. "If they were not allies and longtime friends, I can see Rubio mounting a challenge. If Bush is a declared candidate, Rubio would be a faithful supporter of his," he said. "The reality is Jeb Bush is next in line and all the [Republican] Party people [in Florida] will support Jeb."
With big donors in every corner of the state, "Florida is such a rich fundraising territory," Watson said, and the state is big enough for two candidates who have their political base there. But "there's a lot of overlap in the donor base" between Rubio and Bush, "which would create friction there," he said.
Joe Uscinski, a political science professor at the University of Miami, agreed. While there may be enough money, Bush and Rubio would tap into the same donor networks and are too similar politically, he said. "It's not [whether] the state is big enough, it's more if they have networks that overlap too much, and the answer is probably a resounding yes," Uscinski said. "They're running in the same political circles; they're going to have to feed off the same donors -- and that's a major consideration for Rubio at this point."
Among those donors are Pepe Fanjul, the Florida-based sugar tycoon, Wayne Huizenga, the pro sports owner who has donated to both Rubio, Bush and both political parties, and Boca Raton-based Republican donor Stanley Tate, who was the Florida chairman of Mitt Romney's presidential campaign in 2012.
Rubio wouldn't have to rely solely on the same donors as Bush, according to Foreman, and he has fundraising appeal beyond Florida, but wealthier contributors are going to want to unify behind a candidate. "He can draw from different donors who he didn't have in 2010 for a Senate run, but from watching the discussion among the big Republican fundraisers, it seems that they don't want to divide their power," Foreman said.
Money aside, Bush and Rubio candidacies would damage the Florida Republican Party, according to Watson. "Two titans like Bush and Rubio locking horns in the same state -- it would be a bloodbath," he said. Forcing the party leadership to pick a side puts them in an uncomfortable position, and Watson said he could see big donors sitting out the general election if the horse they back in Florida isn't the GOP nominee. And rank-and-file members may sit out the election instead of voting for the other candidate, which could cause the Democratic candidate to win Florida, the largest swing state up for grabs with 29 electoral votes.
"What a symbolic victory if Hillary took Florida," Watson said, referring to a scenario where Democrat Hillary Clinton runs for president and wins the state. "It's not just Jeb and Rubio country; it's Hillary country."
While the situation may stifle Rubio's presidential ambitions for now, he has much to gain by passing on 2016.
"He looks like he's loyal to the party. He buys and curries even more good favor with Jeb, so when he runs, Jeb will build a nationwide donor list" for him, Watson said. "Jeb would turn Rubio on to that entire list, just as Bill [Clinton] turned Hillary on to his list."
FOR FREE to continue reading
✔️ Unlock the full content of International Business Times UK for free
offer available for a limited time only
✔️ Easily manage your Newsletters subscriptions and save your favourite articles
✔️ No payment method required
Already have an account? Log in
© Copyright IBTimes 2023. All rights reserved.